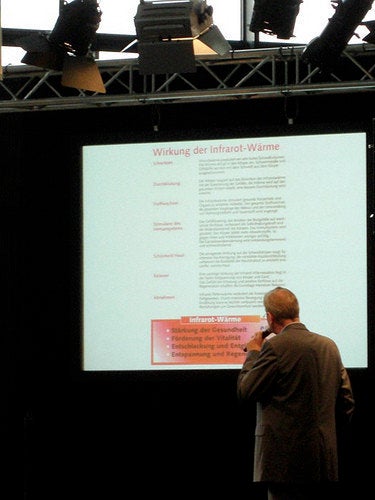 Why do academics care so much about conferences? They're barely mentioned outside of higher education, yet they dominate graduate student and faculty calendars.

Last weekend marked my first attendance -- and presentation -- at a conference. My department received a time slot to discuss the Penn State/Sandusky scandal and I was asked to share my work on the BlueOut.

I was terrified. Not only do I feel queasy at the thought of public speaking, but I had no idea what to expect -- nor what was expected of me.

Spoiler alert: I survived the conference. In the process, I learned that they have a valuable function. Conferences offer a place to share work, learn about the latest research in a particular field, and find future collaborators. And they can even be fun.

Nevertheless, I wish I had been better prepared. For those of you attending conferences in the near future, here is some of my advice.

Before the Conference
Hotels often provide discounts to conference attendees, but only a certain number of reservations are actually allowed to book the lower price. Secure a room early to get the best rate and then look for cheaper accommodations later -- just remember to cancel your previous reservation if you find something better.

Pack Smart: Clothing
Clothes reflect your personality. If, as a speaker, you want an uncomfortable, drab and passé session, continue the tradition of wearing an ill-fitting polyester-blend blazer. For a fresher look, try a knee-length dress with a cardigan. My favorite menswear ensemble paired dark khakis with a collared shirt, a bright sweater and a herringbone jacket.

Make sure to plan suitcase space accordingly. I wasted half of my bag on a pair of over-the-knee boots that matched only one outfit.

Bring extra layers. The conference rooms get chilly... probably to keep attendees from falling asleep during that one boring PowerPoint session.

Pack Smart: Accessories
Ask the conference organizers for specific technological requirements (like the types of cables needed to connect your particular brand of laptop to their system) and come prepared to do the hookup yourself.

Check the weather for your destination. Umbrellas at hotel gift shops are more expensive than you'd think.

Business Cards
While they may seem stuffy and old-fashioned, business cards come in handy when you're placed in a veritable "meet" market. Academic conferences could contain prospective employers, new collaborators or (as in the case of a friend who attended a Political Science convention last year) a future fiancée.

Professionally printed cards are lovely, but print your own using free online templates onto pre-scored sheets of cardstock if you're pressed for time.

Review Sessions and Locations Before Traveling
Find the presentations that pique your interest and make sure you know where you're going. Take a phone screen shot of important information (like maps) and save it to your internal memory -- data connections can be spotty in basement ballrooms.

During the Conference
Obviously you have something in common with everyone around you. Meet those potential employers, collaborators and fiancées -- make good use of the business cards you created!

Free Swag
Companies connected to academic disciplines actually pay money to give you free stuff. Bring a messenger bag or large purse to hold your new goodies. Trust me, it's better than schlepping around a garish tote.

Other Advice
Don't be afraid to leave if you get bored. Life's too short.

Take advantage of the location you're visiting and any conference perks. See if your name badge grants access to museums or other local destinations at a discounted rate.

Write down proposal ideas for next year. It will be easier to remember the most well-received themes as well as any gaps your future research could fill.

Speakers should get to their presentation room early and connect any technology. Seeing a title slide before your session begins reassures attendees that they are entering the right room.

What Did I Forget?
Feel free to post more advice on navigating academic conferences successfully in the comment section below. Happy conferencing!
Support HuffPost
The Stakes Have Never Been Higher
Related
Popular in the Community