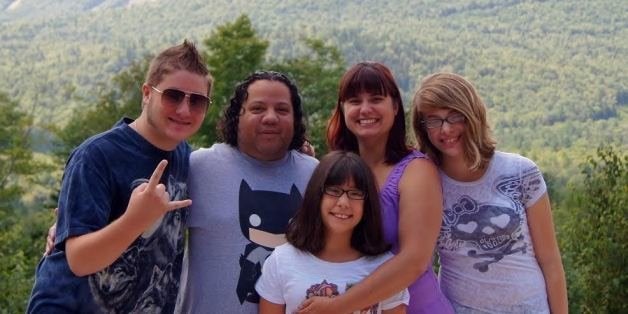 As part of our Blended Family Friday series, each week we spotlight a different stepfamily to learn how they successfully blended their two families. Our hope is that by telling their stories, we'll bring you closer to blended family bliss in your own life! Want to share your own story? Email us at divorce@huffingtonpost.com.

When Nicholas Golden first met his fiancé Cherie almost five years ago, he knew that she was a package deal: Falling in love with her meant he'd also have to take an active role in the lives of her three kids. It hasn't always been easy, but today he's forged a strong relationship with all of Cherie's kids. (Last year, Cherie and Nicholas had their first child.)
"Throughout this journey, I've learned there's beauty and difficulty in being a stepparent," Golden told the Huffington Post. "But my relationship with my stepkids has been a very rewarding one. It's taught me a great deal about myself and the complexity of love and family."
Below, he tells us more about what it was like to jump into the role of stepdad.
Hi Nicholas! Please introduce us to your family.
We have six family members in all: There's me, my fiancé Cherie and her three children from a previous marriage: Alexander (16), Samantha (14), and Sofia (10). Six months ago, Cherie and I had our first child together, a baby boy named Nico.
How long have you and your fiancé been together?
We have been together close to four and a half years, but have known each other for five years. We first started talking by accident over a Facebook post on a mutual friend's page about the song "Just Breathe" by Pearl Jam. We started talking on that post, became friends as she was going through her divorce and then started dating. We had no idea that five years later, we would be sharing a life together and raising children.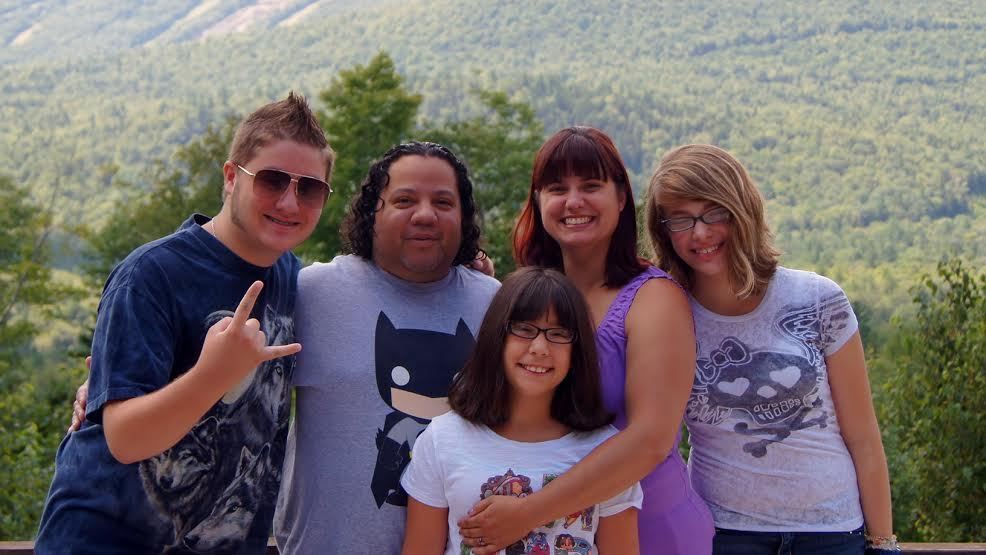 What was your relationship like with your stepkids early on?
Coming into their lives as a friend was easy, it wasn't until we moved in together that things got more difficult. I had never even experienced a relationship where you share the day-to-day aspects of your lives, let alone one where there's kids. It was a big life change. They had their own way of living and existing and my introduction into the family was not an easy one. Things greatly changed with the birth of our son. He is the bridge between my world and theirs and has positively changed the dynamics of the family. I am very thankful that the kids always wanted to add to the family (and they're still hoping for a little girl to add to the mix). They've unequivocally accepted Nico as a full-fledged sibling. He instantly changes the environment of the house with his beautiful smile and cute little laugh. There interaction with him has only helped my relationship with them. They still have difficulty with me when it comes to them doing things around the house, but they are very happy to have me around now.
What are some of the biggest challenges of blended family life?
Probably some of the biggest challenges of living as a blended family is getting through all the day-to-day obstacles: Time, money, stress, work, one's past and baggage, family members' expectations, societal expectations, other people putting in their two cents, breaking old habits and learning how to communicate more effectively. There is so much that goes into creating a positive family environment and so much that can get in the way. The difficulty is finding ways to not let all that stuff affect the family so that we can grow and change for the better together.
What's the best thing about being part of a blended family?
I would say the best thing about being in a blended family is being able to share all these amazing and new experiences with Cherie and the kids. We have so many great memories. There are countless little moments I treasure: the whole family laughing so hard we can hardly breathe while out to dinner, seeing how happy Alex is at his favorite rock bands' concerts, getting a hug every morning from Sofia as I leave for work and another giant hug when I get home, Sam allowing me to comfort her as she cries in my arms after a tough day, Cherie and I looking at each other in amazement over our beautiful family -- I love all of these moments.
Life as a family can be difficult, but we have such incredible experiences to hold onto and look back on. No one can ever take that away.
How do you deal with stress in your household?
Stress has always been a problem in our household, but we have really grown in our response to it. The key to handling the stress is learning how to communicate with each other in the family. We've done a lot of work, on our own and in family therapy, to help create better ways to communicate and address stress more appropriately as a team. Another key to handling stress is carving out time for the family. We work very hard to have five or six nights a week of technology-free family dinners and a family game night or fun activity at least once a week. It's not easy with everyone's busy schedule and a new baby around, but we typically make it happen.
What advice do you have for other new stepparents struggling to find their place within a family? Is there any advice you wish you had been told beforehand?
You need patience and you can't be afraid of asking for help. If it's going to work, you're going to need to take your time in developing each relationship. How things are at one moment won't necessarily be the way they are six months in the future, a year later, or five years down the road. And really, don't be afraid to get help. There is nothing wrong with therapy or other avenues to help unite the family. Cherish all the small things, be grateful for every moment and ride the wave wherever it takes you.
As for advice, luckily for me, I have a stepmother who helped me understand certain aspects of being a stepparent, but nothing can prepare you for being knee-deep in it. I just wish someone had told me that everything would be OK in time. It takes time for all aspects of being in a blended family to work and you can't force it. Focus on communication, love, and trust and things will eventually fall into place.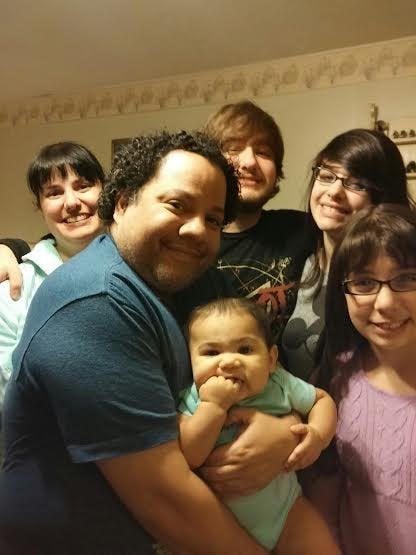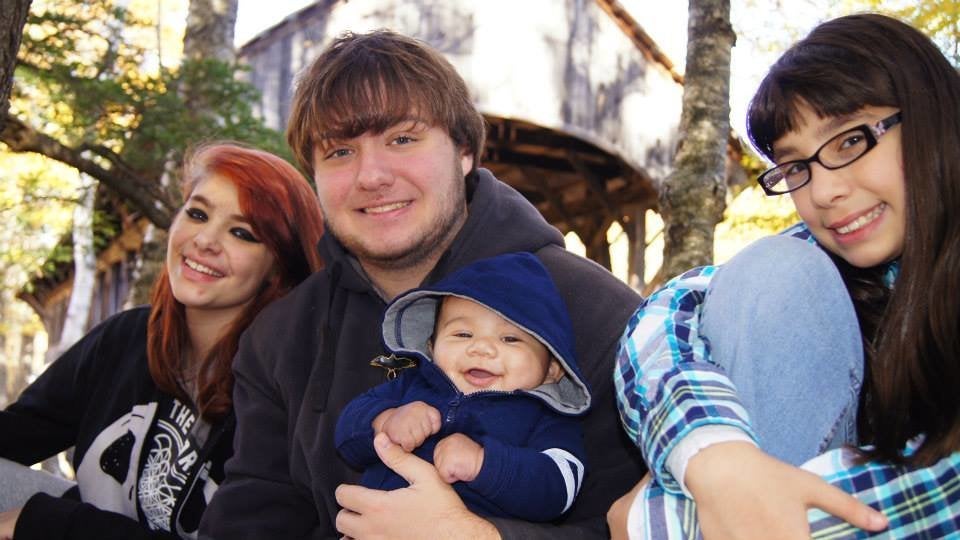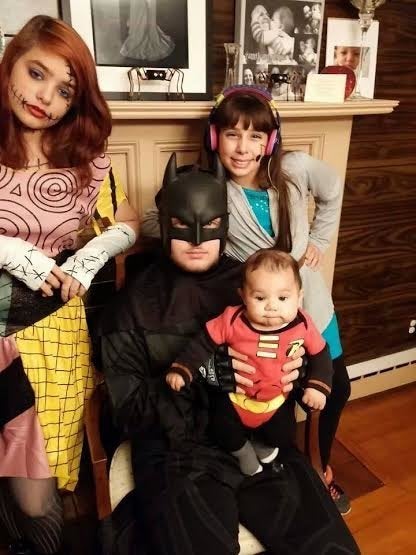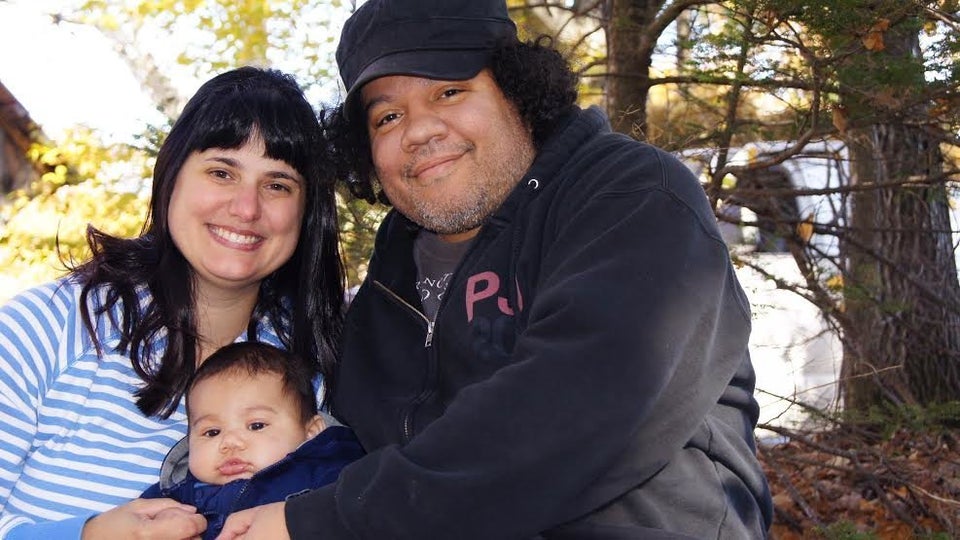 Related
Before You Go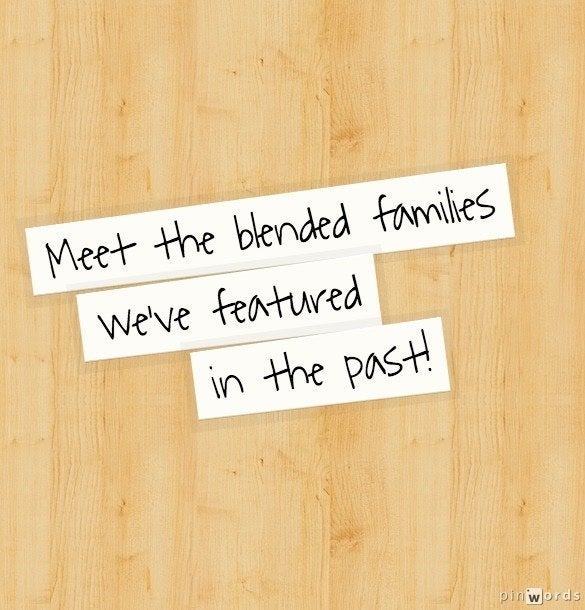 Blended Family Friday