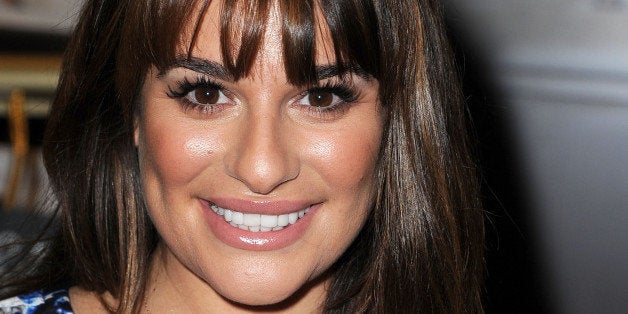 Lea Michele is one busy gal. It's only June, and yet this year alone, she's added promoting an album (Louder) and a major animated film (Legends of Oz: Dorothy's Return) to her already hectic schedule playing Rachel Berry on the hit FOX series, Glee.
Now, she's tacked on "author" to her list of accomplishments with the release last month of her first book, Brunette Ambition -- a title that truly captures her relentless spirit. Lea sheds light in the book on her life and incredible success to date, and also shares valuable advice on how to stay healthy, happy and beautiful -- even in times of times of tremendous stress and strain.
I had a chance to connect with Lea, who gave me some insight on the book and her incredible life as one of TV's biggest stars, today. See below for outtakes from our chat, and to learn more about Brunette Ambition, visit your local bookstore or online retailer.
Your friend, Jonathan Groff (Glee alum, Frozen, Looking) has called you "the most disciplined person" he knows. Do you see a correlation between your incredible success and your disciplined approach? Does it come naturally to you?
It does come naturally to me. I remember being eight years old on Broadway in Les Miserables, and I loved what I was doing so much, even at that young age, that I made an extreme effort to be as disciplined as possible so I could do my absolutely best... I believe with anything you do, that hard work and discipline will lead to success.
Your book is full of sensible, practical advice. What advice would you give to a fan who buys it but may have trouble getting started, or sticking to a healthy routine?
Being kind to yourself is key. I never give myself a hard time if I steer off track with my diet or workout routine. But, finding true self-worth and happiness will lead to a path of truly wanting to fill your life and body with the best things that will make you look and feel amazing.
Of all the elements you outline in the book (healthy eating, beauty, fitness, etc.) is there one you see as a top priority? If a fan/reader can only take on one thing to start -- what would it be?
I think first and foremost eating right and being active is the best thing we can do for our mind and body. You're only given one body, and taking the best care of it possible is key.
It's amazing to think that after all the songs you've recorded, Louder was the first chance you had to record a solo album. When you approached Louder, did you have a specific vision for the album in mind?
I had an idea of how I wanted to record to sound, but over the year and a half it took to record it changed in its sound and mood a lot. I'm so happy with how it turned out in the end.
There's been a lot of buzz for your fantastic new music video, "On My Way." You've personally said you feel it's a "perfect summer song," but what about the album overall -- do you have a favorite song and why?
I truly love all of them. Each week I have a different favorite depending on how I'm feeling at the moment. But I would say that "You're Mine" has always been my number one. It's such a powerful song about love and truly giving your heart to someone else.
So you're a TV star, music star and a Broadway star. What about film? Will we be seeing you starring on the big screen, outside of Glee?
I would love to start branching out into film. But right now I'm focusing on my album and book and the final season of Glee!