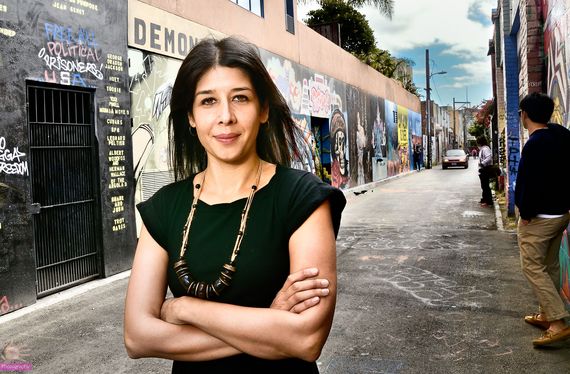 Project Bly is an online travel and commerce portal with street-creed.
Every six months, site founder Rena Thiagarajan introduces shoppers to a new city, allowing them to browse (virtually) the alleyways and ateliers of Hanoi, Mumbai, Kumasi.
Recently, I talked to Rena about inspiration, start-ups, and the importance of travel.
Tell us a bit about yourself. Where did you grow up?

I grew up on the southeastern coast of India. My parents were both adventurers. My father, a businessman-turned-sculptor, grew up in the small, dusty, temple-town of Madurai. And my mother, the director of an open -air museum of traditional Indian architecture and crafts, grew up in Gladwyne, Pennsylvania. She moved to India - a country she'd never been to - after meeting and marrying my father, who was in the U.S. for graduate school in the 1960s.

How did Project Bly come about? How does it 'work?'

When I moved to San Francisco in 2005 after law school, I needed to furnish my new apartment. For three months, I searched obsessively for the perfect rug. After exhausting my San Francisco options (where rugs could retail for over $20,000), I turned to the Internet.
I wanted something special, with a story, and I finally found a rug online in Almaty, Kazakhstan- an East Khotan rug with an unusual pomegranate design in muted grays, yellows and reds. So I wired money to the vendor and, despite some skepticism from friends, my rug arrived intact. It's one of my favorite pieces.
So the idea for Bly came out of my search for a one-of-a-kind rug. But the site also aims to give a buyer a sense of story and history about place and product. Lots of sites document the making of handmade goods, but Bly is a bit different since we sell vintage, antique, and contemporary handmade products sourced directly from street markets around the world.
Why the emphasis on 'street?'
Because as a traveler, I've always been the kind who spends more time on the streets than in museums, and street markets are, in my opinion, the heart of any city. What makes a product special to me is to understand the place it came from, and the stories it holds within. That's why Bly is as much a travel inspiration site that focuses on street culture.
We work with top street photographers around the world to bring alive the streets of cities. Every few months, Bly features a new city through a series of photo slideshows. And while we offer small, curated collection of products sourced directly from street markets for sale, we explore all markets - from fish to fabric.
What advice do you have for aspiring entrepreneurs?

I think one of the most important pieces of advice is to just start. Take the first step and every step after becomes easier and less intimidating. I have big dreams for growing Bly into a lifestyle company that merges unique travel-experiences with design, but I started Bly with just one city and one collection. Whether it's writing a business plan, incorporating or opening a business bank account, each little step adds up.
Two years in, the best advice I can give is to keep at it. Nothing happens overnight, so celebrate the small successes, and keep hustling.

What's surprised you the most, during your travels?
I think every place has surprised me in a different way. In Hanoi, Vietnam, I loved the dancing culture, and that, in the mornings, every park was filled with senior citizens waltzing. In Ghana, a country that's predominantly Christian with a minority Muslim population, I encountered so many wonderful examples of religious harmony that really inspired me.
The two countries that were so different from what I had imagined were Uzbekistan and Japan, and I would love to revisit both. Uzbekistan was one of the friendliest countries I've experienced. I got invited into people's homes more in Uzbekistan than anywhere else. I was also surprised by how warm and generous Japan was. I had expected it to be more formal.
Ultimately, why do you travel?

I travel for the people, especially the people I meet on the streets, and in markets. I'm often offered a cup of tea, and love sitting down and listening to someone's stories. Language barriers fall away and you learn that a smile, generosity, and hospitality are universal.
Related