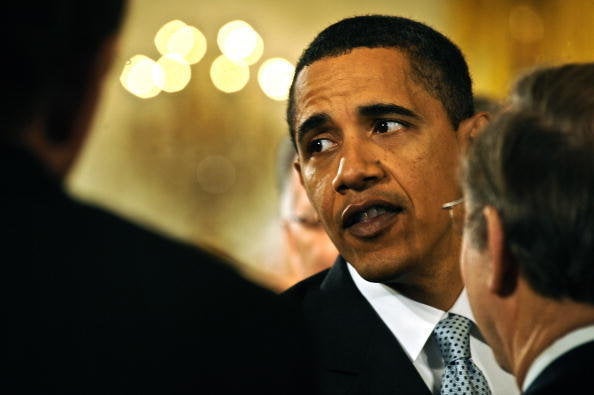 President Obama has had a difficult time finding a new Secretary of Commerce. He shouldn't worry about it any longer. There is a simple solution--just abolish the post.

The Commerce Department, as presently constituted, is a hodge podge of agencies with no central purpose. It's not a job with great policy influence. The Big Dogs on economic policy are in the White House and at the Treasury. It has become tradition or habit for the President to give the post of Commerce Secretary to one of his chief fundraisers and close friends, or to a politician in need of a payback, or sometimes to a token appointee from the opposition party. President Obama has already unsuccessfully looked at all three options with fundraiser and Chicago friend Penny Pritzker, New Mexico Governor and primary supporter Bill Richardson, and most recently with Republican Senator Judd Gregg. These kinds of appointees are not expected to do much except meet and greet visitors in the huge Secretary's office, almost the size of a sports field. They also encourage the kind of cynicism about government that President Obama wants to combat.

When the Commerce structure was built in 1932, it was the largest office building in the world. It is immense, and visitors often get lost in its long hallways and byways. The National Aquarium, somewhat strangely, is located in the basement. The building was auspiciously named after Herbert Hoover during the Reagan administration (he served as Commerce Secretary as well as President).
Working there, as I did for a time as Deputy Under Secretary, is an odd experience, and does not bring back happy memories. Friends who visited me remember having trouble finding my huge office, then being amazed that the heating and cooling system seemed so out of wack that I was always opening and shutting my windows.

This is not so say that the Commerce Department and its over 30,000 employees does not do useful things. Under its domain, are such valuable public agencies as the National Weather Service, the National Hurricane Center, the Bureau of the Census, and the Patent Office. Abolishing the current Department of Commerce does not mean eliminating these vital government services.

President Obama can shift the political playing field on the Commerce Secretary issue by announcing in his February 24 address to Congress that he is going to rethink the Department's mission and organization. He is going to break it up, and reorganize it in a more effective way as part of his strategy for reviving and rejuvenating the American economy and building a new foundation for economic growth.

Here's how it might be done.

One of the hot issues troubling Senator Gregg and many Republicans has to do with possible political influence over the census. To alleviate that concern and to improve national statistical analysis, the Bureau of the Census and the Bureau of Economic Analysis (which compiles national economic statistics) could be spun off as an independent agency called Statistics USA, led by a highly regarded social scientist just as NIH is headed by a leading scientist. Obama might even credit the example from our neighbor to the north, Canada, where the federal agency Statistics Canada (affectionately known as "StatCan") is the most highly regarded statistical agency in the world. StatCan offers a world class bench mark for independence, professionalism and transparency. A new independent Statistics USA might also fold in other government statistical units such as the Bureau of Labor Statistics.

Like its space cousin NASA, the National Oceanic and Atmospheric Administration (NOAA) could easily become an independent agency run solely by professionals. NOAA includes the National Weather Service, the National Marine Fisheries (with its very cool website "FishWatch" that provides useful facts on seafood), the National Hurricane Center, and the All Hazards Monitor Service. NOAA is one of those government agencies whose services form a foundation for economic and social activity.

Another Commerce office easy to spin off is the National Institute of Standards and Technology. Established in 1901, this office manages highly regarded and necessary labs that provide testing and standardization for American industry, especially in manufacturing and engineering.

The remaining agencies in Commerce deal with the economy, but have had little national policy impact. When I worked there, I invited Laura Tyson, head of the Council of Economic Advisors, over to the Hoover Building to speak to my staff. They told me that it was the first time such a top economics official had ever visited the building. These economic agencies need to be streamlined, given a clearer mission, and placed in a new Cabinet level department called the US Department of Industry and Trade. Being appointed the Secretary of Industry and Trade would be a job worth having, and one for which the President would appoint a serious person. The new Secretary would be a player on the first string of the President's economic team.

The newly constituted Department of Industry and Trade would include the existing National Telecomunications and Information Administration, the International Trade Administration, the Bureau of Industry, the Patent Office, and a rethought Economic Development Administration. It would have both domestic and international economic focus--a necessity in this globalized economy. To promote trade, the Secretary would overhaul and upgrade the US Commercial Service which currently has offices in 100 cities and overseas posts in 80 countries (usually housed in US embassies). In addition to promoting American exports, the commercial service would be charged with greater sharing of innovative ideas on business, technology and economic development, and would work cooperatively with US and foreign business schools to teach entrepreneurship and business skills to citizens in poorer communities at home and abroad. The trade negotiating authority of USTR (currently a stand alone office answering to the President) should be moved into the new department, adding influence to the Secretary and insulating trade negotiations from Presidential politics such as rewarding countries with Free Trade Agreements for supporting US foreign policy (a common practice under the Bush administration).

The new Secretary of Industry and Trade would also become an influential player on industrial policy. A revived and modernized set of industry offices would provide the government with top flight analysis of major industries and emerging ones. The Secretary would have the staff expertise necessary to oversee a revamping of the auto industry, to cite a current pressing need, and to advise the President effectively on the state of other American industries--to benchmark them in best practices against foreign competitors--and to assist industries with research grants, loans, and consultative studies--not to pick "the winners" in specific fields, but to assure that America's industrial base remains strong and vital for the 21st Century.

The new US Department of Industry and Trade would quickly become a career destination for the best MBA and economics graduates, and the US Commercial Service would become as competitive (and as exciting) to join as the US Foreign Service. It would no longer be viewed as a backwater in the Federal government.

Following this course of action or a variant would provide yet another example of President Obama's boldness in making change, and demonstrate his determination to advocate a smart, forward looking economic strategy for the nation. And, in the spirit of bi-partisanship, he could name the National Aquarium in the basement after departed President George W Bush.

Popular in the Community