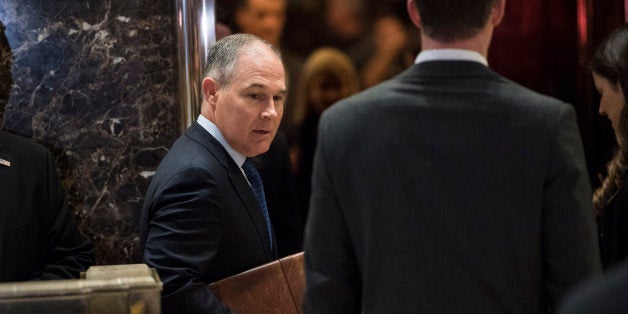 The imminent confirmation hearings for Donald Trump's cabinet are an opportunity for senators of good conscience to place country ahead of partisanship. If they believe human activity is accelerating climate change and unquestionably needs to be addressed, they can -- and should -- send a powerful message to President Trump.
These senators should demand a similar environmental commitment from Trump's nominees, and if it is not forthcoming, rejection would be in order. Hopefully, there would be enough Republican votes coupled with the Democrats to block the nomination.
Should Trump then replace the failed nominee with someone possessing similar negative views, that individual should also be voted down. So it should go until the president gets the idea.
Senate prospects for defying Trump are not as farfetched as they might appear, even with a Republican majority and a severe partisan divide permeating the nation's capital. In 2015, all 54 Republican senators joined their Democratic colleagues in backing a resolution stating that climate change was occurring. Five Republicans lawmakers even broke ranks to support an additional resolution declaring that climate change was significantly caused by humans (though the quintet stopped short of calling for immediate corrective action). If they ever sided with the Democrats in opposing a recalcitrant Trump nominee, it would constitute sufficient numbers to thwart the confirmation.
Senators should certainly entertain dropping the hammer on Trump's nomination of Scott Pruitt to head the Environmental Protection Agency (EPA). Virulently anti-EPA in his role as Oklahoma's attorney general, Pruitt was expressly selected by Trump to emasculate the very agency he was supposed to head. The dubious justification for this counterintuitive appointment was that the EPA was over-regulating the fossil fuel industry.
In gratitude for Pruitt's endorsement in the GOP presidential primary, Jeb Bush asserted that the EPA nominee would do a great job "unleashing an energy revolution." But that is not EPA's job. If that is Bush's ambition for the nominee, the former Florida governor should be touting Pruitt for the top post at the Department of Energy.
In his confirmation hearing, Pruitt should be asked to pledge that environmental protection will be his first and foremost priority, with economics and energy productivity relegated to secondary considerations. That is in accordance with the original conceptualization of the EPA as an independent agency acting within the federal government as the sole exclusive custodian of the public's and planet's environmental health. If Pruitt can't commit to the agency's primary mission, he should be issued his walking papers.
Other Trump environmentally-related nominees are former Texas governor Rick Perry at the Department of Energy and Montana Congressman Ryan Zinke at the Interior Department. Senators should only vote affirmatively if these nominees demonstrate they take climate change seriously.
Perry also needs to explain what caused him to agree to lead a government agency whose elimination he previously advocated. Approval of his nomination should also hinge on his willingness to shift gradually away from fossil fuels in the direction of clean, renewable energy.
Zinke's commitment to renewable energy and restraints on wholesale extraction of fossil fuels on federal lands and waters should be established before he gets the green light.
Republican senators ought not to feel intimidated at the thought of challenging Trump's environmental choices. The latest poll shows an overwhelming majority of Trump voters want his nominees to toe the line in combatting climate change.
REAL LIFE. REAL NEWS. REAL VOICES.
Help us tell more of the stories that matter from voices that too often remain unheard.