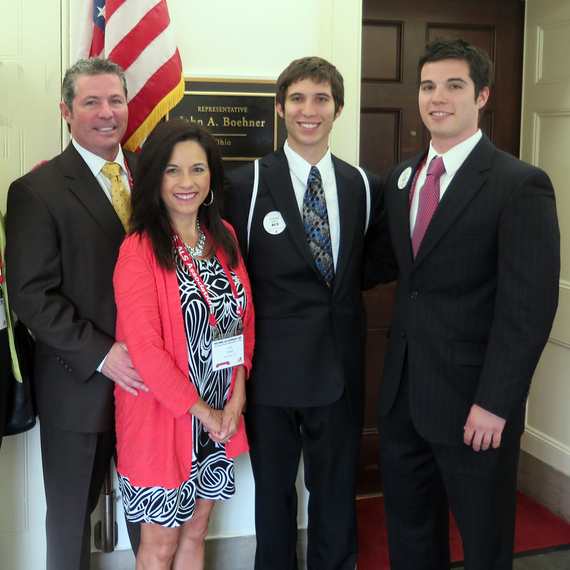 Paul Carey, Lorri Carey, Christian Carey, Paul Carey Jr. advocating for ALS Research on Capitol Hill

Twelve years ago on Friday the 13th, Lorri Carey's life changed forever. Her neurologist asked during one of her appointments "what do you know about ALS (amyotrophic lateral sclerosis)?" Carey was a healthy and active 37-year-old with a rewarding sales career, supportive husband and two sons when her health had taken a mysterious turn. Carey knew her symptoms matched ALS, but the only thing she remembered about ALS from her research was that it was fatal. And in fact, she was told she only had two to five years to live. "The toughest part was telling my two sons who were eleven and thirteen that I was going to die. When ALS hits a family it typically hits hard, leaving advocacy at the bottom of the to-do list." But rather than withdraw, Lorri decided to play an active role in raising awareness and funds for medical research at the federal health and research agencies like the National Institutes of Health (NIH). She became an advocate, along with her family, to educate policymakers and the public about the tremendous need to accelerate research to find new therapies and improve quality of life for ALS patients.

Carey is an example of the powerful voice of patient advocates in driving change in an increasingly competitive environment for federal dollars. She joined The ALS Association in advocating for increased funding for medical research and the 21st Century Cures Act, legislation approved in the U.S. House of Representatives that focuses on improving the discovery, development and delivery of new treatments and therapies. She also urged Congress to approve the ALS Registry Act which was signed into law in 2008.

She spoke movingly about her journey living with ALS and becoming a force in the patient advocacy community at Research!America's 27th Annual Meeting of Members in Washington, D.C., in mid-March. ALS is a disease, she said, that robs most patients of the ability to move, eat, breathe or even speak. Lorri used a text-to-speech app on her iPad to communicate part of her presentation at the meeting in an effective and compelling manner. She joined Food and Drug Administration (FDA) Commissioner Robert Califf, M.D., and Senator Amy Klobuchar (D-MN) as speakers for the program, the audience for which included guests from various sectors of the research community - academia, industry, patient groups, scientific societies, independent research institutes and foundations.

Commissioner Califf described the necessity of understanding the needs and preferences of the patient community in the development of drugs and medical devices. "I remain excited about and dedicated to direct involvement with consumers and patients," he said, emphasizing that the FDA's mission is not only to protect safety and promote innovation but to enhance collaboration with patients. He noted that the agency is also focused on responding to public health emergencies like the Zika virus, working closely with academic centers and manufacturers to develop diagnostic tests, and with the National Institutes of Health (NIH) to facilitate the development of vaccines and treatments in partnership with industry.

Robust federal funding for research is critical to tackling Zika, ALS and other health threats. Noting the $2 billion increase for the NIH in FY16, the largest increase for the agency in over a decade, Senator Klobuchar said the increase is the result of strong advocacy from research stakeholders. She reminded attendees that research is crucial to our nation's economy and global competitiveness, emphasizing that the life sciences industry contributes about $69 billion to the U.S. economy annually and supports seven million jobs. That fact is not lost on the many Americans (89%) who agree that investing in research is important to job creation, technological breakthroughs and economic growth, according to a national public opinion survey commissioned by Research!America. Senator Klobuchar also stressed the strong case to be made to the public that research gives people hope that they can lead productive, healthier lives. Despite the negative rhetoric, she is "positive about Congress," adding that there are plenty of people with "big hearts" ready to plug more dollars into research.

The bottom line from all speakers: we should and must continue to invest sufficiently in research to keep pace with scientific opportunity. Congress must increase funding for the NIH by at least 10 percent ($3.2 billion) in FY17 to help patients like Lorri who are determined to find solutions to what ails us.
Calling all HuffPost superfans!
Sign up for membership to become a founding member and help shape HuffPost's next chapter