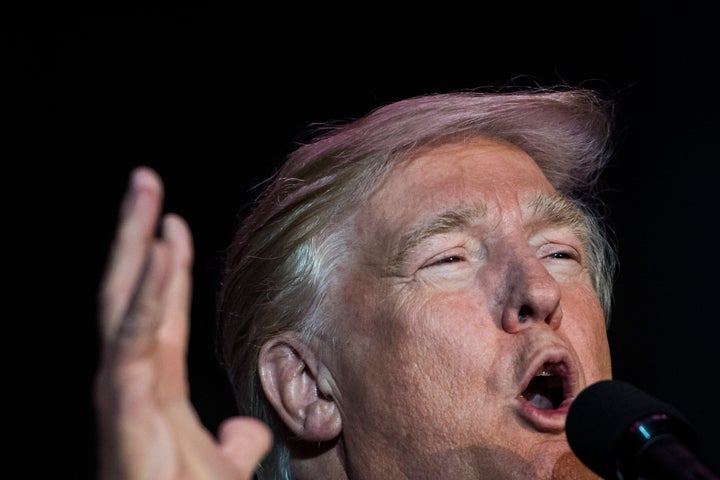 It was a secretive retreat where billionaires, tech CEOs and top Republican politicians couldn't stop talking about Donald Trump. But in a document obtained by The Huffington Post, it's clear the American Enterprise Institute's annual World Forum was not supposed to be a strategy session on how to stop the GOP front-runner -- even if the topic did come up more than once.
"Of course any time you get two or more people interested in politics together, the conversation is likely to turn to the 2016 race, and sure, Donald Trump," a person familiar with the gathering told HuffPost, "but any honest reading of the agenda for this weekend would see this was not the intent of the forum."
The eight-page agenda for the retreat to a luxury golf resort on Sea Island, Georgia, promised panel discussions ranging from "Millennials: How Much Do They Matter and What Do They Want?" to "Have Central Banks Gone Too Far?" -- the latter breakout session featuring House Speaker Paul Ryan (R-Wis.), House Financial Services Chairman Jeb Hensarling (R-Texas) and former Treasury Secretary turned director of the National Economic Council Larry Summers.
"Casual conversations or griping over breakfast and drinks should not overshadow AEI's valuable work in bringing really diverse viewpoints and perspectives to challenge and debate really important policy issues," the source familiar with the forum said. "That's who AEI is, and always has been. And that's why so many thoughtful leaders attend."
But among the thoughtful conversations on income inequality and the refugee crisis abroad, the AEI agenda also reveals natural places for Trump discussion beyond the normal chatter over poached eggs in the morning and tannin-rich wines in the evening.
Saturday kicked off with a panel titled "2016: Countdown to November," with a number of media commentators who have made their opposition to Trump no secret, including Rich Lowry and Ramesh Ponnuru of National Review, AEI scholar and professional Congress-watcher Norm Ornstein, and conservative commentator Michael Barone. At the same time, another panel, "The Next President's Economic Agenda," was going on with Majority Leader Kevin McCarthy (R-Calif.), Sen. Rob Portman (R-Ohio), and current National Economic Council director Gene Sperling, among others.
The weekend also featured conversations with a veritable who's who in the world of GOP establishment politics and tech. Paul Ryan, Senate Majority Leader Mitch McConnell (R-Ky.), Sen. Lindsey Graham (R-S.C.) and Gov. Scott Walker (R-Wis.) were all featured speakers, as were Apple CEO Tim Cook, Google's executive chairman Eric Schmidt and Tesla/SpaceX CEO Elon Musk.
In a room dominated by millionaires and billionaires, there were even discussions about the role of money in politics, with Harvard Law professor Lawrence Lessig squaring off with former George W. Bush ambassador to the United Nations John Bolton in a discussion titled "Money in Politics: Is it the Root of Our Problems and Can it be Fixed?"
Overall, the agenda, which does not have a complete list of attendees but does list nearly 100 speakers, paints a picture of a gathering of people who did not intend to focus on Donald Trump, but couldn't help it.
Popular in the Community