 Aereo, a start-up that streams network TV to customers over the Internet, has 68 employees, about 3,500 subscribers, and big ambitions: to disrupt the traditional -- and very lucrative -- business model forged by the television industry.

For years, broadcast networks have generated revenues through advertising and fees paid by cable and satellite companies.

Launched in March, Aereo poses a direct threat to that arrangement by capturing broadcast signals and streaming that content to customers without paying broadcasters. Customers can watch TV online without paying for satellite or cable service, but they are not counted in the ratings, potentially shrinking broadcasters' advertising dollars, broadcasters argue.
"This is really the first credible attempt at cracking open this completely closed ecosystem," Aereo's founder, Chet Kanojia, said in an interview.

The broadcasters have fought back. Earlier this year, they filed lawsuits against Aereo, claiming the start-up was violating copyright law. If they win, Aereo likely would be forced to shut down.

But last week, Aereo won a key legal victory when a federal judge sided with the start-up. Now, the company is moving forward with plans to expand to every major metropolitan area by the end of 2013. Currently, Aereo is only available in New York City.
The broadcasters said they will appeal the ruling. "This case is not over by a long shot," CBS said in a statement.

Aereo is unlikely to generate enough subscribers on its own to spell the downfall of the television industry, analysts said. But it could set a precedent that prompts a flood of other start-ups -- or even cable companies -- to undermine the broadcasters' business model.

"The broadcasters know if they don't make an example out of Aereo, then what's stopping the next five companies from doing the same thing?" said Dan Rayburn, a digital media analyst for the market research firm Frost & Sullivan.
The center of the controversy is in a data center in downtown Brooklyn, where Aereo stores thousands of dime-sized copper antennas. Each customer is assigned an antenna. Aereo said this complies with copyright law.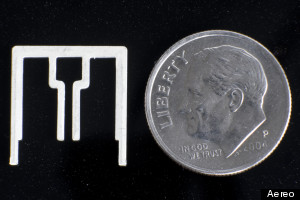 Aereo has thousands of dime-sized antennae.
The antennas capture broadcast signals, then Aereo streams that content to customers' smartphones, computers and Web-connected TVs for $12 a month.
Anyone could purchase an antenna to watch network programs for free, but Kanojia said Aereo's remote antennas work better, especially in large cities with tall buildings. A Wall Street Journal columnist called Aereo's video quality "startlingly good."
Kanojia said Aereo's service offers other benefits, allowing subscribers to record 40 hours of programming and watch shows from anywhere on mobile devices.
He said Aereo is targeting a small but growing segment of the population -- particularly consumers under 30 -- who cobble together their television viewing through a mix of video-on-demand services like iTunes, Hulu and Netflix instead of cable packages.
The number of Americans who have broadcast TV, but not cable, is small -- less than 5 percent -- but has grown over the past year, Nielsen reported earlier this year. This group of consumers streams twice as much online video as the general population, Nielsen found.

"There's an entire generation that's coming up that has never really subscribed to the traditional [cable] package," he said. "The 500-channel thing doesn't compute for these people."

"What the consumer really wants is a la carte access," he added.
Aereo's critics say the company has done little more than find a loophole in the law. Technology columnist Farhad Manjoo said Aereo "may be the stupidest high-profile tech start-up ever launched" and said its legal victory last week illustrated "the supreme idiocy of our copyright laws."

Beyond the legal question, some analysts don't believe there is much consumer demand for Aereo.

"We know consumers don't want it because if they did, they'd be signing up in droves for this thing when it was announced," Rayburn said. "It's just another company that rolled out a product simply because the technology worked without actually asking if there's a business model behind it."
Aereo has received about $25 million in funding. One of its backers is IAC/InterActiveCorp, which is run by media mogul Barry Diller, who created the Fox television network.
Thus far, Aereo is only accessible on Apple mobile devices, Safari browsers on Apple laptops and Roku. But the company plans to offer its service to PC and Android users this fall.

Aereo is part of a budding industry of start-ups trying to figure out ways consumers can watch TV online. Slingbox allows users to watch shows it has recorded anywhere from a computer. NimbleTV, which launched in April, streams users' TV subscriptions over the Web.
Aereo is also not the first start-up to face legal challenges. Last year, a federal judge sided with broadcasters in a lawsuit against Ivi TV, forcing the start-up to stop re-broadcasting TV content online.

In court, broadcasters argued that if Aereo is allowed to continue, networks won't be able to afford news, entertainment and sports programming. Major broadcast networks reportedly have a deal to pay at least $1 billion a year for the rights to carry NFL games.
"You won't be seeing 'Sunday Night Football' on any broadcaster" if Aereo is allowed to continue, an attorney for the broadcasters said in court.

But Kanojia said he has heard such dire warnings before. Networks claimed "the sky is falling" after the advent of cable TV and VCRs, yet they found ways to survive, he said.

"There is a tremendous amount of people who are wedded to the current model. They want the current system to just continue," said Kanojia. "There's such a prescription-oriented view that, 'We shall do it this way.'"
"But I think the world is very different," he said.
Popular in the Community