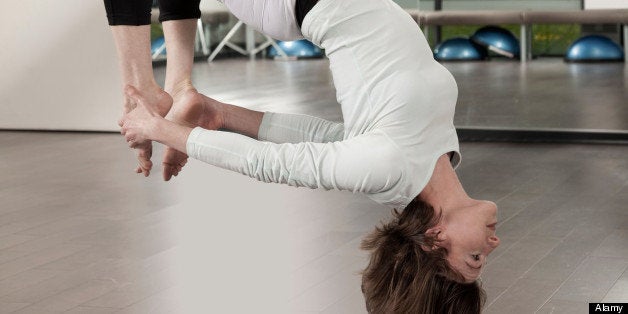 What We Did: The 75-minute class took students through standing and seated poses, inversions, balancing postures and meditations -- all using an aerial hammock suspended from the two hooks attached to the ceiling. The aerial technique was originally developed for gymnasts and acrobats, but has since been modified to suit a wider group of participants.
Our fearless leader was Shelly Bomb, a practicing yogi of 25+ years, who led new students through the more technical aspects of the practice with extensive knowledge and a calming presence. The class started and ended with meditations inside the hammock, and then went through modified versions of various yoga poses using the hammock to enhance and deepen the stretches while also adding an acrobatic element.
My first thought about the class was how liberating it felt: There's an incredible lightness to soaring, stretching and floating through the air suspended by a lavender silk hammock. The inversions really get the blood flowing (extended periods of hanging upside-down will do that), which left me feeling clear-headed and energetic after the class, feeling like I was walking on air. There's also a sense of playfulness that traditional yoga lacks -- it is based in acrobatics, after all -- with a freedom of movement that makes the class feel fun and energetic.
What It Helps With: The workout helps build flexibility and agility, as well as core and upper-body strength. It's also an excellent for blowing off steam and relieving stress.
It's a relatively low-intensity workout (although some of the moves are challenging), and I found the class to have just as much of a calming effect as ashtanga or Bikram yoga. And it's also restorative: After my class, I chatted with a 65-year-old former gymnast who had trained in Eastern Europe with Bela Karolyi when she was young, and is now a devoted aerial yogi. She had severe scoliosis that caused her chronic back pain, and said that AntiGravity yoga was one of the only things that made her feel better. The hammocks make it easier to hold inverted poses in correct alignment, with less pressure on the neck and back.
What Fitness Level Is Required: None, but beginner yogis may want to start with an AntiGravity Restorative class, rather than the AntiGravity Flying Fitness that I attended. (Full disclosure: I did rhythmic gymnastics for 10 years and have been practicing yoga for nearly as long, so the deep stretching and acrobatic elements felt very natural to me.)
The Flying Fitness class consisted of about half teacher trainees and advanced students, and at a higher difficulty level, we were able to get into more complex inversions like the "Chandelier Pose" (yes, it's as beautiful as it sounds).
What's It Cost: $20 for a 75-minute class, or $180 for a 10-class pass.
Would We Go Back: AntiGravity was not only a fun way to unwind, but it was also exactly what I needed to kick my yoga practice up a notch. After one class, I was totally hooked (I already bought a 10-session pass!). The deep inversions make for an incredible mind-body workout -- and savasana in a cocoon is pure bliss.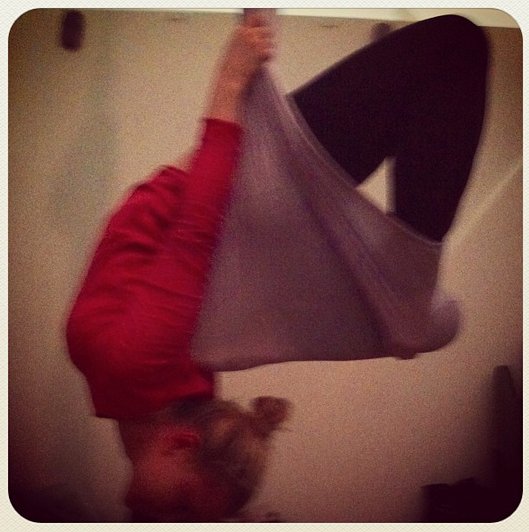 Related