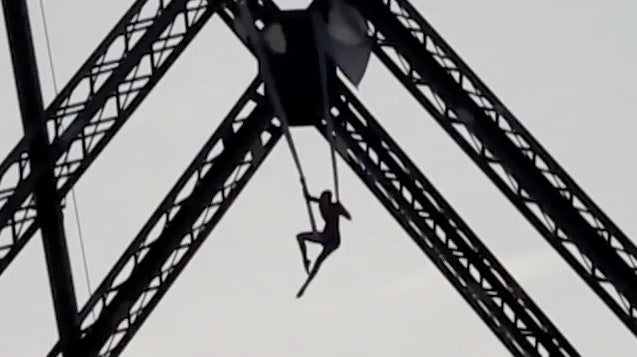 NEW YORK -- Aerialist Seanna Sharpe knew she'd leave in handcuffs, but she still scaled a 300-foot tower of the Williamsburg Bridge to stage her performance over the city's East River.
The Wall Street Journal reported that Sharpe and an artist and magician friend walked onto the bridge just before 7 p.m. Monday. There, Sharpe gave a daring but brief performance, flipping and flying in the humid air without the use of a harness or safety tether (VIDEO BELOW).
"My goal is to face my fear and to inspire others to face their fears," Sharpe told the Journal before scaling the bridge. "The first time I did it, I didn't make it to the top I was so scared. The second time the adrenaline was running high," she said.
And as the aerialist predicted, there was a price to pay for the free show. The 24-year-old Brooklyn resident was arrested along with her friend, who police identified as Thomas Skinner, 27, of North Carolina.
Many spectators captured video of Sharpe's incredible performance:
And Sharpe performing in Williamsburg, previously:
REAL LIFE. REAL NEWS. REAL VOICES.
Help us tell more of the stories that matter from voices that too often remain unheard.