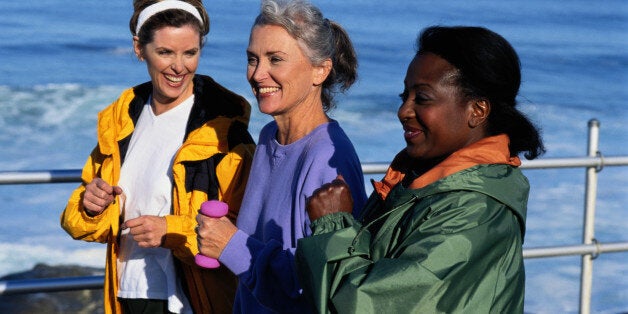 While we've known for some time about the many long-term benefits of exercise, from increased strength to a revved up metabolism, new research shows aerobic exercise also may have considerable effects on the memory area of the brain in older women.
A small study published online in the British Journal of Sports Medicine found a link between regular aerobic exercise and the size of the area of the brain (hippocampus) involved in verbal memory and learning among women whose brain power has been affected by age. The hippocampus has become a main focal point in dementia research because it is the area of the brain involved in verbal memory and learning, but also is very sensitive to the effects of aging.
Canadian researchers studied the impact of different types of exercise on 86 women with mild memory problems, all between 70 and 80 years old, over a six-month period.
Roughly equal numbers of them were assigned to either twice weekly hour-long sessions of aerobic training (brisk walking); or resistance training, such as lunges, squats, and weights; or balance and muscle toning exercises.
The results showed that the total volume of the hippocampus in the group who had completed the full six months of aerobic training was significantly larger than that of those who had lasted the course doing balance and muscle toning exercises.
No such difference in volume was seen in those doing resistance training compared with the balance and muscle toning group.
Although researchers say further studies are needed, they stress that aerobic exercise at the very least seems linked to the cognitive abilities of aging women.

There are hundreds of benefits of exercise at any age but, for older adults, the affects are especially dramatic. Another study in 2006 showed that exercise not only improved brain function but actually increased brain volume in older adults.
And it seems even starting an exercise regimen later in life reaps major health benefits. A recent study found that older adults who started to exercise even once a week -- even after being inactive -- were three to four times more likely to age healthily compared to their continuously inactive peers.
Popular in the Community