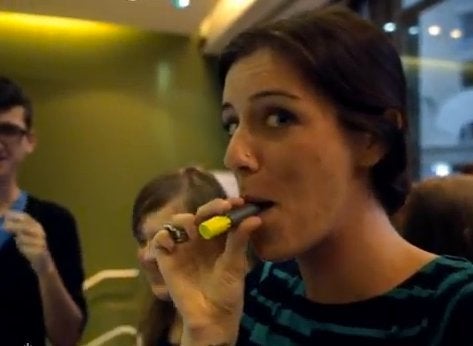 New York's resident party-pooper and senior United States senator Chuck Schumer is looking to stall the sale of an inhalable caffeine product set to hit shelves in January.
Aeroshot, a "first-of-its-kind breathable energy product" created by a Harvard professor, packs the punch of a large Starbucks coffee, or about 100mg of caffeine, without any calories in a few quick puffs out of a chapstick-sized inhaler.
Currently on sale in France, the Aeroshot has apparently skirted the FDA thus far by claiming it's a vitamin supplement (it contains B vitamins.)
Senator Schumer, however, isn't buying it.
"This product is nothing more than a party enhancer, designed to give users the ability to drink until they drop and it promotes dangerously excessive consumption of caffeine among youngsters and teens," said Schumer, in a press release. "The product has never been tested for safety by the FDA, particularly among children and teens, and there are absolutely no controls on who can purchase it and how much they can ingest."
And judging from this Parisian promotional video, it seems Aeroshot is being marketed more as a party-drug than a morning pick-me-up:
The company, Breathable Foods, says AeroShot is safe but is not intended for children under 12.
Schumer, who's effectively crusaded against Four Loko, a caffeinated alcoholic beverage and bath salts (which really mess people up), has written a letter to the FDA urging the agency to review the safety and legality of Aeroshot, and to force the company to "provide adequate evidence to substantiate its health and safety claims."
Popular in the Community