The far-right Alternative for Germany party released a new campaign poster last week with a slogan promising "Islam-free schools" beneath a photo of smiling white schoolchildren.
Alternative for Germany, also known as AfD, released the posters in the midst of its election campaign in the southern German state of Bavaria. Recent polls show the party is on track to win the third-largest share of the vote as it saps votes from the traditional conservative party aligned with German Chancellor Angela Merkel.
But as AfD rallies voters ahead of Bavaria's elections next month, the party is under intense public and political scrutiny for its links to neo-Nazi organizations and role in encouraging far-right riots in recent weeks.
AfD's Bavarian anti-Islam posters have added to the backlash against the party. A German teachers' associations called the posters dangerous, and an Austrian member of the European Parliament accused the party of promoting fascist rhetoric and racially segregated schools. A British hate crime monitoring group also denounced the poster, tweeting, "Welcome to the new face of fascism."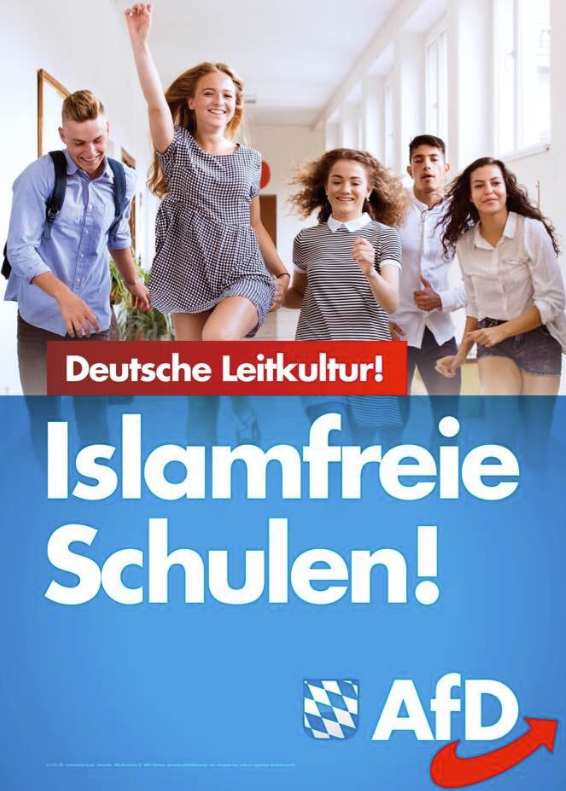 AfD claims that the posters are not calling for barring Muslim children from schools, Germany's Der Spiegel reports, but are opposed to Islamic education in schools and face veils. But some Germans on social media criticized the posters for echoing Nazi-era discrimination against Jewish students, HuffPost Germany reported.
The party has a history of anti-Islamic propaganda, and during last year's national elections it worked with a conservative American ad agency to create a controversial series of posters, including one reading "Burkas? We prefer bikinis" and another with a photo of a pregnant white woman with the tagline "New Germans? We'll make them ourselves."
Although AfD is often careful to distance itself from more politically toxic extremist groups and violent rhetoric, it has repeatedly provoked scandals after its officials made statements downplaying the Holocaust or siding with far-right activists. After anti-migrant riots erupted after the killing of a German man in the city of Chenmitz two weeks ago, a prominent AfD official marched with the founder of anti-Islamic extremist group PEGIDA in a demonstration against migration.
While AfD is still shut out of governing in Germany, its success has caused traditional right politicians to swing farther right in hopes of winning back voters, especially prevalent in Bavaria, where the Merkel-allied Christian Social Union is losing support and increasingly embracing anti-immigration, anti-Islamic views.
CSU leader Horst Seehofer nearly brought down the German government this year after demanding tighter border controls, and more recently he called immigration the "mother of all political problems" and said he would have joined far-right anti-migrant protests were he not an elected official. Bavaria's CSU premier ordered that crucifixes be hung in all government buildings, and the party last year drafted a law banning full-face veils in public places.
Much like in several other countries where establishment parties mimic the far right, most recently Sweden, the CSU's shift hasn't worked, and the party is expected to lose its absolute majority government in a state where it once dominated.
Popular in the Community