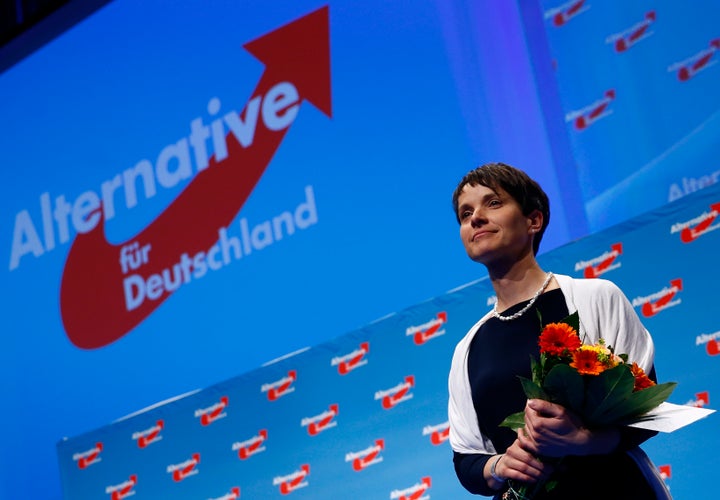 MUNICH ― An election night celebration in Munich for the anti-immigrant Alternative for Germany party turned violent last week as right-wing extremists attacked protesters and journalists outside the event.
The attacks were the latest example of a surge in extremist violence in Germany that has coincided with a nationalist backlash to the country's admission of more than a million refugees since 2015 — and an electoral boost for the AfD. There were 1,408 acts of far-right violence and 1,608 far-left attacks in Germany in 2015, up from around 990 and 995 respectively the previous year, according to a government report released in late June. There were also 75 recorded far-right arson attacks on asylum centers in 2015, and 918 politically motivated attacks on foreigners ― the highest number since the government started tracking them under their current definition in 2001.
Left-wing activists ― who have a larger presence in metropolitan areas ― have caused chaotic scenes in some of Germany's major cities in the past year. Last March, an anti-capitalist "Blockupy" protest at the new European Central Bank headquarters in Frankfurt turned violent, leading to flaming police cars and hundreds of arrests.
But as political violence has increased, it's the anti-immigrant, anti-Islam AfD, not anti-capitalist parties, that has benefited at the polls. Although AfD officials deny any connection to Sunday's attack or promoting incident, the party has capitalized on the nationalist sentiment that's fueling much of the violence.
Well-known right-wing figure Chris Ares, in the blue shirt, is pictured here kicking at photographers.
Violence Erupts Outside AfD Celebration This Week
The most recent example of right-wing violence occurred shortly before 6 p.m. on Sunday, when a small group of leftist protesters gathered along with journalists and photographers near a Munich restaurant where AfD members were celebrating wins they achieved in state elections in German Chancellor Angela Merkel's home state of Mecklenburg-West Pomerania. The AfD had made huge gains, dealing Merkel's Christian Democratic Union party a humiliating defeat and placing second behind the center-left Social Democrats in polls.
Three men attacked demonstrators and press outside the restaurant where AfD supporters celebrated, witnesses told HuffPost Germany. One, a rapper in Munich's right-wing scene who goes by the pseudonym "Chris Ares," can be seen kicking at photographers and protesters in images shared on social media Sunday night.
Chris Ares pictured ripping at a protest poster while Rick Wegner, far right, looks on.
Ares charged the group of protesters and journalists, shouting insults including "I fuck your mother!" and "Piss off, you faggots!" according to one witness who spoke with HuffPost Germany.
Photojournalist Michael T., whose last name we are withholding at his request, told HuffPost Germany that Ares kicked and spat at photographers and struck one in the face.
The photojournalist says he suffered a blow to the head during the incident. Another journalist, who spoke to HuffPost Germany on the condition of anonymity, also sustained injuries, including bruised ribs. Bavarian state police are investigating the incident.
Ares has been a prominent figure in Munich's growing right-wing scene. The rapper's lyrics are regularly infused with nationalist sentiment, and his hoodies are typically printed with Germany's eagle. The rapper also has connections with multiple nationalist organizations, among them the Bündnis Deutscher Patrioten, or Union of German Patriots, which regularly shares nationalist, anti-immigrant posts on Facebook. In January, Ares's music video "Deutscher Patriot" ("German Patriot") was screened at a rally hosted by Pegida, a far-right group.
Despite the initial attacks from the right-wing extremists, Antifa (Anti-Fascist Movement of Munich) protesters marched on, distributing fliers with such slogans as "Racism kills" and "Sexism is not an alternative." This seemingly only encouraged Ares, who, appearing with his shirt off in pictures later shared on social media, continued his alleged assault together with Rick Wegner and Lukas Bals, two other prominent activists.
Like Ares, Wegner is affiliated with the anti-immigrant BDP.
Bals has ties to Die Rechte, a neo-Nazi party. In May 2014, he was one of 20 neo-Nazis to storm Dortmund's city hall with banners that read "Germany for the Germans ― foreigners out," German website Zeit Online reported. During the protest, Bals allegedly struck a member of Germany's Pirate Party in the face with his fist. He was later charged with assault and battery.
Petr Bystron, the head of AfD's Bavarian chapter and who was not in attendance at the election party on Sunday night, denies that the party had any contact with the alleged attackers. But stills collected by German website 24mmjournalism from a video taken inside the restaurant and posted to the party's YouTube channel tell a different story: Ares and Bals can be seen at different times throughout the AfD election celebration in Munich.
Despite repeated statements to the contrary, this is not the first time Bystron has been associated with Bals and Wegner. In June, they appeared together in front of the Eine-Welt-Haus building in Munich, where Robert Andreasch, an expert on right-wing extremism, was delivering a lecture on the AfD. Bystron, Bals, and Wegner were not allowed into the event: They were later pictured seated together at a nearby beer garden.
In a now-deleted Facebook post, Ares stated that he was attacked by the Antifa protesters first, he was defending himself, and reporters on the scene lied about what happened. "You know where to find us," he boasted to his left-wing opponents on Facebook before deactivating his account on Monday. Ares, Bals and Wegner did not respond to HuffPost Germany's multiple requests for comment. On Wednesday, Ares uploaded a video to YouTube in which he criticized German media's coverage of the incident.
The AfD "had nothing to do" with the violence on Sunday, Kreisverband München Ost, the party's chairman, maintained in a press release issued Tuesday night, after a version of this story first appeared in HuffPost Germany. Ares, Wegner and Bals were not invited to the party's victory celebration, and will be banned from future events in Munich, the party said.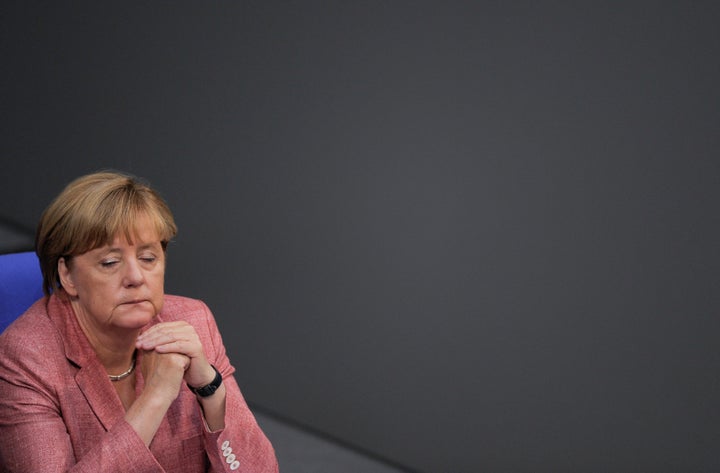 Merkel's Troubles and AfD's Continued Success
Sunday's election results in the northeastern German state of Mecklenburg-West Pomerania were widely viewed as a victory for the populist-upstart AfD. Merkel's CDU earned only 19 percent of the state's vote, behind both the center-left Social Democrats, which came out ahead with roughly 30 percent of the vote, and the AfD, which earned a surprising 21 percent.
Founded in 2013 as a eurosceptic party, the AfD has quickly transformed itself into a nationalist platform positioned against further immigration and the growth of Islam specifically. Its rapid transformation from a platform of economists challenging the efficacy of the euro to one focused almost solely on nationalism and identity politics, resulted in its first leader, Bernd Lucke, to leave the group. Many original members soon followed Lucke, clearing the way for new, more extreme members, most notably the party's current leader, Frauke Petry.
The party owes much of its rapid growth and success in recent elections to Merkel's unpopular decision to take in more than a million refugees and migrants in the past two years.
Borrowing a page from extreme right-wing group Pegida's playbook, AfD leaders have used increasingly violent language when discussing the country's migrant and refugee crisis and have repeatedly challenged the presence of Islam in Germany.
Professor Werner J. Patzelt, an expert in right-wing extremism at Dresden University of Technology, says the AfD and extreme anti-Islam platforms like Pegida are two sides of the same coin. "They're flesh from the same flesh, blood from the same blood," Patzelt told The Huffington Post. "Pegida is the AfD on the street in the form of demonstrations, and the AfD is Pegida as a political party and in the voting booths. …. The run of the AfD towards electoral success is unbroken and will go on."
On Tuesday, still reeling from her party's defeat in her home state, Merkel addressed the German parliament and spoke sharply about the AfD and its right-wing counterparts. The party's rise, she said, is "a challenge for us all in this building."
Sign up for the HuffPost Must Reads newsletter. Each Sunday, we will bring you the best original reporting, longform writing and breaking news from the Huffington Post and around the web, plus behind-the-scenes looks at how it's all made. Click here to sign up!
Popular in the Community