A leader of the German far-right, anti-immigrant party Alternative for Germany is under fire this week over accusations that she illegally employed a Syrian refugee.
The German newspaper Die Zeit reported on Wednesday that Alternative for Germany's Alice Weidel, one of the party's two top candidates in the country's election this month, gave cash payments to a Syrian woman to do housework at Weidel's home in Switzerland.
Weidel, who lives with her Swiss partner Sarah Brossard and two sons in Biel, Switzerland, allegedly paid the Syrian woman the equivalent of just under $26 an hour but had no formal contract for the arrangement. The wage is around standard in Switzerland, according to Die Zeit.
Weidel has denied the report, tweeting that it is "fake news," but the story has gained traction in the German media. Weidel's lawyer issued a statement to Die Zeit after publication of the article, saying that the Alternative for Germany leader has friendly relations with an asylum seeker who was a guest at her house, but that the person was not employed there.
The Die Zeit report also comes amid another scandal involving a racist email allegedly from Weidel, which claims Germany is being "overrun by culturally alien peoples such as Arabs, Sinti and Roma."
The email calls the ruling government "pigs" who are puppets of the governments that won World War II. Weidel's lawyer denied that she wrote the leaked letter, which German newspaper Welt am Sonntag reported was sent to one of her associates in 2013.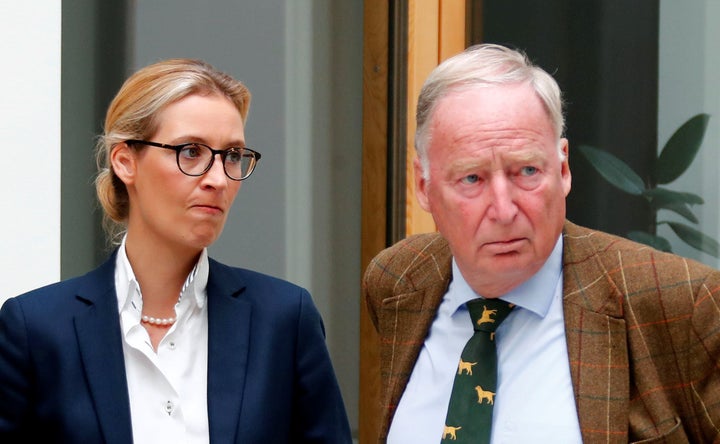 Alternative for Germany, also known as the AfD, has extremely strict views on immigration ― often using xenophobic and Islamophobic rhetoric surrounding the Syrian refugee crisis as a means of stirring up support for the party. Weidel has said that Germany's immigration policy would destroy the country and called for a parliamentary investigation into Merkel's move to take in asylum seekers during the refugee crisis.
The AfD's other top candidate, 76-year-old Alexander Gauland, also drew outrage on Thursday when he said in a speech to supporters that Germany had the right to be proud of "the achievements" of its soldiers in both world wars.
Party officials have also previously faced criticism for downplaying Nazi crimes and objecting to Germany's continued atonement for its past atrocities. Foreign Minister Sigmar Gabriel earlier this week compared AfD party members to Nazis, an insult very seldom used in German politics.
But despite criticism, the AfD has carved out a significant portion of support from the German electorate since its founding in 2013. Opinion polls released on Thursday show that the AfD is currently on track to become Germany's third largest party following the country's election on Sept. 24. The AfD will be far behind Chancellor Angela Merkel's Christian Democratic Union, however, in an election that is essentially a lock to give Merkel a fourth term.