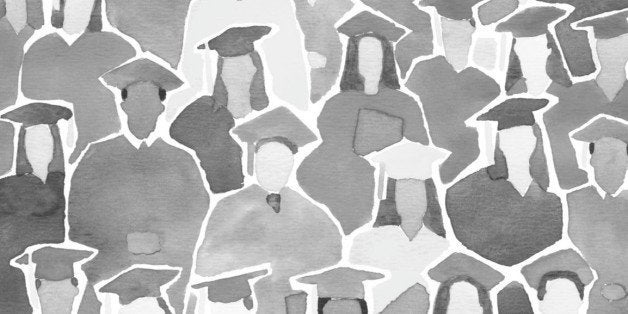 There were so many great blogs from students in my fall course, National Agenda: Race in America, that I thought I'd post at least one more. This blog, from Communication Senior, Brooke Snell, examines the longstanding arguments for or against affirmative action. This is the latest installment of my "Blog Blog Project," where you can find many other student voices on contemporary issues.
All semester, our class has been discussing race in America at a time when college campuses across the nation are engaged in debate over the issue. A longstanding issue--affirmative action--has also resurfaced. Affirmative action is the "the practice of improving the educational and job opportunities of members of groups that have not been treated fairly in the past because of their race, sex, etc." This hot-button issue addresses the challenging issue of whether or not race should play a role in the college-admissions process. Many have even gone to the lengths of saying it is unfair to pick one applicant over the other based on race. All this talk leads to the question: should race play a factor when it comes to college admissions or should it not even be considered? Further, who should be granted the power to make these decisions?
This seems to be a tough issue even for the Supreme Court. After Abigail Fisher was denied admission at the University of Texas, Austin in 2008, she filed a suit against the university. She felt as though she deserved a spot in their class and it was given away to non-white students, implying that she was discriminated against for being white. However, according to a Washington Post article, the university would not have accepted her even if Fisher's "so-called" idea that she was denied to give African Americans and Hispanics a spot was true. According to the university, she was not qualified for admission. This resulted in the Supreme Court case, Fisher versus The University of Texas at Austin. But who should be making this decision on whether affirmative action should be applied to the college admissions process?
Recently, Justice Antonin Scalia commented that "really competent blacks would win admission without special considerations." He added, "to get them into the University of Texas where they do not do well, as opposed to having them go to a less-advanced school, a less -- a slower-track school where they do well." Such controversial comments coming from a Supreme Court Justice prompts the question: should they be allowed to make these decisions? Maybe it should be up to each individual university to make up their own specific rules on how to create more diversity on their campus. The fact is that some campuses are less diverse than others. Diversity has been a very prominent issue on the University of Delaware's campus since school reconvened in September.
In the past few months, the school has received much backlash due to events like the alleged noose scandal, which brought light to this university's mere 5 percent of black students on campus, compared to the 22 percent of black residents in the state of Delaware. Throughout the entirety of the semester, our National Agenda class has talked about the University of Delaware's diversity problem. We have talked about many ways to create a more diverse population. Yet, due to recent events at this university, we need to make more internal changes before being able to establish a more diverse campus.
Maybe if the University of Delaware created a greater sense of inclusion, more students of different backgrounds would want to enroll here. I cannot imagine a world in which this semester's events will have no effect on enrollment for students of color. Especially with proclamations from black students on campus on how they feel here at their home away from home and how they are continually harassed.
As a senior in college, I can't say I'm the most qualified person to make a decision on whether race should play a factor in college admissions. However, based on my research and class discussions this semester, it is evident something needs to be changed throughout the country and more specifically here at the University of Delaware.
-- Brooke Snell, Senior at the University of Delaware
Related
Popular in the Community