By: Penelope Graham, Managing Editor, Zoocasa
When discussing expensive real estate in the province of British Columbia, the City of Vancouver invariably comes to mind, having long held the dubious honour of being the nation's priciest housing market.
But whether or not a housing market can truly be considered affordable is determined by more than just home prices; local incomes must also be aligned in order for residents to qualify for, and carry, a mortgage for the average-priced home.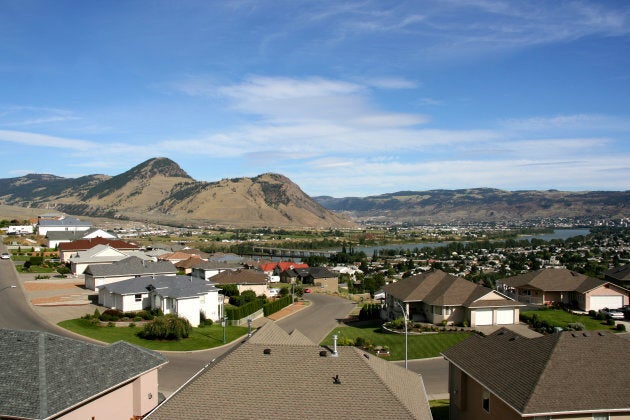 However, that's a tall order in the majority of British Columbian housing markets according to a recent study conducted by Zoocasa, which compared the minimum income required to purchase a home in major markets across the province with actual median earnings as reported by Statistics Canada. The calculations assumed buyers made a 20-per-cent down payment, extended their mortgage along a 30-year amortization, and obtained the lowest rate on the market.
Only 4 markets can be defined as affordable
The findings reveal that, out of 20 markets, only four could be considered affordable and in line with local incomes: Prince George, Kamloops, Campbell River, and Langford.
On the other end of the spectrum, buyers looking to purchase a home priced at the Vancouver average of $1,196,350 found themselves a whopping $96,000 short, based on the local median income of $65,327.
In fact, the least affordable markets were all located within the Greater Vancouver Area, with Richmond, Burnaby, North Vancouver, and Coquitlam rounding out the top five.
You can see how incomes align with average home price across British Columbia in the infographic below: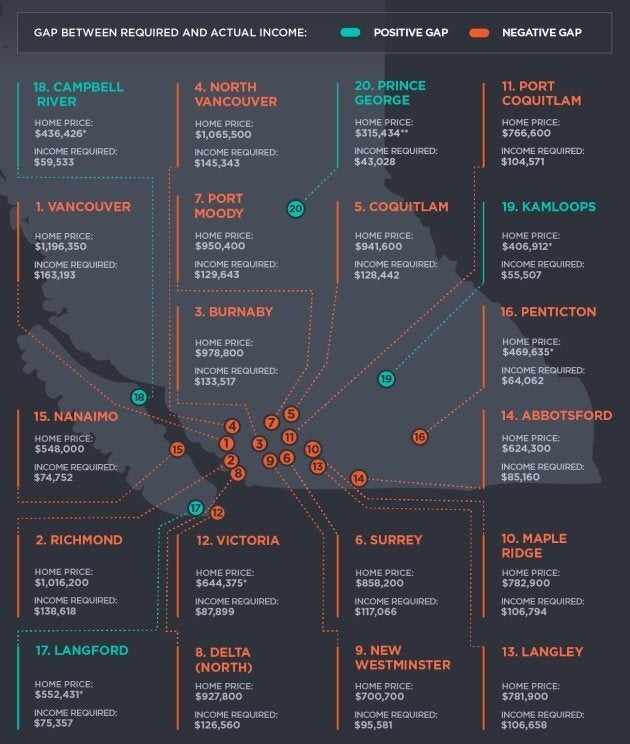 Mortgage stress test crimps affordability
While rampant price speculation and overseas demand have been pointed to as factors behind B.C.'s unaffordable markets, a recent policy put in place by the federal banking authority will continue to hit buyers right where it hurts: during the mortgage qualification process.
The national mortgage stress test, which was put in place as part of new banking guidelines in January, mandates that all borrowers of new and refinancing mortgages must prove they can afford to carry their mortgage at the Bank of Canada's five-year benchmark rate (currently 5.34 per cent), rather than the typically lower contract rate they actually receive from their lender (according to rate comparison site RateHub, today's lowest five-year fixed mortgage rate is 3.33 per cent).
This effectively slashes the amount of mortgage funds buyers will qualify for, and further limits their affordability. It's an issue that B.C. housing policy makers have drawn attention to as provincial sales numbers start to plummet.
"B.C. home sales continue at a slower pace compared to last year," said Cameron Muir, the chief economist at the British Columbia Real Estate Association, in a recent market report. "The impact on affordability and purchasing power caused by the mortgage stress test and moderately higher interest rates are negating the effect of the extraordinarily strong performance of B.C.'s economy over the last five years."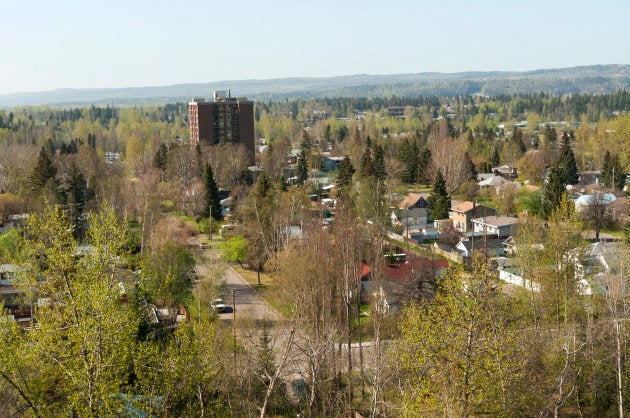 In fact, when Zoocasa ran the same numbers in accordance with the stress test's criteria, only Prince George and Kamloops remained affordable, while all other markets now face an income gap between median incomes and local average prices for homes for sale.
What can home buyers do?
With wages failing to keep pace with home values, what options to prospective buyers have in B.C.'s most expensive markets? One option often touted by real estate agents is to "drive until you qualify," meaning relocation to a market that's a better financial fit. However, not everyone has the ability to pack up and move for the sake of real estate values.
Another option, if possible, is to boost the size of the down payment, as doing so will reduce the size of the mortgage loan and the stress test's criteria. Regardless of which market you're buying in, it's important to connect with a qualified mortgage professional to explore your options for improving affordability.
Penelope Graham is the Managing Editor of Zoocasa.com, a real estate website that combines online search tools and a full-service brokerage to let Canadians purchase or sell their homes faster, easier and more successfully across the nation, including the Toronto, Calgary and Vancouver MLS.
Have you been affected personally by this or another issue? Share your story on HuffPost Canada blogs. We feature the best of Canadian opinion and perspectives. Find out how to contribute here.