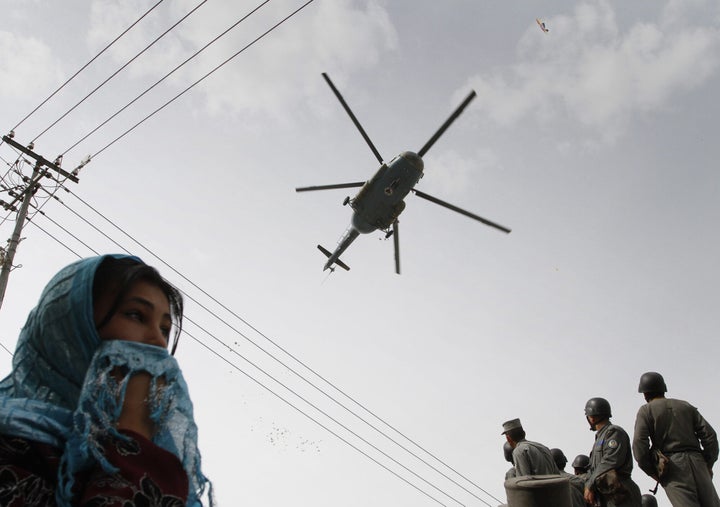 WASHINGTON -- At least 2,421 civilians were killed in Afghanistan last year, a record high since the U.S. invasion in 2001, according to a new report.
The report, released Tuesday by the Kabul-based Afghan Rights Monitor, said more than 3,270 civilians were also injured in conflict-related security incidents. That works out to roughly six to seven noncombatants killed and eight to nine wounded in the war each day.
The report blamed armed opposition groups (AOGs) for 63 percent of the civilian deaths and U.S.-NATO coalition forces for 21 percent of them. It criticized "AOGs for their deliberate killing and harassing of civilian communities and the US-NATO for their labeling of almost every war casualty as being 'suspected insurgent.'"
Improvised explosive devices continued to be the most lethal weapons in Afghanistan last year, killing more than 690 civilians and wounding more than 1,800 others. Two hundred thirty-seven civilians lost their lives in suicide attacks.
U.S. and other foreign deaths also hit their highest levels last year since the start of the war. A total of 499 U.S. troops and 212 other coalition members lost their lives in fighting in Afghanistan in 2010.
A sobering report from the Government Accountability Office released last week also showed that despite an increase in the size of the Afghan National Army (ANA), levels of violence are on a steady upward trajectory.
President Barack Obama has said the United States will begin to withdraw troops in July with the goal of fully transferring responsibility to the Afghan security forces by 2014. The GAO found that, while the international community has made "important progress in accelerating ANA growth," as of September not a single ANA unit was considered as capable of carrying out its mission independent of coalition assistance. Two-thirds were assessed as "effective with limited coalition support."
REAL LIFE. REAL NEWS. REAL VOICES.
Help us tell more of the stories that matter from voices that too often remain unheard.