With the American presence in Afghanistan shaken in the horrific wake of Quran burnings, the death of innocent civilians and indications that the American military presence may now withdraw earlier than planned, it occurred to me that we need to step our game up before the Taliban take over again. We need to do more, not less -- in service of people, not war. There are so many incredible organizations and individuals that I have come to admire over the past few years that stand to be washed away by a Tsunami of intolerance if the roots of moderate Islam cannot grow deep enough to withstand the storm.
With increasing tension and concern about the return of terrorism within Afghanistan and again in the United States and allied countries, our decision to launch The Afghan Fund of The James Jay Dudley Luce Foundation to continue to fund programs for women and children, education and health and social entrepreneurism seems more timely than ever. We cannot stop the good work going on in Afghanistan, particularly by brave and capable Afghans.
I have been following the incredible work of Andeisha Farid, founder of Afghan Child Education & Care Organization, (AFCECO) since I was introduced to her by Paul Stevers of CharityHelp International (CHI) several years ago. I began to write about her, then interview people who were also meeting her, like NBC's Brian Williams or Dina Habib Powell, managing director and Global Head of Corporate Engagement for Goldman Sachs. We contributed what we could through my organization, Orphans International Worldwide (OIWW).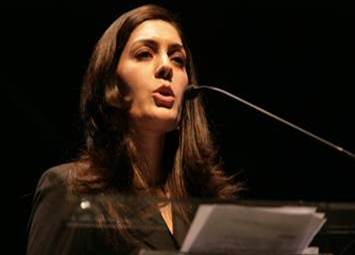 Andeisha speaking at a Vital Voices Global Partnership gathering in Washington, D.C.
(Photo: AFCECO).
When I learned that Andeisha, a graduate of Goldman Sachs' 10,000 Women initiative, was bringing an inspiring group of AFCECO's English-speaking orphans on a Discover America bus tour ending in New York City, I knew the time was right to launch the fund. We did last week, in the Non-Profit and Philanthropic Center that is our home, as the children said good bye to the U.S.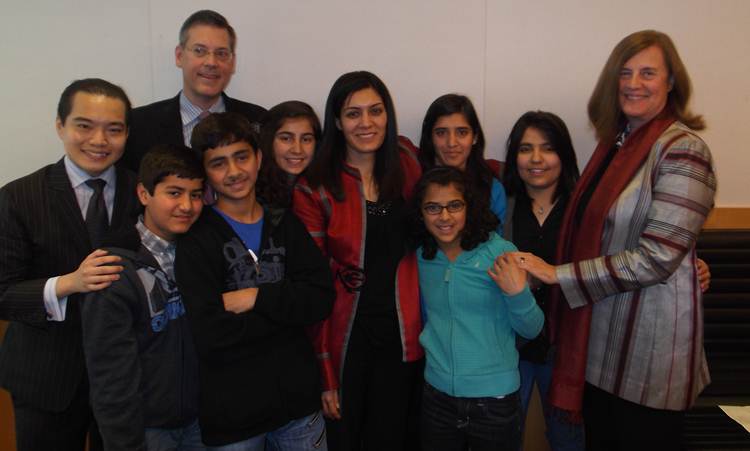 John Lee, the author, Andeisha Farid and the children along with Diana Rockefeller.
Photo: J. Luce Foundation (Daniel Santana).
Diana Rowan Rockefeller, founder and chair of the decade-old organization Afghan Women Connect (AWC), a special program of Rockefeller Philanthropy Advisors, spoke on the tremendous needs and opportunities in Afghanistan.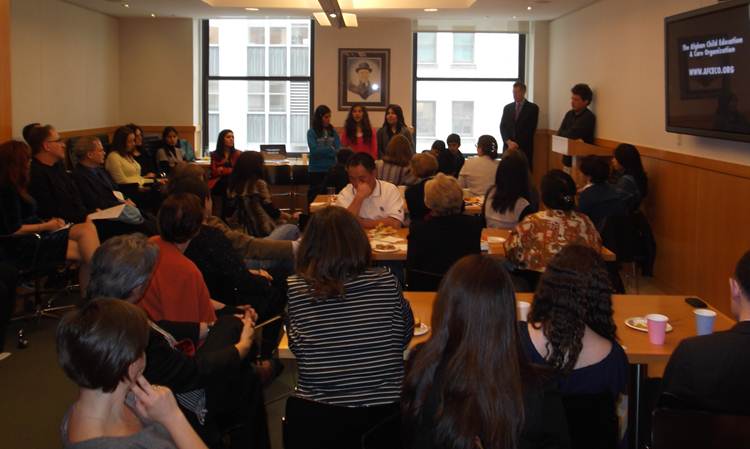 The children sang songs for the audience with the N.Y. Stock Exchange as backdrop.
Photo: J. Luce Foundation (Daniel Santana).
When the children, who have been touring the States for three months, shared their war-torn memories with our guests, several of them lost their composure, leaving the moderator in tears. Many guests wept silently listening to the voices of these innocent children who have known such horror -- and who are returning back to it. It is my hope that in whatever small way, our Afghan Fund will be able to protect and support them. Certainly they are counting on us. Perhaps even their lives will depend upon us.
The Afghan Child Education and Care Organization (AFCECO) is an Afghan charity based in Kabul that is busy investing in a country's only lasting resource: its children. Over 700 children of war in 11 orphanages are being raised in a democratic environment, given a world-class education and are on track to becoming future wagers of peace, equality and prosperity in Afghanistan. It is an Afghan solution to Afghan problems -- and it is thriving.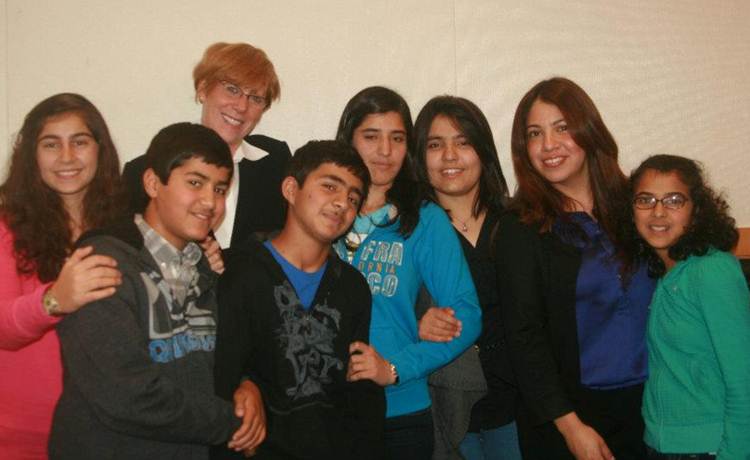 AFCECO children with our foundation advisors Dr. Lauri Grossman and Vanessa Cabezas.
Photo: J. Luce Foundation (John Lee).
Youth matter in Afghanistan, where 50% of the population is younger than 18 years. AFCECO's American volunteer Ian Pounds knows this well. He sold his home in Vermont to dedicate his life to helping these children, and accompanied the kids on their U.S. tour acting as their guide. In Kabul he acts as their English teacher and mentor. You can sponsor one of these great kids here.
We had planned our luncheon in the elegant Edwin Gould Foundation library for forty people. Over eighty guests attended, and as a result of their generosity and the contributions of volunteers and supporters of The J. Luce Foundation, including the restaurants listed below, 100% of the proceeds went to AFCECO. In addition to the lunch and presentation -- which included the children speaking about their lives and singing as a group (video) -- two Afghani social enterprise organizations, Boumi and Zarif Design, presented a "trunk show" of designer goods made by Afghan women. The founders of these companies, Hassina Sherjan and Zolaykha Sherzad, attended in person and support of their "sister" Andeisha. Delicious Leaves of Nature Tea was served -- coming all the way from Brooklyn.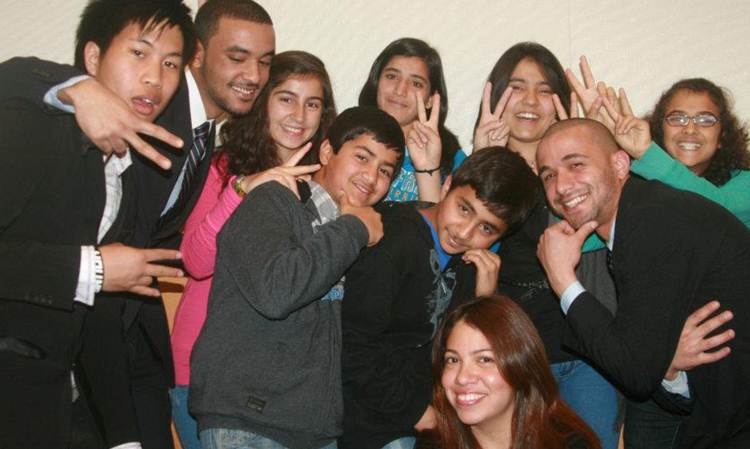 My own adopted son 'hangs' with orphans and our staff. Photo: J. Luce Foundation.
The luncheon was coordinated by the J. Luce Foundation's vice president John Lee and Cynthia Artin, chief of staff to the Foundation and president of Artin Arts. Special thanks to the restaurants that made the launch luncheon of The Afghan Fund possible: Bear Bar & Restaurant of Long Island City, Point Brazil Restaurant-Cafe-Grill & Buffet of Astoria, Rio Market/Food of Astoria and Milk Burger of Harlem.
Calling all HuffPost superfans!
Sign up for membership to become a founding member and help shape HuffPost's next chapter