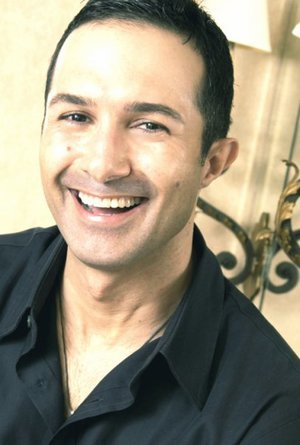 Matin Maulawizada
Founder, Afghan Hands
Matin is one of the most sought after fashion and celebrity make-up artists working today. His work has been published on the international and domestic covers and pages of Vogue, Elle, InStyle, Glamour, Cosmopolitan, Marie Claire, and Vanity Fair.
Living legends Jeanne Moreau and Meryl Streep, actresses Angelina Jolie, Claire Danes, Julianne Moore, Lena Dunham, Rachel Bilson, Maggie Gyllenhaal, Liv Tyler, and Gwyneth Paltrow, pop stars Dido, Mandy Moore, and Jessica Simpson -- all are among his clients.
Perhaps most importantly, Matin is the founder of Afghan Hands Inc., a nonprofit educational organization dedicated to helping Afghan widows and disenfranchised women.
CNN's Anderson Cooper 360 profiled the Afghan Hands project, and press coverage includes Elle, Life and Style, Vogue Nippon, Lucky and People. The New York flagship store of Saks Fifth Avenue featured the shawls in its windows for "Brush With Greatness" week. Artists, photographers, and designers are working with Matin and Afghan Hands to bring about social change in Afghanistan. The project is a model for change in other countries where women are in desperate need of education and empowerment.
Ann Paisley Chandler: A native of Afghanistan, you founded Afghan Hands to help Afghan widows most affected by the war to help restore hope and purpose to their lives. At centers in and around Kabul, these women learn to create exquisitely embroidered shawls and scarves. What motivated you to start your nonprofit organization?
Matin Maulawizada: After reading an article about the girls committing suicide because they were being raped by opposing Mujahideen factions in Kabul, I became physically ill and I realized the place I hold so close to my heart, Afghanistan, is not the Afghanistan I grew up in. I vowed that I will not read any news about it or discuss/defend her or her "freedom fighters" in heated political debates unless I can do something about it. Soon after that I became a U.S. citizen and stayed away from all of it until the fall of Taliban and realized that I can actually go back. I didn't have much resources and wanted to go back desperately. My cousin and mentor Adeena Niazi was a women's advocate throughput the war and even started and supported underground girls school during the rein of Taliban. At this point she started to take in groups of little orphaned girls that were begging on the streets or collecting garbage to survive, and hired care takers and tutors to make sure they were getting a proper education. Between her and my friend Vassyli Barlak (who lived in Afghanistan in the 70's) wise advise, I started to think small. I realized that I didn't have to think large scale. I realized if I could support and commit to help even one person improve her life and the life of her children for the better, it will be better than waiting and trying to figure out how to do things in larger scale. 
By some divine guidance, having no business to do make up on women especially at this scale and as an Afghan man, I realized I had access to celebrities and throughout my travels I've collected lots of antique textiles only to get home and realize I don't have the space to display any of it. When I decided to go back and "help" I knew that I didn't want to do anything like a charity. Especially if it didn't involved children and animals. I knew and I have seen what charity and hand outs can do to a person's pride and psyche. So I decided to start a literacy program that had a job attached to it. The main group that truly needed support more than anyone were the widows and women that were sole breadwinners for their families. We ended up meeting Noor Jaan, a passionate teacher who came back to Afghanistan after years of running a tailoring project in Pakistan, and she took on the challenge of running the project. We immediately started with just 5 women and a local teacher. We decided to teach literacy, numeracy and women's rights in accordance to Islamic law, local law and how to defend those rights when challenged by others. By the time I left Kabul we had 25 women and many others asking us to bring it to other neighborhoods. To date, we have trained 200 women and are still working with 100 women. Me and my sister Mina work in Kabul and my partner Mikhail Serdiouk tirelessly runs all the logistics here in NY. We created, and have worked as volunteers, a non profit organization that only profits people that really deserve it.
Chandler: What inspires you and excites you most about the impact of your goals?
Maulawizada: I honestly had no idea on the physical manifestation of how financial freedom could change a person's posture and expression. After a year into the project I remember going to one of our classrooms/work spaces realizing that the women looked completely different, recognizably different.  They no longer bowed their heads down and didn't sit with a bowed posture. They were sitting upright and when they talked, they smiled and they made eye contact. You see I always was under the impression that looking down and not staring one in the eyes was a cultural imposition on women to look respectful and modest, but I pleasantly learned that it was not the case. Another woman showed up without her Burka one day. She decided to cut it into pieces and that is how our label started. In the hope of someday seeing women free of such a claustrophobic garment that doesn't have Islamic roots and putting them at risk daily because it  hinders the wearer's peripheral vision and they don't see incoming traffic when they cross the unruly and very busy streets of Kabul. Another one told me that for the first time she didn't have to ask anyone where the bus was going. She could read the little sign on the windshield. So, these kinds of stories not only are humbling but they feed my soul and drive me to do more. 
Chandler: What do you find the most rewarding aspect of working in philanthropy on a global level?
Maulawizada: Poverty and financial challenges are one thing in the west, but it is an entirely different reality in a world like Afghanistan. A mere price that we pay for a meal at a restaurant can literally sustain a large family in a developing country like Afghanistan. Realizing and witnessing such a shocking reality in person can change a person's view on how one values money and chooses to spend it.  It has certainly humbled and changed me. 
   
I would love to grow the project to obliterate illiteracy in Afghanistan and other parts of the world. Our model is effective and it works. The main obstacle we have is the security problem in Afghanistan.  Ideally I want each group of women (there are usually 10 women per group) to choose a business such as a bakery, nail salon, beauty parlor, tailor shop, videography etc. and they can run it under Afghan Hands umbrella and Afghan Hands micro loan. They can then run the business and flourish as equal partners and make their own money. Security in Afghanistan makes this difficult, but we are still going strong and staying committed to support and inspire the women that we work with to create beautiful embroidered goods.
For more information, please visit afghanhands.org. 100% of donations and proceeds from sales of the hand embroidered shawls go back to support these Afghan women.
REAL LIFE. REAL NEWS. REAL VOICES.
Help us tell more of the stories that matter from voices that too often remain unheard.