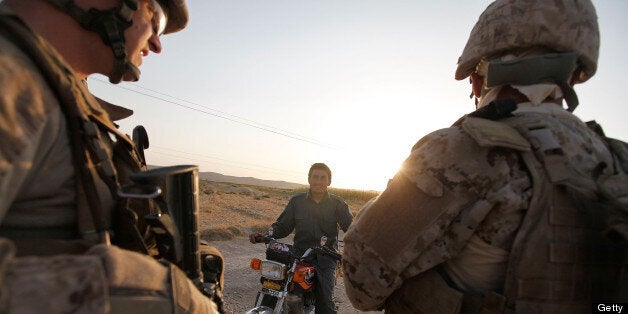 "The Americans are not going to be here forever," Taliban militants told Faizi while he was on assignment in a Kandahar prison. "Now we know your face." They vowed to the 27-year-old, U.S.-contracted linguist that they would find him the moment the Americans pulled out of Afghanistan.
Faizi knew those were no idle threats. When suicide bombers attacked the base his friend and colleague Farhad was working on, the linguist was the first one to be targeted.
"The first thing they did was shoot him," Faizi says.
Faizi is one of tens of thousands of Afghans who have been employed by the U.S. military, government and contractors during 12 years of war in Afghanistan. He has been working with U.S. troops since 2009 and embedded with units in some of the most dangerous parts of the country. He joined them on patrols, got caught up in the same attacks and suffered from the same IED blasts.
"We are like members of a family, we and the U.S. troops," Faizi says. "We take care of each other."
With Americans preparing to withdraw from Afghanistan by the end of 2014, however, Faizi and his colleagues increasingly fear for their lives. To protect their safety, their last names are omitted in this article. The interpreters have set their hopes on a Special Immigrant Visa (SIV), a program created by Congress for Afghans and Iraqis who worked with the U.S. during the wars and are in danger because of their service. Yet the SIV application process is long and tremendously complicated, and the program is set to expire within months. While legislators are working to extend the program and expand its effectiveness and reach, many of America's allies in Afghanistan and Iraq currently remain in fear of their lives.
Faizi applied for his SIV in 2012, and while he already made it through the first application round, he has been waiting for over a year to receive the paperwork for the next phase. By now, most people in his Kabul neighborhood know he's working with the Americans, and considering the Taliban threats he received in Kandahar, he fears for his life and the safety of his family.
"My entire family will be under threat and danger when the Americans leave. That's why we applied for the visa," he says. "But the process is very, very slow." Faizi says most of his colleagues applied for the program at least two years ago and are still in harm's way.
"We are abandoning Afghans who worked with U.S. troops to a certain death," says Ronald Payne, a U.S. Army nurse who served in Afghanistan and founded the Allied Freedom Project, a Texas-based nonprofit that assists Afghans who are applying for an SIV. Payne's comments in this article are his own and not on behalf of the military.
"The Taliban are not going to show mercy," Payne says.
Militants have realized that the Afghans traveling with foreign troops are the eyes and ears of each team. As missions are centered around the interpreter, they are often the first target of an assault. Payne says interpreters' homes are frequently under attack, mostly in rural areas where there is little government control.
The Taliban set examples.
"They told the villagers, 'If you help the Americans we're going to burn your children,'" Payne recounts from his time working in a burn center in Afghanistan's Khost province. One day during his tour, villagers brought in an 11-year-old boy. Taliban had poured gasoline over his head and had set his little body on fire. In a separate incident, a 4-year-old girl's foot was plunged in boiling water.
Mustafa, one of Faizi's colleagues, hasn't visited his home in Kabul, Afghanistan's capital, in almost a year -- afraid for his life and that of his family. But Mustafa wasn't always this worried. He started working as a linguist for the U.S. right out of high school in 2007 and joined American teams all over Afghanistan -- Air Force, Navy and infantry units. After a couple of years, his neighborhood found out about his work. He started receiving menacing phone calls and was physically threatened on several occasions.
"Working with the army is a rough life," Mustafa says, looking much older than his 23 years during a recent Skype conversation. He applied for his SIV in 2010, and received confirmation that he had passed the first stage of the application only months ago. He hasn't heard anything from the embassy or the State Department since.
Mustafa says many of his colleagues have psychological issues and live in constant fear of being laid off. While they live on the army base for the duration of their contract, returning home amid hostile neighbors would bring about an entirely different set of dangers.
"Everybody is worried about the future," he adds.
Congress created the SIV program in 2008 in response to a growing concern over the safety of Iraqis who had worked for the U.S. since the overthrow of Saddam Hussein's regime. In a 2005 cable, the U.S. embassy in Baghdad wrote to Condoleezza Rice that "insurgents' intimidation campaign has touched our LES [Locally Employed Staff] corps personally: two of our LES employees have been gunned down in execution-style murders, and two others barely escaped a similar fate in August. Our LES employees live in fear of being identified with the embassy of the U.S."
The Kennedy-Lugar/Refugee Crisis in Iraq Act set aside 5,000 visas per year for Iraqis who had worked with the U.S. Army, government or an affiliate for at least a year and could prove they were in danger because of their work. The program was determined to run for a period of five years. A similar piece of legislation for Afghanistan, the Afghan Allies Protection Act, was approved in 2009, setting aside 1,500 visas per year for a similar period.
However, five years into the program, as the legislation is set to expire, only a fraction of the available visas have been granted and U.S. embassies in Afghanistan and Iraq are facing a massive backlog in handling the applications.
The State Department refused to comment on the current backlog.
Reports by rights organizations such as the Iraqi Refugee Assistance Project (IRAP) and Human Rights First have established that much of the backlog is attributable to the complexity of the SIV application process and the time it takes to clear each bureaucratic stage. The visa process includes pages-long application documents, references from the U.S. personnel Afghans and Iraqis served under and several levels of background checks. In fact, most applicants fail to get through the process without help from a lawyer.
A report by the Iraqi Refugee Assistance Project from 2010 noted that many Iraqis faced trouble locating their former employers once they had finished a tour. Applicants were also denied because of bureaucratic reasons. Embassy staff mistranslated names out of Arabic or used different transliterations on different forms. Staff confused applicants with people carrying similar names. Reviewers had even shoved aside pages-long applications because they preferred the blank spaces in the form to be filled with "None," "N/A," or just left blank. The IRAP report noted that there was no standard request -- different reviewers had requested different responses.
"It should be possible to complete the current program within a year, but mostly it takes two or three," says IRAP's national policy director Katherine Reisner, explaining the backlogs at the U.S. embassies in Kabul and Baghdad. She notes that there are three agencies currently responsible for the program, but there is no central oversight. And while Congress should be credited for developing the SIV program, the agencies in charge have not executed the program in accordance with legislation. "They only successfully dispersed a fraction of the number of visas that were set aside," she says.
A State Department official told The Huffington Post that overall processing times have improved in the past two years, but are not always predictable. The department added that while it can't disclose the number of pending SIV applications, it has made progress in bringing more Iraqis to the United States and that the Embassy in Kabul has increased resources to improve the efficiency of the process and reduce backlogs without compromising security. Reisner says that the program in Iraq did improve over the years and more visas were issued. Yet she adds that in general, the number of delays in applications are increasing, as well as the number of unwarranted denials.
"If you look at the system you can't reasonably think we want to help these people," says Kirk W. Johnson, founder of the LIST Project, an organization that assists Iraqis refugees in resettling. So far, Johnson's LIST Project has brought more than 1,500 Iraqis to the United States, yet only a few of those were admitted on an SIV -- even with the help of American lawyers, the process is just too complicated.
"The government created a special tool to help these people out, but in reality it seems almost unusable," he says.
Johnson echoes IRAP's sentiment that while Congress did act to provide the legal framework to aid America's Afghan and Iraqi allies, the execution of the programs has been extremely slow. According to Johnson, "no one wants their signatures on the next hijacker's visa."
Yet life in Afghanistan or Iraq after having worked for the Americans can be extremely difficult, as proven by Khalid al-Ansary, a reporter who worked for several American and British news outlets in Iraq, including the BBC, Reuters and The New York Times.
Al-Ansary started working for western media only six days after U.S. forces entered Baghdad. As a campaign of bombings and sectarian killings engulfed the country as of 2004, his job became increasingly dangerous.
After bringing a BBC team to his neighborhood, neighbors started harassing him and his family. In 2006, al-Ansary was kidnapped by militants on his way home after reporting on a suicide bombing. They suspected him of spying, yet he was able to convince the insurgents that he and his team weren't working against them. They eventually let him go.
Al-Ansary has moved his wife, son and daughter countless times. "I have been seen by fellows as a traitor, because I'm working with the Americans," he says.
"We never know who is targeting us," al-Ansary says. "We know that our enemy is al Qaeda and the militias loyal to Iran, but we have no idea when these militias and groups are going to attack and where they are going to attack."
Al-Ansary applied for a visa to the United States four years ago -- not an SIV, because it would only have allowed him to bring his nuclear family. He's still waiting.
The SIV program for Iraq is set to expire at the end of the 2013 fiscal year, and the program for Afghanistan will follow in 2014. However, legislators in both Congress and the Senate have introduced proposals to extend and improve the program.
In Congress, an amendment to the National Defense Authorization Act introduced by Rep. Earl Blumenauer (D-Ore.) was approved with an overwhelming majority in Congress. A similar piece of legislation introduced by Sens. John McCain (R-Ariz.) and Jeanne Shaheen (D-N.H.) is set to be voted on as part of the NDAA. In addition, senators of the "gang of eight" have included the continuation of the SIV program in their proposal for comprehensive immigration reform.
According to activists, the proposed legislation could address some of the current flaws of the program. The bill would extend the program and guarantee that every application will be completed within nine months of submission. In addition, the State Department would be required to appoint a central coordinator responsible for overseeing the program, and applicants who are denied a visa would be informed as to why and have the opportunity to disprove information or provide missing documentation.
The gang of eight's proposal would also expand eligibility for an SIV to employees of U.S. media and non-governmental organizations, as well as interpreters hired by the International Security Assistance Force in Afghanistan.
"We really hope the Senate language is adopted," says Katherine Reisner of IRAP, explaining that while it is up to the agencies to execute the legislation swiftly, the bill signals that lawmakers have made the SIV program a priority.
"These Iraqi and Afghan translators put their lives on the line to help our troops and we made a commitment to them to help them come to the U.S.," says Blumenauer, who introduced the proposal in Congress. "Literally their lives are in danger every day, and keeping our commitment to them is right and just after the service they have done the U.S. and our fighting men and women."
Blumenauer adds that if the U.S. needs foreign allies in the future, it is imperative that the right example is set in Afghanistan and Iraq today. "If we want foreign nationals to help us in the future, and risk their lives to help our troops, they need to see that we have kept our commitments to our allies in Iraq and Afghanistan. No one will volunteer to be a translator in the future if they see that previous translators have been abandoned to their fates by the U.S. It's a national security issue," Blumenauer says.
Ronald Payne, the U.S. Army nurse, concludes: "The Afghans and Iraqis who worked for us were not just there for the money. They were there to make Iraq and Afghanistan into a better place for themselves and for their people," he says.
"We have a moral obligation, just like we will never leave a fallen soldier behind, not to leave one of our allies behind."
Related
Popular in the Community