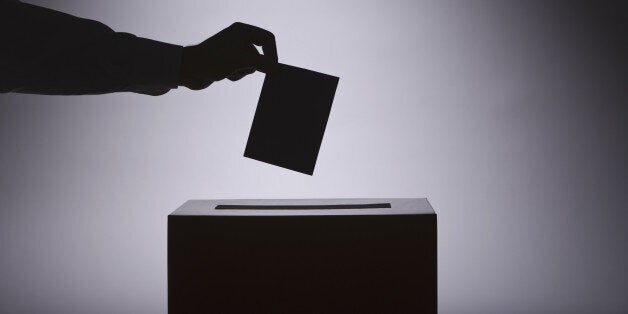 Afghanistan's presidential election has taken a turn for the worst.
Presidential candidate Abdullah Abdullah -- who led the first round in April with 45 percent of the vote -- on Wednesday announced his decision to boycott the national election commission and demand the vote counting process that began just a few days ago be brought to a grinding halt so that fraudulent votes can be identified before any partial results are released. He accused the election organizers of engineering industrial-scale fraud in favor of his opponent, Ashraf Ghani Ahmadzai, and he implicated current President Hamid Karzai as a co-conspirator.
According to an anonymous source close to Abdullah who spoke to the New York Times earlier this week, Abdullah suspects Karzai -- the man who defeated him in a 2009 election marred by irregularities -- has worked in cahoots with election officials during the runoff round to install Ghani as his successor. The same source said Abdullah believes the president might also be trying to spark a crisis between the two candidates from which he could emerge deus ex machina, perhaps extending his term in office.
Well, if it's a crisis Karzai wants, Abdullah seems more than ready to give it to him.
From the start of this year's process, there has been a clear-eyed recognition that certain unfortunate realities would be unavoidable. There was going to be some fraud, and the country's longstanding ethnic divisions were sure to rear their ugly head. Both issues presented challenges in the first round, but all the key players -- the commissions, the candidates, the media and the public -- saw a runoff as inevitable, so most rested easy knowing that nothing was final.
But that's no longer the case. When second round campaigns began in June, the climate around the election was palpably tenser. The candidates and their teams started exchanging harsher words, and ethnic goading became a staple of rallies. Now, entering the election's endgame, fraud, unlike in the first round, has suddenly become a make-or-break issue for Abdullah, who sees his once very promising shot at replacing Karzai slipping through his fingers.
While in the first round both candidates shared concerns about fraud and encouraged officials to fully investigate leads, this round, Abdullah and his supporters are the only ones really adamant. Ashraf Ghani Ahmadzai's team, which leads the runoff by as much as 1.5 million votes according to some estimates, has actually begun to rebuff claims of fraud in the election and try to defend it as more credible than the first round. Those assertions, in turn, have been leant credence by election officials and observers.
Independent Election Commission (IEC) Chairman Ahmed Yousuf Nuristani shocked many when he said over 7 million voters participated in the runoff. Most experts expected there to be a smaller turnout than the first round, so the IEC's estimate caught them off-guard. To Abdullah, however, that number constituted a threat to his candidacy. "We will not accept results from provinces where the reported turnout is higher than the number of eligible voters," he said at a press conference on Sunday, a day after the election. Indeed, the figures coming out of some provinces like Khost, in the Ghani-friendly East, put the number of ballots cast even higher than the total number of adult age residents. Abdullah has claimed up to 2 million votes could be invalid.
Yet it's too early to tell if fraud was as extensive as Abdullah has suggested, or even if it disproportionately favored his opponent, for that matter. The Electoral Complaints Commission announced on Tuesday that it had received a total of 2,558 complaints regarding fraud, roughly 500 less than it did in the first round, with 575 against Ghani and 664 against Abdullah.
What matters most at the moment is that the tenor of this year's process has changed. It has quickly slid from being praised world-round as a surprise success story just a few weeks ago, to an embittered, conspiracy-fueled standoff. And with NATO set to pullout by December, the stakes couldn't be higher.
The fear weighing on everyone's mind seems to be the possibility of a disputed result devolving into a violent conflict. Ghani is considered the candidate of the Pashtuns -- Afghanistan's largest ethnic group, and traditionally the ethnicity of the country's top leader. His running mate, General Abdul Rashid Dostum, commands the Uzbeks -- another of the largest ethnic populations. Abdullah's team, on the other hand, is considered the champion of the Tajiks -- the country's second biggest constituency and the dominant ethnicity in many elite circles, especially the military.
It seems unlikely the U.S. and its NATO allies would sit idly by as Afghanistan degenerates into warring ethnic factions that would weaken the central government and make life for the Taliban a hell of a lot easier. That is only more true now given what is going on over in Iraq. It also seems unlikely the two lead candidates would ever issue an explicit call to arms in order to seize power. What is more probable is that the hungry powerbrokers and parochial warlords that have tied their fates to those of the candidates would be the ones to spark unrest. Yet, again, the Western presence, albeit dwindling, cannot be underestimated. Bribes and patronage could pacify militant rent-seekers and the Afghan security forces' dependence on foreign aid could be used to leverage their help in guiding the country's path out of the woods.
What exactly that path looks like, however, remains unclear. A third term for President Karzai seems about as unlikely as is him letting Abdullah Jockey his way into the Presidential Palace. Abdullah has suggested a joint committee be formed between he and Ghani under United Nations supervision in order to finish the election. But the UN's top official in Afghanistan on Wednesday implored him to respect the electoral system and refrain from fomenting discord any further. For now, election officials have largely ignored Abdullah's objections and are moving forward with vote counting as planned.
So it appears the presidential hopeful has only alienated himself from the election process, leaving his supporters little option but to take to the streets, which is in exactly what they did in Kabul on Thursday. All in all, it is becoming increasingly clear the early, popular success of this year's Afghan election is giving way to something uglier in the final hour. And sadly, it could get much worse before it gets better.
Calling all HuffPost superfans!
Sign up for membership to become a founding member and help shape HuffPost's next chapter