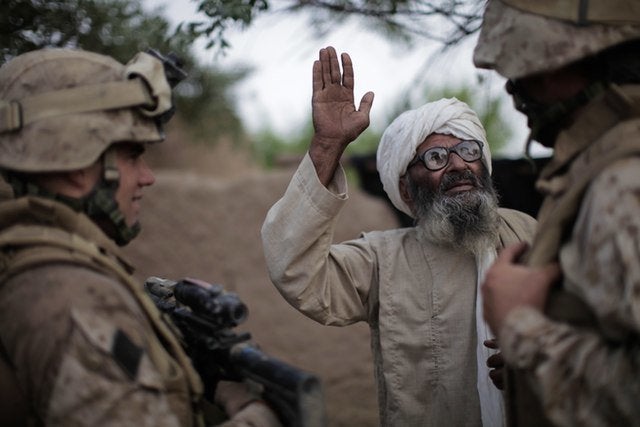 Congress recently renewed a visa program for Afghans working with U.S. forces, but with far fewer openings than previous years. This has left thousands of Afghans living in fear as they wait out the backlog.
Fared speaks six languages and, at 28 years old, has worked as an interpreter on and off for almost a decade, including for Canadian and U.S. troops in his country, Afghanistan.
One of his jobs for the U.S. military, at a regional Afghan security base in Wardak province, west of Kabul, was taking phone calls from locals who responded to a public radio advert soliciting information on potential threats.
But Fared also got calls from dozens of what he calls "bad guys" every month. "If we see you guys outside the base, we will hang you up and kill you," Taliban commanders would tell him, he recalls.
Fared knew enough dead interpreters to understand that these were not mere prank calls. Before he started working for the U.S. in 2012, Fared worked for the Canadian army and lived on their base in Kandahar. There, he shared a bunk bed with his friend and colleague, 18-year-old Hegran.
On patrols, the interpreters were tasked with warning "suspicious" individuals near the base to leave the area. One day, Hegran came across a man who refused to leave. After the Canadian soldiers asked him to try again, the man approached and blew himself up, killing Hegran and wounding the soldiers.
Fared is currently in hiding in the Afghan capital, Kabul. He lost his job when U.S. forces left the Afghan base a little over a year into his employment. In 2013, he applied for a U.S. visa under the Afghan Special Immigrant Visa program (SIV), but his application is still processing.
He says it's too dangerous to return to his native Kunar province, where Taliban insurgents control many highways and use information from bus and taxi drivers, teachers and sometimes even mullahs to track down interpreters.
"[Taliban] will stop the car and block the road, and say, 'Come here, I need you, bro' … Then hang me or shoot me," Fared said. "I don't know what they will do to me."
Dwindling Visa Program
The U.S. set up the SIV program in 2008 to provide visas for Afghans who provided "faithful and valuable service to the U.S." by working for the government in Afghanistan and who face "ongoing, serious threats" as a consequence.
The application process usually takes a few years. Applicants must provide a letter of recommendation from their U.S. supervisor, document the threats they have received and take part in interviews at the Kabul embassy, as well as biographical and biometrical security screenings.
Over 11,000 visas have been issued through the program since 2008. Each year, U.S. Congress authorizes new visas in the National Defense Authorization Act (NDAA) to prevent the program from expiring. Lawmakers have added 3,000-4,000 visas each year since 2014.
Yet Republican lawmakers in Congress blocked a provision for 4,000 additional visas for the 2017 financial year. Instead, the final version of the NDAA that passed on December 23 renewed the Afghan SIV program for four years and authorized just 1,500 additional visas.
This is likely to exacerbate a growing backlog to the program, which is still accepting new applications. As of early December, there were more than 13,000 Afghan applicants (not including their family members) stuck at some stage of the process, but only 913 visas left, a State Department official told Refugees Deeply by email.
The backlog has built up over the years partly due to the thorough screening process. Several U.S. agencies, including the Department of Homeland Security, have to vet each application. Since each security check has an expiration date, if one agency takes too long to get to an application, others will have to look at the files again.
The program also lacks resources. "There simply aren't enough people, period," said Mac McEachin, national security policy associate at the International Refugee Assistance Project (IRAP).
Advocates are also concerned that new phrasing in the NDAA, which limits eligibility to translators, interpreters and those who "perform sensitive and trusted activities," could make it more difficult for contractors or other Afghans working on a base, such as a mechanic or janitor, to obtain a visa.
"Taliban doesn't care whether you worked on the U.S. base or off it; if you worked with the U.S. at all, you're at risk," McEachin said.
A Dangerous Wait
The backlog has left applicants and their families with a long wait for visas – often between two to six years. During this time, they are extremely vulnerable to being targeted by insurgents. Many SIV applicants go into hiding to try to protect their families.
In 2014, IRAP estimated that one Afghan is killed every 36 hours due to their affiliation with the U.S. However, most killings go unreported. Fared said the U.S. military and Afghan government would look bad if these accidents were more publicized. "If they die, it's not news," he said.
Some SIV applicants decide they cannot risk the wait any longer and head to Europe. Fayaz, an Afghan interpreter working for U.S. forces, was stabbed by a Taliban insurgent in 2012. Later, a bomb was planted at his father's pharmacy, which was empty at the time. Fayaz moved to Kabul in 2015 to start his studies at medical school, but the Taliban found him and ambushed him at night, though he managed to escape unhurt. Last March, he sold his car and paid smugglers to help him get to Europe.
"I was forced to escape and leave Afghanistan, my dreams … my wife, kids and family members, to start my risky and deadly journey," Fayaz said, speaking from a refugee camp near Liege, Belgium, which he reached after a two-month journey through Europe.
Hope for More Visas
Supporters of the SIV program say President-elect Donald Trump's anti-Muslim and immigrant rhetoric emboldened anti-immigration lawmakers to block the provision for 4,000 visas last year.
Jeff Sessions, nominated by Trump to be the next U.S. attorney general, opposed increasing the number of visas, mentioning concerns over costs, brain drain and whether all applicants deserved them, according to the Associated Press.
Yet SIV advocates still hope that more visas could be added to the program when Congress takes up a new budget in April. The program usually has bipartisan support, especially from lawmakers who are veterans. Even its detractors usually do not publicly admit that they are against the program, says Scott Cooper, director of national security outreach at Human Rights First. "They would have every veteran's organization in the world calling them out on this," he said.
If Sessions is confirmed as attorney general, his departure from the Senate armed services, defense and judiciary committees could also facilitate compromise on additional visas, according to Cooper. "For this program, that's an obstacle that is removed," he said. Cooper also hopes Trump's nomination for defense secretary, retired Gen. James Mattis, could be a key ally for the program.
Whomever his allies, Cooper says he will to continue to push Congress to authorize more visas before the current number run out: "When we are out of visas, that's a three-alarms fire, and you will see us all over, doing everything we can, calling out every card we can."
Related
Popular in the Community