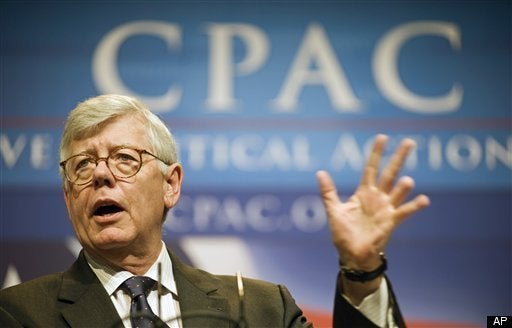 WASHINGTON -- It's not quite at a tipping point, but two years after President Barack Obama announced that he was putting 17,000 more troops into Afghanistan, Republican discontent with the ongoing war is growing.
That was plain to see this past weekend at the annual Conservative Political Action Conference, where both attendees and organizers made public shows of protest against the war's continued prosecution and, more often than not, were lauded for it.
A signature gathering for Republican voters, CPAC can provide a revealing window into the current mindset of the conservative movement. While the issue of gay rights received a flood of attention because of controversy among the event's organizers, those roaming the halls -- from the graybeards on down -- seemed far more preoccupied with, and disturbed by, U.S. foreign entanglements.
"I do think there is a [shift in opinion]," said David Keene, the outgoing chairman of the American Conservative Union and longtime CPAC organizer. That shift, he said, is back toward the kind of Republican ideology that the Sept. 11, 2001, attacks seemed to erase.
"Remember, the dominant view of Republicans and conservatives pre-9/11 was very well-expressed by Bush in the campaign when he campaigned against the idea of nation building," Keene said. "After that, we all became nation builders. Now, there are a lot of conservatives who would ask: 'But then what?'"
Of course, even during the height of George W. Bush-era neoconservatism, there were Republican skeptics of so-called "preemptive war." But at CPAC 2011, there were some surprises among the conservatives whose words echoed Keene's.
"I think you have a great number of the freshmen who will probably start questioning things happening over there," Rep Labrador (R-Idaho), a Tea Party-backed first-termer, told The Huffington Post while greeting supporters in the CPAC lobby. "I just went last week to Afghanistan and Pakistan. It was incredible, there was a great experience. I learned a lot. I still have a lot more to learn before I reach a conclusion on it., but I have my concerns."
Labrador is not alone. The incoming class of Republican lawmakers contains several critics of the war, some of them longstanding critics recently-emerged from the GOP wilderness. At CPAC, Rep. Ron Paul (R-Texas), one of the most vocal isolationists in the party, received a hero's welcome when he bellowed from the speaker's lectern: "Temporary stability does not guarantee stability. And besides, we just flat out don't have the money."
Conversely, former Secretary of Defense Donald Rumsfeld, who was being honored at CPAC, and Vice President Dick Cheney, his surprise opening act, were both booed by some in the crowd.
Outside the halls, the same dynamics were on display with antiwar activists far more conspicuous and active than their philosophical opponents. John Jones, a 25-year-old resident of Maine, passed out fliers under the mock header of "Young Americans for Imperialism" sending "its congratulations to former Secretary of War [Rumsfeld]."
A former Army linguist, Jones said he saw a "huge generational gap" with respect to Republicans and the Afghan war.
"I think a lot of it has to do with the Internet, of course, and people having access to information, like Wikileaks," he said. "It is kind of hard to be a thoughtless neocon when you have access to that."
And yet, for all the antiwar momentum on display at CPAC, few conservatives envisioned an immediate shift in policy or even tone coming from GOP leaders. A group of Republican lawmakers did meet on Wednesday to explore alternative strategies for the war. But the attendees -- Reps. Walter Jones (R-S.C.), John Duncan (R-Tenn.) and Ron Paul -- don't have much sway with other members of their conference.
Perhaps an even stronger indicator of the GOP's tepid movement towards war skepticism: Not a single Republican presidential candidate appears ready to even entertain such a posture.
"They don't want to get wrapped around the axle of a conversation about where we go in the future, being perceived as a criticism of something that happened in the previous six years," said Grover Norquist, a longtime antitax crusader who has recently become more antiwar. "If I could cleave that into two conversations, I'd be successful as a diamond cutter. But I think you have to do that to have a grown-up conversation that everyone feels comfortable with."

REAL LIFE. REAL NEWS. REAL VOICES.
Help us tell more of the stories that matter from voices that too often remain unheard.