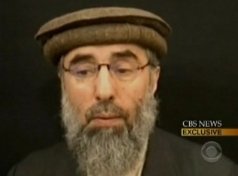 From remote mountains in northeastern Afghanistan, one of the country's most notorious terrorists has attacked U.S. troops and evaded capture for nearly seven years, CBS News chief foreign correspondent Lara Logan reports.
Afghan warlord Gulbeddin Hekmatyar spoke exclusively to CBS News about the state of the insurgency in Afghanistan, in this interview smuggled out of his secret hiding place.
"The resistance is spreading in all directions," he said through a translator. "It is becoming stronger and more powerful,"
Hekmatyar was once embraced by the United States as a freedom fighter - part of the mujahedeen resistance against the Russian occupation of the 1980's.
Watch the CBS News interview with KHekmatyar.
Popular in the Community