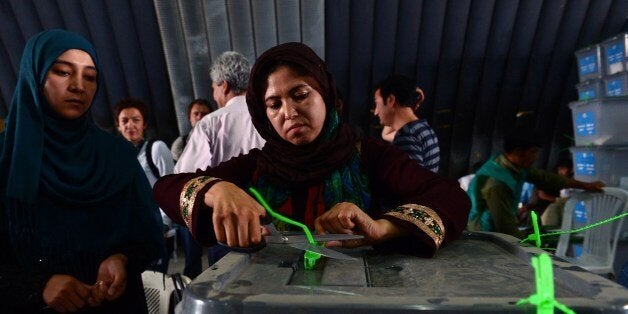 Once again the final result of the Afghan presidential election is on hold. The Independent Election Commission (IEC) hit the pause button on its crucial recount of votes cast more than six weeks ago in the second round of the presidential election that will determine the country's future. While the world waits -- now preoccupied with events in Ukraine and Gaza -- no one stops to ask: Where are the women of Afghanistan now?
Weren't we women 38 percent or more of the citizens who turned out, despite threats of violence, to cast a ballot for one of the men who said we could trust him to run the country? We didn't vote to be ignored once again from the get go, to be completely sidelined and forgotten, but that is what has happened.
Since the year 2000, the U.N. Security Council has passed one resolution after another calling for full participation of women at decision-making levels in all peace-making and nation-building processes. That means a lot more than simply turning out to vote. But we women of Afghanistan have been shut out, shut down, and silenced by fear of the very men we are asked to vote for and the men who follow them.
Witness the event that occurred in Kabul's Loya Jirga tent after the report that candidate Ashraf Ghani was far ahead in the second round of voting. This event has not been widely reported, though it is actually the most important episode of the whole Afghan election scenario and needs to be told.
The Loya Jirga tent is intended to be the scene of serious and peaceable problem solving. It is the gathering place of Afghan elders according to the old and still practiced custom of this country to deliberate, exchange ideas, resolve rifts and disagreements among the people of this land, a practice that has been going on for centuries, settling many disputes and saving a great many lives. Yet supporters of rival candidate Abdullah Abdullah, numbering about 3,000 men, went to that tent to stage a demonstration. They tore president Karzai's picture from the wall and stomped on it. They were armed and ready to take over the government. They called for an outright war. This was the rehearsal for a forcible coup d'état such as Afghanistan has suffered before, and it terrified everyone.
That scene brought Secretary of State John Kerry to Afghanistan to intervene. Personally, I would like to thank him for negotiating an agreement between the two candidates regarding not only the recount of all 8 million votes cast in the suspect election but also the formation of an unprecedented "unity government" involving both contenders. That agreement eased the greatest fear of Afghans, the fear of civil war, and seemed to help us go on with our lives and our hopes for a peaceful transition to a new government. It also undoubtedly eased the fears of the U.S, NATO, and ISAF as well as all the people of the world who have invested their money, efforts, and lives in making Afghanistan a better place -- a place where events like the demonstration in the Loya Jirga tent would not take place.
We women didn't realize at the time that the agreement had nothing to do with us. But now even that man-to-man agreement that Kerry brokered is under severe threat, with the recount halted as spokesmen for the candidates disagree about the procedure, hurl accusations at each other, and voice their leaders' reservations and objections to the proposed unity government.
In this dispute, Abdullah Abdullah's group would like to have their threatening demonstration in the tent forgotten, and that is why so few dare to mention it. But I speak of it. I believe someone must because it was that incident that finally silenced all of us women. We were and are very afraid because once again we have been excluded from the most important decisions of this country. We have been shut down by the oldest, most effective, and most familiar means: by force. Many of us believe that this is just the beginning of what is to come.
Now God forbid that we open our mouths even to ask questions. Legitimate questions like: Is this to be a coalition government, fabricated by the candidates and international mediators? Or a majority "people's" government, consistent with the ballots the people cast? Or what? Some say it will be a coalition, though that is not what we the people voted for, while others say it will be a national People's government, though the candidates can't seem to agree to that. How will a government be formed, and who will do it, and by what means? No one knows what will happen: who will lead, who will follow, or who will pick up arms again to force a decision.
Both women and men went to the polls at risk of their lives, or their ink-stained fingers, and some lost them both. Now, nearing the end of the fourth month of the slow-rolling wreck of this "democratic" Afghan presidential election, we Afghan women have lost our ability to speak. This is not what we women have worked for or voted for or dreamed of, and if we could raise our voices once again, we would not call this "democracy."
Related
Popular in the Community