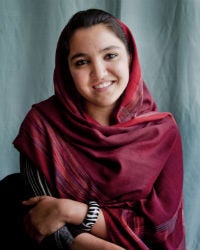 Around the first anniversary of 9/11, the U.S. media portrayed Afghan women exclusively as traumatized, sad, helpless-looking victims, asking for support to relieve their suffering. In October of 2002, I was privileged to meet 14 Afghan women who were in Austin, Texas on a State Department tour.
I found them to be very different from the media images. As a photographer who had lived in the Middle East, with connections in Afghanistan, I saw that I could provide a more complete picture of their lives. So I created The Afghan Women's Project and traveled to Afghanistan nine months later, with no idea where my photographs and interviews would lead.
Among the surprising Afghan women I met, were: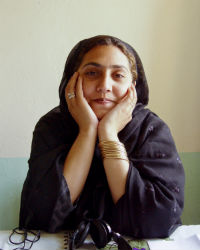 Najia, who became assertive at a very young age. There were no men in her family to go to the market, so she did the family shopping. She had to stand up for herself so she would not be cheated.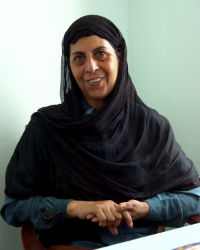 Siebewal described the horrors she endured during the civil war and surprised me by saying that those incidents "were a good experience for me. Now we try to help each other. Not fighting, not bringing black days for others. We must have cooperation."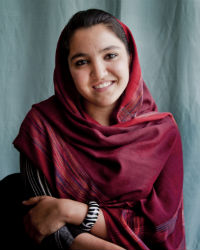 Rabia, a medical student, tells her uncles that they should let their daughters study, asking "Who will be the doctors for women? Who will treat your wife and daughters if girls can't be educated?"
After my first trip, the Afghan Women's Project photo exhibit (complete with short biographies and excerpts from my interviews) led to presentations that resulted in my returning to Afghanistan in 2010. At that time, I updated my interviews and expanded the range of women I'd met. On my last day there, I realized I could only do justice to the stories the women had entrusted to me by writing a book.
Before my first trip, I worried that women might be unwilling to speak with me and be photographed. This turned out not to be the case because someone they trusted introduced me to each woman. One time when I pulled out my camera, a woman told me she couldn't be photographed. In that case, I said, I could only conduct a brief interview. She immediately sent her child out to ask her husband's permission, which he granted.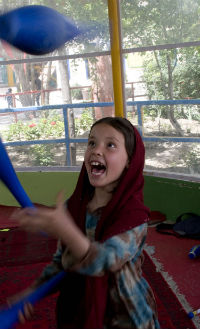 Afghanistan is full of surprises. The Mini Mobile Children's Circus (MMCC), a place of delight, showed me that an important aspect of development work is giving young people a taste of what civil society and life without war can be. Stories of acquiring literacy showed me how important reading is in giving women confidence and the ability to avoid exploitation. I learned that Afghan women are diverse, capable, and passionate, and that they want to contribute to the development of their country. They seek our support, but not our domination.
Kelsey is the founder of the Afghan Women's Project and is an international photographer recognized for her visual presentations on Afghanistan, Afghan women, and human rights. She and her photo exhibit, "Afghan Women: Portraits and Stories" have toured universities and colleges in Ohio, New Jersey, Wyoming, Florida, Nevada, North Carolina, New York, and Texas. Learn more about Peggy Kelsey's work.