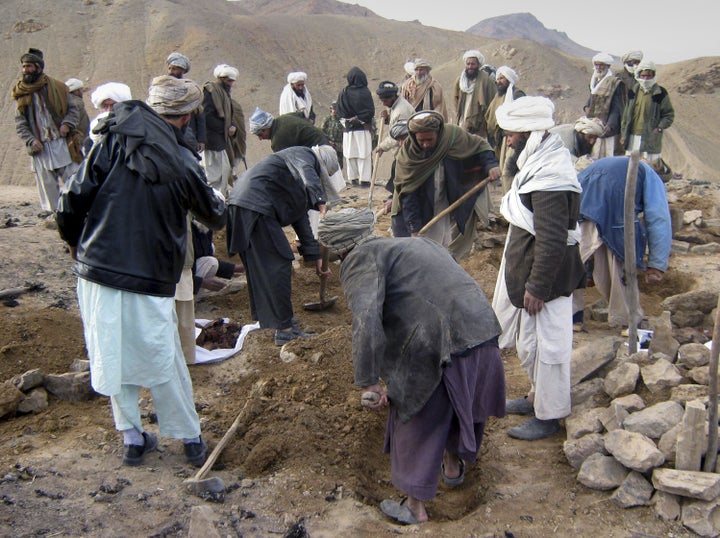 Predator drone attacks that continue to kill civilians are undermining the U.S. war effort in Afghanistan, a member of that country's parliament charged Tuesday in Washington, D.C.
Controversy has swirled around unmanned aerial attacks that have killed civilians in Pakistan and the border region, but Dr. Roshnak Wardak, an Afghani member of parliament who has lived in both countries, says that the attacks inside Afghanistan have been devastating to U.S. credibility.
Wardak herself was almost killed by one. About six months ago, she said, a drone bombed a road about 200 meters from her home in the rural province she represents. The first drone, she says, killed Taliban members attempting to mine the road.
The blast, she says, lifted her house off the ground and woke up the village. The curious went to see what happened. That's when the second drone struck, killing roughly 15 civilians, she says.
"Of course, people became very much nervous. Everybody came to me, [saying] that 'You're our representative. What's this? Why they did this?'" says Wardak.
If the answer to terrorism, said Wardak, is to bomb the place where there is terrorist activity, then the United States might as well have bombed New York City.
"All over the world, there is rule and regulation for all operations. I will give you an example of New York. There were some terrorists and they did this attack on the trade centers and other places. Why American country--why police and why military--they didn't bombard New York?"
Wardak said that she took her constituents' complaints to parliament, as members always do after a U.S. bombing in their area. It's rare that she can get a meeting with the U.S. ambassador, she explains.
"We became tired from these attacks. Every day there is discussion in the parliament," she says. "I'm against this kind of operation, very much against."
The bombings are costing the United States the support of the civilian population, said Wardak, an independent not affiliated with a party who described herself as a moderate. "Every time this bombardment happens by drone, tomorrow we discuss this matter in the parliament. And I'm so sorry that when we discuss this matter, American country and their leadership, their soldiers, they are losing their popularity among the M.P.s and also among, especially, the people. Very much they are losing their popularity," she says.
Brave New Foundation, as part of its Rethink Afghanistan campaign, brought Wardak to Washington, D.C. for the progressive conference "America's Future Now!" The Huffington Post interviewed her at the Omni Shoreham, where the conference is ongoing. Later on Tuesday, she briefed members of Congress on the situation on the ground in her country.
Wardak is the only doctor in the province.
A May bombing in Farah province, says Wardak, killed 143 people; 96 were women and children under 18.
"The people, they collect and they go and they take these dead bodies to the governor house. And they show--see this is boy or girl, this is woman, this is a small child," she says.
"We are sorry now," Wardak says the U.S. told the grieving families. "Our friends, they're not much sensitive about this issue. They say, 'They are Taliban, and we do not have another way to eliminate Taliban. This is what we can do.' And they give two thousand dollars for each dead body and one thousand for each injured person."

Popular in the Community