A UN agency in Afghanistan made a bold statement on International Women's Day by blacking out all of the photos on its website and replacing them with four words: #WhereAreTheWomen.  
The move is meant to call attention to Afghan women's fear of appearing in public spaces or in photographs, Rob Few, a spokesperson for the U.N. Development Program in Kabul, told The Huffington Post.
"Women are scared of what will happen if they appear in public," Few said. "They are scared to stand out."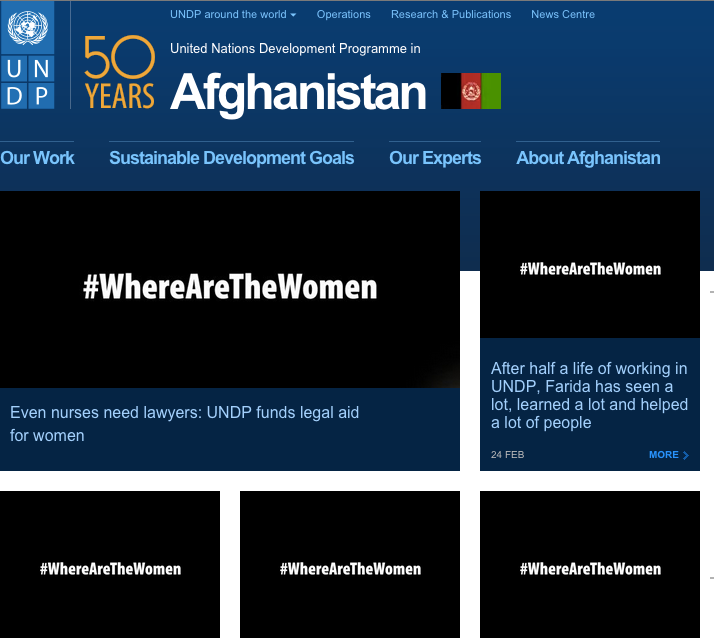 Nearly 90 percent of women in Afghanistan experience physical, sexual, psychological abuse or forced marriage, according to a 2008 Global Rights report.
Due to widespread violence against women, women are afraid of being active in public life, Few said.
"Walk down any street, or into any government office, or into any hospital, police station, business or university, and you have to ask yourself, 'Where are the women?'" Few said to AP. 
Just this January, a horrific attack on an Afghan woman, whose husband cut off her nose, drew international headlines. 
The story that inspired this campaign is a case in point: UNDP Afghanistan was writing a story about a victim of a forced marriage, and the female lawyer who was defending her. When it came time to publish the story, neither wanted their photographs shown, Few said to the Huffington Post.
"We find that women are not willing to appear in photographs, whether they are successful professionals or victims," Few said. "There's a pervasive attitude that a woman's role is not in the public space, it's being at home. All we can do is try to raise the profile of the issue."
While the situation is clearly dire when it comes to violence against women, Afghanistan has come a long way on gender equality since the Taliban was in power before 2001, Few said.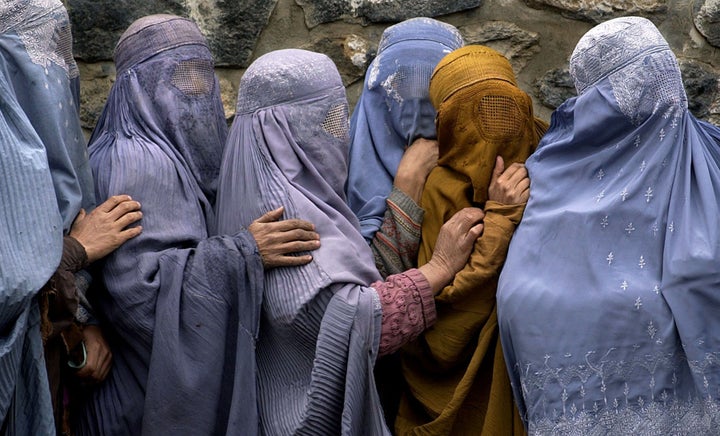 "Back then there were almost no girls in school, now 46 percent are in primary school," Few said. "There are 69 female members of parliament. But these are exceptions rather than the rule."
What he doesn't want is for the international community to paint Afghanistan in broad strokes as being sexist, because women's place in Afghan society and history is more complicated than that.
"People often think Afghanistan is where women are treated terribly and that's what everybody thinks. That's not the case at all," Few said. "In the 60's and 70's women had a much better time than they do now. It's not that Afghan society is anti-women, it's more that the conflict over the last 30 years has led to a fracturing of society, and women have taken the brunt of it."
He points to certain signs of progress, such as the fact that more women are joining police forces, and there are two female governors. But he admits there is still a long way to go.
"Women don't have the kind of opportunities men do, to go to school, get a good job, speak out," Few said. "Afghanistan is losing out on half of its population."
Calling all HuffPost superfans!
Sign up for membership to become a founding member and help shape HuffPost's next chapter
BEFORE YOU GO
PHOTO GALLERY
24 Times Sexism Was Very Very Real In 2015