As of Oct. 31, the U.S. had dropped 3,554 bombs on the country, the report said. That stands in contrast to the 1,337 bombs from all of 2016 and the 947 bombs dropped on Afghanistan in the entirety of 2015.
Trump announced earlier this year that the U.S. would expand its military presence in Afghanistan in an effort to wipe out the Taliban ― despite his "original instinct ... to pull out" of America's longest war.
"[D]ecisions are much different when you sit behind the desk in the Oval Office," Trump said in an August speech.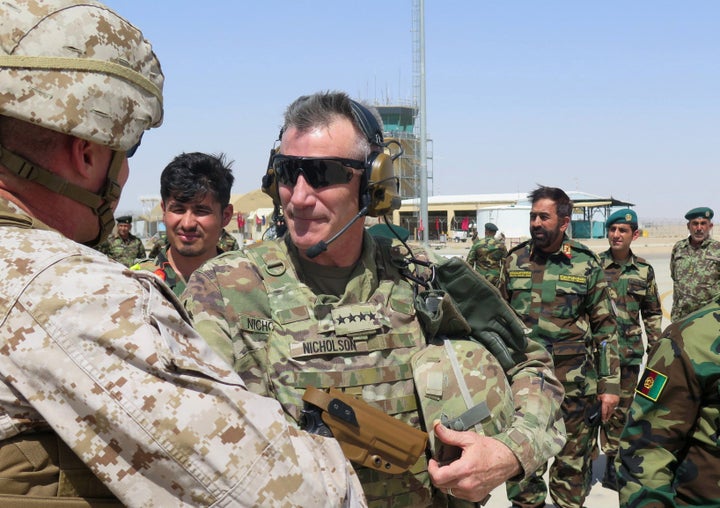 Despite the increase in bombing, however, the Taliban's presence in Afghanistan has not waned ― and according to some experts, has continued to grow. 
Nicholson said this week the number of Afghan districts controlled by the Taliban was "roughly the same as last year." 
But Bill Roggio, a senior fellow with the Foundation for Defense of Democracies, refuted this statistic, telling NBC that the Taliban now "controls or contests about 40 percent of Afghanistan — more than twice the area it had in 2015." 
The Afghan Taliban said in August that Trump was "wasting" American lives with his new war strategy. "If America doesn't withdraw its troops from Afghanistan, soon Afghanistan will become another graveyard for this superpower in the 21st century," Taliban spokesman Zabiullah Mujahid told Al Jazeera.
Some Afghan government officials, however, have lauded Trump's decision to ramp up U.S. military intervention.
U.S. airstrikes have been "saving Afghan military lives," Hamdullah Mohib, the Afghan ambassador to the U.S., told NBC. Earlier this year, Mohib called Trump's new war policy a "10 out of 10." 
BEFORE YOU GO