Afghanistan is teeming with the untold stories of half of its population. Sahar Speaks gives a rare and revealing look into Afghan women's lives, as reported by Afghan women on the ground.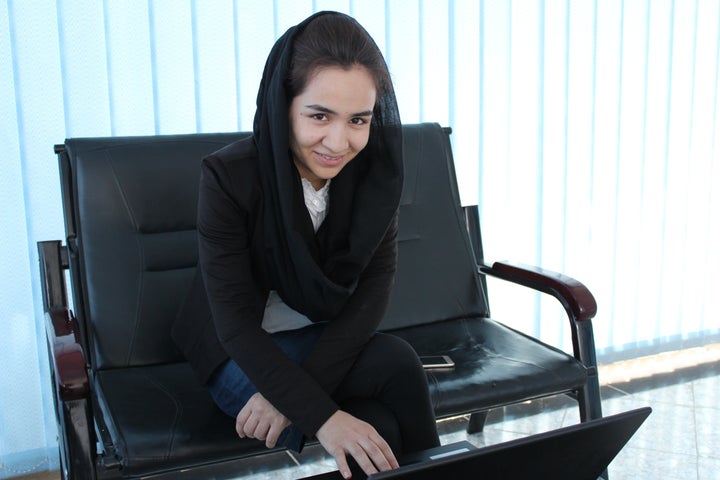 Marjana Sadat and her friends did a lot of thinking before they set up Afghanistan's first female-run travel agency. It wasn't easy, but she wanted to show that women in Afghanistan can do the same things as men. Banoo travel agency was set up in August last year and employs 10 women. Its customers can book flights and tours to countries in Asia and Europe.
"I wanted to prove that women can work as salespeople just like men, like in the bazaar. In our society, it's common for people to think only men can set up businesses," said the 21 year-old, her eyes brimming with both struggle and confidence.
She carefully fixed her hair, making sure it was concealed under her scarf. We were sitting in the travel agency where a lot of people come and go throughout the day. In Banoo's neighborhood, there are many travel agencies managed by men. We could see some of them from Sadat's shop window.
Before launching Banoo, Sadat worked at a private radio station in Kabul, where she faced the sorts of problems familiar to many working women in the country, including discrimination by her male peers and verbal abuse. Often in Afghanistan, women who work are scorned by society and even by those closer to home. Of the women who do work, many have gone to great lengths to secure permission from the men in their families.  
After five years at the radio station, she decided to do something different, so she took the opportunity to bring change specifically to the situation of women in Afghanistan. She assembled a team of 10 women and started to build the Banoo company.
Sadat thought about the idea for about 10 months. She had to think how to choose a safe place for the women she would employ. She wanted to find a place that was near the street, where lots of people could see what was going on. While this seems like a security risk, Sadat wanted to show off her women's independence as well as lure female customers. 
She shared her idea with her parents, and they immediately backed her. "I started the business when my father invested in my idea and supported me," Sadat said. At first she was unsure whether her idea would be accepted. What would people do when they saw her working in a place like a bazaar, like a man?
"At first we were anxious, I felt under pressure and worried it couldn't be done in a patriarchal society," she said. She felt both love and doubt. Love for starting a different work for women, and fear of people's reaction.
Afghanistan's women have come a long way since the brutal Taliban regime was toppled by NATO-led forces in 2001. But a weak government combined with a security vacuum caused by the pull-out of most foreign troops means the country is struggling. The Taliban now control large swaths of the country, and the Islamic State has made inroads. The situation for women's rights is worsening.
According to the government-run Afghanistan Investment Support Agency, there are over 1,400 women registered as independent business owners in Afghanistan, or about a tenth the number of Afghan men in the role.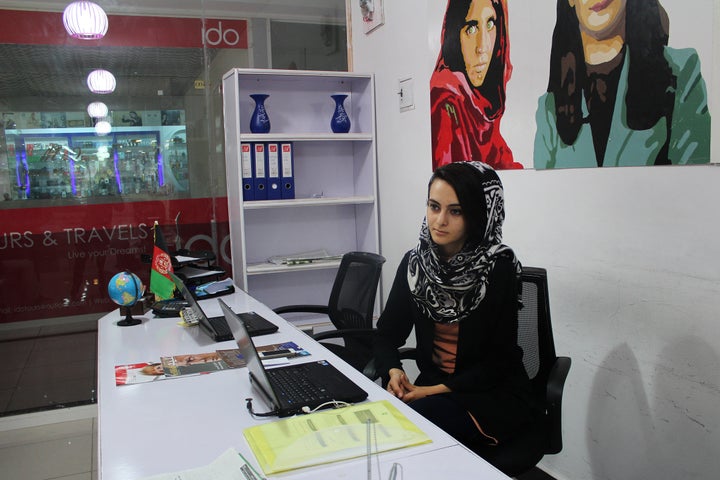 At the beginning, Sadat and her colleagues overheard that people would refer to them as "shopkeeper girls," which carries a negative connotation. It was viewed as odd that in a travel agency there could be two or three women giving the same service they were used to getting from men.
"I now get lots of messages from people. They commend us, and I am proud of what we have achieved," Sadat says. Her colleague Zahra, who gave only her first name, agreed. "People respect us now," she said.
Sadat now wants to expand what Banoo offers. She has been promoting the company and traveling around the region, including a recent trip to India, and has appointed a representative in Turkey. Banoo is also adventurous: In a country mired by violence, the company offers historical tours. Last year a group of 35 Iranian students visited ancient Afghan sites across the country.
She hopes that the travel agency will hearten other women to launch their own businesses and do the work traditionally done by men in Afghanistan. Besides housework, many Afghan women do have micro-businesses, and there is a bustling trade in home-sewn dresses and scarves. The only difference is these wares are sold in the bazaars, by men for women.  
But Banoo is different. Sadat said she wanted to create a place where women provide services to both men and women. "If we only catered to women, it wouldn't prove that we can do the same work as men. Instead it would be viewed as women helping women."
In the spirit of goodwill and sustainability, Banoo also helps with women's education. Sadat managed to procure 37 scholarships from Istanbul University for final-year high school students who passed their exams. She is trying to get similar scholarships for studies in Moscow. Banoo has been surprisingly buoyed by Afghanistan's poor security situation. "The worse the security, the more people want to get out of the country and buy tickets."
REAL LIFE. REAL NEWS. REAL VOICES.
Help us tell more of the stories that matter from voices that too often remain unheard.