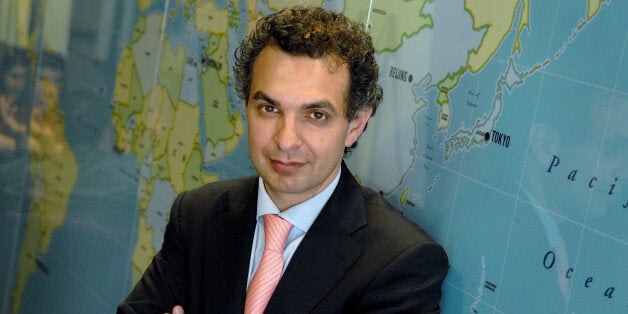 Saad Mohseni is the director of the MOBY Group in Afghanistan.
KABUL, Afghanistan -- When my brothers and I returned to our native Afghanistan in 2002 following the fall of the Taliban, we encountered a country suffering from crushing poverty, ethnic divisions, and worst of all, a pervasive lack of access to information that had helped sustain a brutal dictatorship for years.
Within five years, we were astonished and proud to see that Afghanistan had transformed itself from one of the most repressed nations into one that boasted the freest media sector in the region. This transformation had also allowed for civil society to flourish and to challenge the establishment in ways that were unimaginable in neighboring countries.
According to research by Roshan, the country's largest telecom company, 60 percent of Afghans regularly watch television and 95 percent listen to the radio. A third of Afghan viewers watch two or more hours per day of television -- a statistic that defies logic given the limited access to electricity. How could Afghanistan -- one of the world's most impoverished and undeveloped countries -- achieve what no one else has regionally? Three factors have led to the success of media in our beleaguered nation, and show that its success has been far from accidental.
First of all, the 2001 Bonn Agreement, the basis for our future constitution, implicitly protected media by recognizing Afghanistan's 1964 constitution, which enshrined the right to free expression. Such early initiatives of Afghan politicians working in conjunction with the international community established press protections that allowed the likes of my company, MOBY Group, to set up Afghanistan's first free media outlet when it established radio station Arman FM in 2003.
Secondly, credit must go to President Hamid Karzai and his long-serving Information and Culture Minister, Sayed Makhdoom Rahin, who have both helped to empower Afghan civil society. Though we have had our share of problems with both men, the fact that no television or radio station has been permanently shut down is a testament to their commitment to free press.
Thirdly, Afghanistan's youthful population, with 60 percent under the age of 20, has allowed us to grow with the population. A young, aspirational viewership harboring limited or no bias and possessing an insatiable appetite for entertainment, news, and current affairs content, has stimulated Afghanistan's many outlets to churn out thousands of programs annually to meet this demand.
Afghan channels have been surprisingly pioneering, in many cases years ahead of the region's Arabic channels. Reality show formats such as Tolo TV's "The Candidate" featured youths discussing hypothetical political candidacy and being voted into "office" by audience text message votes.
The development of Afghanistan's media has gone hand in hand with the explosion of mobile phone use. Two-thirds of Afghanistan's population -- some 20 million people -- uses mobile phones, including nearly half of all women, according to a 2012 USAID study. This is extraordinary given that only 7000 fixed lines existed in late 2001 and that women's most basic human rights were denied under Taliban rule. The development of this sector -- namely the introduction of 3G -- has allowed access to the Internet to grow from a few thousand to six million regular users. This in turn has helped in the development of social media -- there are some one million Facebook users in Afghanistan -- as well as access to digital and online news. MOBY alone receives 10 million plus video views per month on YouTube across all our channels, and some of our shows have doubled their viewership online in less than 12 months.
.
The consumption of free media and entertainment has had a real impact on Afghans' social values and their perception of themselves as a nation. First and foremost we have assisted in facilitating and fast tracking social change in the country. Women today enjoy more freedom -- to work, study, and perform on television -- thanks to our commitment to women's causes and Afghans' exposure to international portrayals of women and their roles. Additionally, efforts such as polio eradication and voter registration have also been bolstered by positive press coverage.
Another quite tangible example of the power of media and entertainment was seen just last year. Torn apart for decades by war, fundamentalism, and sectarian fissures, Afghans from every religious sect, ethnic group and social class turned out by the hundreds of thousands to support their national soccer team after they won their first international championship in September. In all of this, MOBY played a critical role by helping to launch the country's first football premier league in 2012 and airing the 2013 Afghanistan-India championship match live on our channel, Tolo TV.
We also take the responsibility of informing our viewers very seriously. Afghanistan's news outlets are the most professional and objective in the region, shunning issues relating to ethnicity and sectarianism. Our elections programming alone is unusual in that many of our debates center on policy rather than personality.
Last but not least, in a nation where the judiciary and state institutions are weak, media allows for the nation to let off steam. Viewers rarely approach the authorities on issues relating to crime and corruption. They instead rely on the media to confront institutions and individuals accused of crimes. The story of Sahar Gul, a child bride who was held against her will and brutally beaten by her in-laws, is an example of this attitude.
This story was first reported by TOLONews, and authorities only decided to act when the pressure from the media and the public became overbearing. Afghan media have helped dozens of women come forward to talk about sexual and physical abuse, forcing Afghan society to deal with issues as sensitive as pedophilia and forced prostitution.
Challenges remain. With the tenure of the Afghan president coming to an end in April 2014, will future governments remain as committed to media as the previous one?
While many would argue that progress is irreversible, we believe that in order to sustain Afghanistan's greatest achievement we must remain committed to protecting free media. This would entail the international community placing conditions on aid and protecting the press in a post-2014 Afghanistan. My country has come a long way in the last decade, but Afghan politicians, commentators, academics and leaders must not take freedom of expression and media for granted. We need to take ownership of our own issues and not let go of our greatest accomplishment since 2001.
Related
Popular in the Community