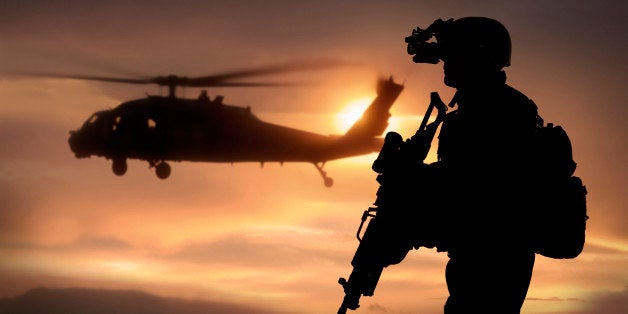 "I'm gagged, I'm tied up, I can't speak. I'm in some sort of cave cell. And I see a girl in another corner of the cell, like a 7-year-old girl, and I see a Taliban soldier with a really long and sharp knife coming to kill her, and walking toward her.

"And I'm sitting there trying to yell and scream and tell her to run, and I can't do anything. I'm just powerless. I'm fully helpless in the dream. Consciously, I know that after her, that guy with the knife is coming after me," said Adam, a 27-year-old former Army captain who asked that his real name not be used.

Three years after his return from a 13-month-long combat tour in Afghanistan, Adam's nightmares keep him from sleeping more than a few hours a night. They become a contorted playlist of three or four incidents that happened in Afghanistan, and the one of the little girl and the Taliban soldier that never did.
Adam is a West Point graduate whose experiences are similar to those of many service members who are considered at risk of suicide.
He deployed to Afghanistan in June 2009 as a platoon leader in an infantry brigade, responsible for the lives of about 30 soldiers. "No two days were alike," he said. One day he'd be working on a civilian infrastructure project, "the next day I'm in a giant firefight where lots of people get hurt."
By the time he returned in the summer of 2010, the Army had instituted a rigorous post-deployment program, including mental health screenings and briefings on everything from suicide prevention to motorcycle safety. (Motorcycle crashes are a major cause of injury and death for troops back from combat.)
Like many others, Adam shrugged it off as the "bureaucratic, cover-your-ass, in-processing" the Army requires for returning soldiers.
"I was given about 10 or 11 different surveys," he said. "'Do you feel like hurting yourself?' 'Did you see people die in combat?' Very raw questions I didn't even want to think about, and it's not a person asking me, it's a computer. It's 'here, lemme turn everyone into this data point.' Naturally, all of us, we just want to go home, right? I got very good at the tab, click, click, and filled everything in with the letter 'C' -- for average -- wherever they said, 'Rate this.'"

The first time Adam awoke from the dream about the little girl, it was January 2011, five months after he returned. He spent hours in a fetal position in the corner of his room. It was early morning and none of his friends were up to answer his calls.

"I was … just … I was fucked up. It was one of the weirdest times in my life," he said. "I was very alone."

He went to see a post-traumatic stress disorder counselor for the first time the next day, after months of nightmare-induced insomnia, emasculating erectile dysfunction, uncontrollable rages, promiscuity and intense loneliness.
Prescription drugs were part of his treatment. "They did a number on my body, it was so bad," he said.
"I was just a very unhappy person. I felt like my personality went into a little container, and it was just an awful, awful experience to be on those drugs. Headaches, I would be irritable … essentially when I stopped wanting to do those drugs, I stopped wanting to go to counseling. I just decided, 'Screw it, I'm done with this bullshit.'"
He's on his third attempt at counseling. But the nightmares continue.
A year and a half ago, he reached his lowest point: His best friend from childhood committed suicide. Months later, a friend from his class at West Point took his own life. The veteran's death was hard, but something Adam had grimly come to expect. He struggles to live with his best friend's death -– but, strangely, it is also the one thing that brings him back from the edge.
"It was the worst thing that had ever happened to me, probably will be the worst thing that will ever happen to me," he said. "I think about him every day. It's weird because, on one hand, I was so sad that happened. But when I get really sad and lonely and sometimes wonder whether life is worth living, I quickly revert back to the image of my mother crying, his mother crying.

"I'm pretty sure for myself, for the rest of my life, I'll never actually go through with anything like that, knowing how much pain that causes."
This article is part of a special Huffington Post series, "Invisible Casualties," in which we shine a spotlight on suicide-prevention efforts within the military. To see all the articles, blog posts, audio and video, click here.
For a review of warning signs someone may be at risk of suicide, click here. For a list of resources to get free and confidential help, click here. If you or someone you know needs help, call the national crisis line for the military and veterans at 1-800-273-8255, or send a text to 838255.
Calling all HuffPost superfans!
Sign up for membership to become a founding member and help shape HuffPost's next chapter
BEFORE YOU GO
PHOTO GALLERY
Companies That Work To Hire Veterans