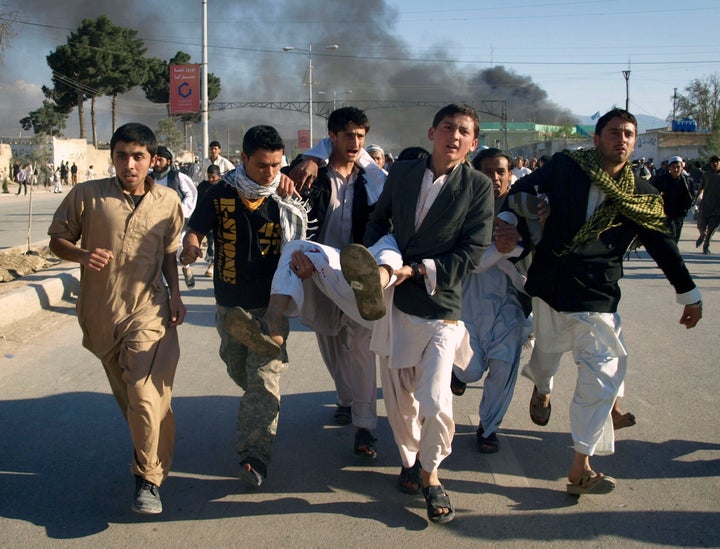 April 1, 2011 11:51:19 PM
MAZAR-I-SHARIF, Afghanistan (Reuters) - Afghans protesting the burning of a Koran by an obscure U.S. pastor over-ran a U.N. compound Friday and killed at least seven international staff in the deadliest-ever attack on the United Nations in Afghanistan.
Thousands of demonstrators flooded into the streets after Friday prayers and headed for the U.N. mission in usually peaceful Mazar-i-Sharif, a city considered safe enough to be in the vanguard of a crucial security transition.
The governor of Balkh province said insurgents had used the march as cover to attack the compound, in a battle that raged for hours and raised serious questions about plans to make the city a pilot for security transfer to national forces.
The confirmed dead were three international U.N. staff and four international Gurkha guards.
In New York, U.N. peacekeeping chief Alain Le Roy told reporters after briefing members of the Security Council who convened an emergency session to discuss the attack, that some of the protesters seemed to be more than demonstrators.
``Some of them were clearly armed,'' Le Roy said, adding that they appeared to have targeted the foreigners at the compound. ''We are not sure at all that the U.N. was the target.''
``Maybe they wanted to find an international target and the U.N. was the one in Mazar-i-Sharif,'' Le Roy said, adding that an investigation of the incident was in progress.
The attackers overwhelmed security guards, burned parts of the compound and climbed up blast walls to topple a guard tower. Five protesters were also killed and about 20 wounded, some after trying to take weapons off U.N. security guards.
``The insurgents have taken advantage of the situation to attack the U.N. compound,'' said Governor Ata Mohammad Noor.
He told a news conference that many in the crowd of protesters had been carrying guns. Some 27 people have already been detained over the attack, he added.
Le Roy said U.N. Secretary-General Ban Ki-moon's chief-of-staff, Vijay Nambiar, and head of U.N. security Gregory Starr were heading to Kabul Friday night. He added that U.N. security in Afghanistan would be reviewed.
Ban and the U.N. Security Council condemned the attack.
The attack was one of the worst on the world body in years.
``It is the worst incident ever for U.N. staff in Afghanistan. Mazar mobs were active in the 1990s, repeatedly ransacking UN offices ... but so far as I remember, they never actually killed anyone,'' a former U.N. employee in Afghanistan told Reuters.
The worst previous attack was an insurgent assault on a Kabul guest house where U.N. staff were staying in October 2009. Five employees were killed and nine others wounded.
The two largest recent attacks on U.N. compounds in other countries are a 2007 bomb in Algiers that killed 17 U.N. staff, and a 2003 attack on the Baghdad hotel that was the U.N. headquarters there, which killed at least 22 people.
Christian preacher Terry Jones, who after international condemnation canceled a plan last year to burn copies of the Koran, supervised the burning of the book in front of about 50 people at a church in Florida on March 20, according to his website.
He told the British Broadcasting Corporation he did not feel guilty over the deaths in Mazar. ``We are not responsible for their actions,'' Jones said, when asked about the attack.
Thousands of demonstrators marched through western Herat city and about 200 in Kabul to protest the same incident, but there was no violence at either demonstration.
Long-standing anger over civilian casualties has been heightened by the Koran burning and the recent publication of gruesome photographs of the body of an unarmed Afghan teenager killed by U.S. soldiers.
The Afghan police and army, whom the United Nations rely on for its first line of defense, were apparently unable to control the crowd. The NATO-led coalition said German troops answered a request for help, but it was not clear when the call was made or answered.
U.N. officials in New York said earlier that as many as 20 U.N. staff may have been killed. They said later that figure had included people who turned out to be Afghan demonstrators.
An Afghan police spokesman said two of the U.N. dead were beheaded. Le Roy said no one was beheaded, although one victim's throat was cut.
The head of the mission in the city, a Russian, was injured but was now in the hospital, the Russian Foreign Ministry said. Russia called on the Afghan government and international forces to ``take all necessary measures'' to protect U.N. workers.
Romania's Foreign Ministry said preliminary information suggested a Romanian citizen was among the dead, the Norwegian U.N. mission confirmed a Norwegian was one of the dead and Sweden confirmed a Swedish man was also killed.
U.S. President Barack Obama, Afghan counterpart Hamid Karzai and NATO Secretary General Anders Fogh Rasmussen joined condemnation of the attack. (Additional reporting by Hamid Shalizi in KABUL, Stephanie Nebehay in GENEVA, Amie Ferris-Rotman in MOSCOW and Louis Charbonneau in NEW YORK, Writing by Emma Graham-Harrison; Editing by Alex Richardson and Peter Cooney)
Calling all HuffPost superfans!
Sign up for membership to become a founding member and help shape HuffPost's next chapter