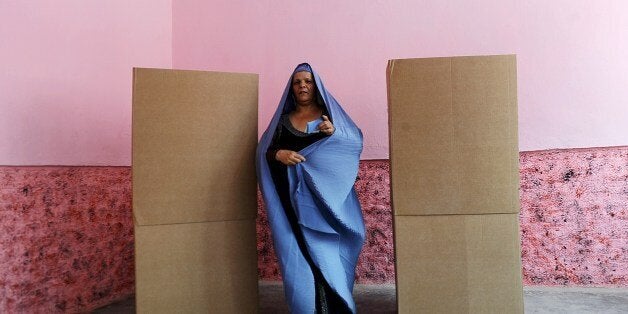 The winner of Saturday's presidential runoff will lead Afghanistan into an uncertain future. Most foreign troops will leave by the end of the year, while the Taliban's violent insurgency continues apace.
But Afghans appear hopeful that this election can usher in a new era. Voters turned out in high numbers during April's first round of voting and did so again on Saturday.
In more than 4,000 interviews around the country, Afghanistan's human rights commission, working in conjunction with 11 community groups, found that many of the nation's concerns mirror the problems found in Iraq, which erupted in renewed violence this week. Some of the concerns included widespread government corruption, the pervasive influence of local militia and deep factional divides.
"Illegal armed people exist all over. They do not want peace because they would lose power," the report quotes one Afghan community elder as saying.
Afghans also criticized the state of human rights and economic development in the country after 13 years of Hamid Karzai's presidency.
"Afghans not only considered the armed insurgency a driver of conflict, but also other issues such as poverty, joblessness, the presence of warlords, corruption and violations of human rights," adviser to the commission Mohammad Fahim Hakim said at the United Nations' launch of the study Tuesday.
The authors of the report offered emphatic recommendations to the candidates facing off on Saturday, including continued economic development and a strengthened military and police force.
"We are carrying the people's voices to our future president and giving ordinary Afghans -- men, women and youth, from all walks of life -- a real stake in the future development of this country," civil society representatives said in a joint statement.
Representatives of runoff candidates Abdullah Abdullah and Ashraf Ghani could not be reached for comment.
As The Washington Post reports, in the absence of clearly defined platforms, Abdullah and Ghani are largely competing on the basis of their personal histories and political alliances. Abdullah is a former mujahedeen aide who later became a medic, while Ghani has held positions at the World Bank and in academia.
"If there is one lesson from what has happened in Iraq, it is that the sectarian policies will not work anywhere," Abdullah told a Washington think tank meeting by Skype on Thursday.
Afghan author and analyst Neamatollah Nojumi told The WorldPost that both candidates recognize the swell in voting as a mandate for change.
"The main reason people came out to the polls was a desire for change in their living conditions, for better security," Nojumi said. "The future president cannot ignore these grievances and desires. This is not 2001."
Calling all HuffPost superfans!
Sign up for membership to become a founding member and help shape HuffPost's next chapter
BEFORE YOU GO