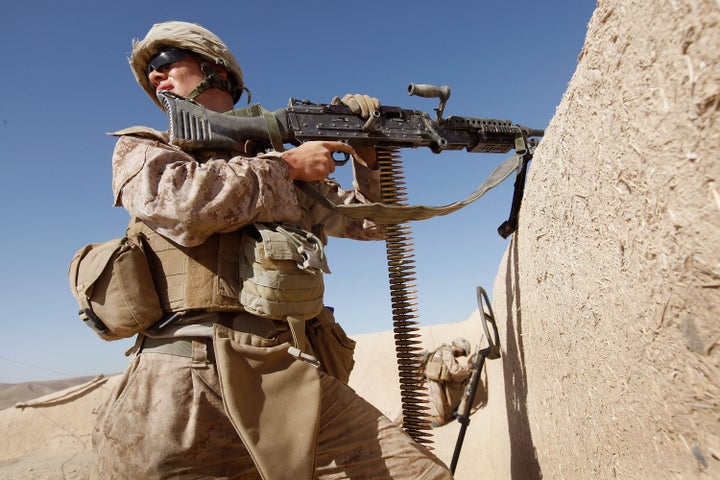 WASHINGTON -- Three Republican lawmakers who have been outspoken on the war in Afghanistan are trying to push their party to start debating alternative policies and will be convening a meeting next month to start the debate.
Reps. Walter Jones (N.C.), Ron Paul (Texas) and Jimmy Duncan (Tenn.) sent a letter to every Republican House member on Monday inviting them them to a Feb. 16 briefing with Council on Foreign Relations President Richard Haass, retired Maj. Gen. John Batiste and Americans for Tax Reform President Grover Norquist -- all of whom have been critical of the direction of the war. From their invitation, which was provided to The Huffington Post:
Afghanistan has become the central focus of American foreign policy. The United States spends nearly $7 billion a month in Afghanistan alone to further the Obama Administration's stated strategic goals. The futures of both of our countries require a comprehensive review of both the costs and sustainability of current U.S. military operations in Afghanistan.

As Republicans, it is our duty to the American people to listen to respected experts and develop the best policy for our national interests. Too often the policy in Afghanistan has been characterized as a zero sum game. Alternatives do exist and need to be explored.

Therefore, we have invited Dr. Richard [Haass], Major General John Batiste (USA Ret) and Grover Norquist to brief Republican Members of Congress on their views regarding the current US policy in Afghanistan. We believe that this is an important opportunity for both new and returning Republicans and humbly request your presence.
Organizers are especially interested in talking with 10 freshmen House members that a prominent Tea Party-affiliated group has identified as persuadable on the question of continued U.S. involvement in Afghanistan:
Justin Amash (MI-3)

Sandy Adams (FL-24)

Chip Cravaack (MI-8)

Sean Duffy (WI-7)

Steve FIncher (TN-8)

Frank Guinta (NH-1)

Nan Hayworth (NY-19)

Raul Labrador (ID-1)

Mick Mulvaney (SC-5)

Rich Nugent (FL-5)

Steve Southerland (FL-12)
Norquist is the most recent high-profile conservative to call for more debate on Afghanistan. "I'm confident about where that conversation would go," he told attendees of a dinner sponsored by the New America Foundation on Jan. 11, stopping short of calling for withdrawal. "And I think the people who are against that conversation know where it would go, too."
The vast majority of Republican freshmen remain committed to the war in Afghanistan, based on their past public statements. But the Tea Party -- which helped elect many of these new lawmakers -- seems to be increasingly skeptical and concerned about the increasing cost of the war. A recent poll by the Afghanistan Study Group found that two-thirds of conservatives support a troop reduction in Afghanistan. Seventy-one percent of conservatives overall and 67 percent of Tea Party supporters worry that the cost of the war "will make it more difficult for the United States to reduce the deficit this year and balance the federal budget by the end of this decade."
Popular in the Community