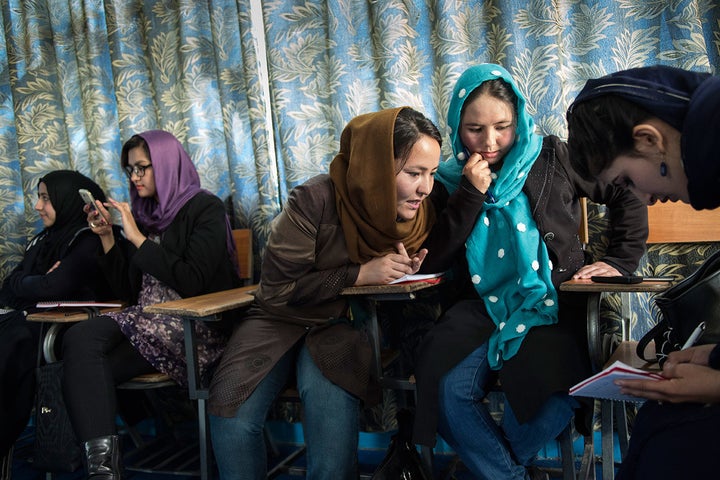 KABUL, Afghanistan -- The departures hall of Hamid Karzai International Airport is a curious melange of people and goods: foreign security contractors, stacks of nuts, groups beginning their Hajj pilgrimage and -- most bizarre of all -- burqa-wearing teddy bears. Their ears, eyes and stitched curvy smiles are encased in the blue crinoline that has become emblematic of the disenfranchised, impoverished Afghan woman.
The all-encasing burqa is the image the world has become accustomed to over recent decades, and one I was determined to shatter when I returned to Kabul in March to manage the inaugural round of Sahar Speaks: a new program for Afghan female journalists. Twelve hand-picked participants were taught multimedia journalism skills over the course of one week. They have since been paired with experienced female mentors, and are currently producing news packages that will be featured on The Huffington Post, marking the first time female Afghan correspondents are consistently published in a global media outlet.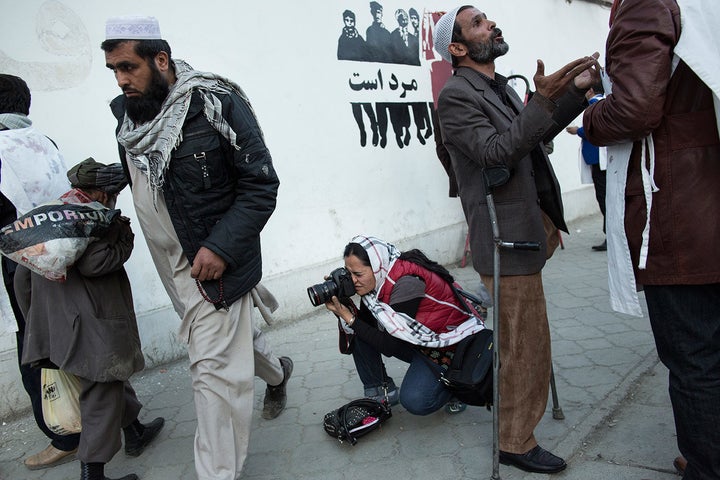 This project was borne out of anger -- my own -- at the deeply flawed, sexist system that is Kabul's foreign media landscape. Not a single Afghan woman works for the international press in the country, in any capacity. And she never has. This is certainly not for lack of trying: we received far more applications than spots available. In the words of one participant*, "People have no idea how we really live. Of our suffering, but also our education, our lives." The inaugural round included mothers, family breadwinners, self-described "poetesses," basketball players, guitar enthusiasts and journalism students.
""Why don't we rename the program Sahar Shouts?""
When asked who their female role models were, some named their own illiterate mothers and grandmothers, who had pushed for their education. Others mentioned French feminist writer Simone de Beauvoir and the celebrated Iranian poet Simin Behbahani. These women, who are between the ages of 18 and 31, are keen, feisty and hungry to make their mark on the world. "Amie jan," one of them asked me early on, using the Afghan term of endearment, "Why don't we rename the program Sahar Shouts?"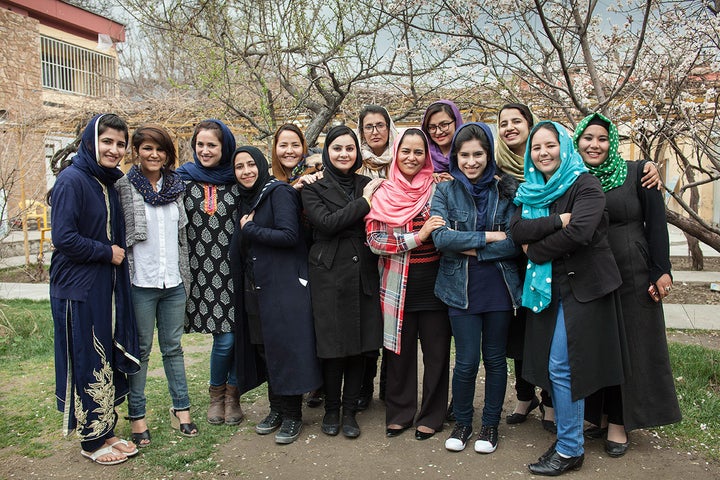 As an unseasonably warm winter broke into spring, unleashing bursts of cherry blossoms across Kabul, our participants dutifully learned how to create content for a foreign audience. On the second day, an experienced journalist in a turquoise headscarf appeared, unannounced, asking if she could "sit in and learn." Her enthusiasm impressed me, and she became part of the group. It turns out this was not the first time she had muscled her way into a classroom: As a girl, she defied the Taliban restriction on female schooling by disguising herself as a boy.
It soon transpired that we were dealing with a massively under-utilized resource. These were extraordinary journalists who were doggedly driven to relay the stories of their half of the population. In Afghanistan, the genders are often strictly separated, meaning most women cannot speak to most men. Guest speaker Danielle Moylan, an Australian freelance journalist in Kabul, put it nicely when she said that "even foreign women don't get true access, the real feeling for what the story is about."
After the participants had relaxed a little and we got to know each other, some of the headscarves would slip, revealing onyx-colored tresses and French braids, admired and examined by the rest of the group. They stayed this way until the tea-man reappeared with his constant stream of black and green tea that the women consumed like air, accompanied by Turkish biscuits. As he came in, without even turning around, sleeves were automatically rolled down and scarves pulled back over their heads.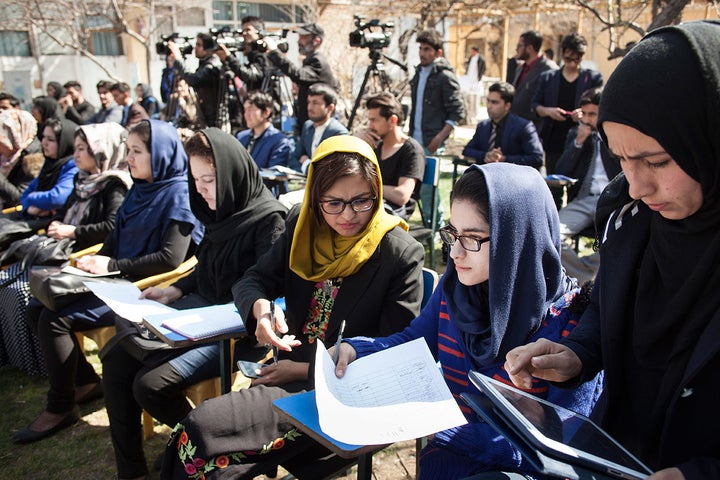 We -- another British female trainer and I -- taught in an oblong blue metal box in the middle of a media NGO's yard. It felt like a shipping container, but with large windows. A thin red carpet ran through its middle like an unfurled tongue. Feral cats would pace the sides, casting delicate shadows. Being spring, they also mated, producing yowling that made the participants roar with laughter. Through giggles, one of the younger women remarked, "This class reminds me of childhood. When we were free."
Cocooned in our own private world, we were shielded from the male gaze by thickly woven blue and saffron-yellow curtains. These proved necessary: Our classroom soon became an object of great curiosity. Each tug on the curtains or opening of the door produced guffaws from onlookers: Small groups of prying men outside became regular fixtures, where they jostled and pushed for a better view. "What do they want?" I asked our group, irritated. "Afghan men want to see Afghan women," one answered, plainly.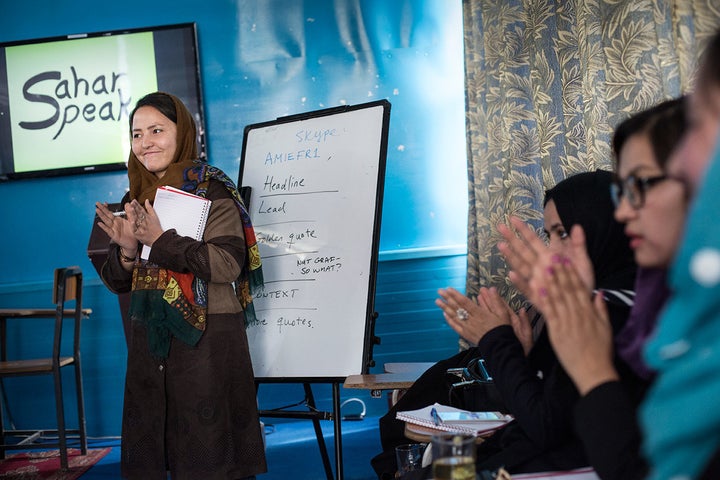 Lunchtime was marked by the electricity suddenly turning off, a trick to save money, plunging the classroom into semi-darkness. While eating on a long table under the sun, the group swapped the latest news: the opening of a female swimming pool, reports of Afghan girls duped into Dubai's sex trade, and other aspects of Kabul women's lives.
As the lessons rolled on, it became clear that life had not been easy for these women. Harassment by men -- at work, on the street, in the market -- was a daily topic, bringing heated and animated discussion. Born into what they felt was a never-ending war, each had her own personal battles and victories, stories about how she had fought every step of the way to get where she was. To become journalists, some had worked hard to convince male family members, while others had support from the beginning. I was particularly moved by a young woman whose parents, an illiterate mother and an auto mechanic father, brought her up to believe there was nothing Afghan women could not achieve.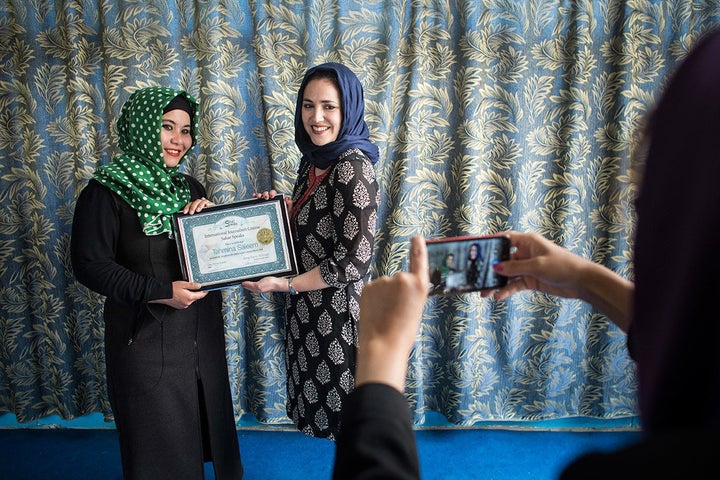 One afternoon, we talked about transgender people, studying the story of two men from a neighboring country who underwent gender confirmation surgery. Initially, I was hesitant to approach such a taboo subject in a country where homosexuality is a crime punishable by death. I could not have been more wrong. The next morning, one of the participants was flustered with excitement. She described how she rode her bicycle through Kabul's women-only park, under the fragrant branches of flowering trees. "I always thought there was nothing worse than being a woman, that men didn't like us," she explained. "But when we learned there are men who want to be women I became so happy."
A high point for the group came at the Canadian embassy, which held a reception in our honor. Over herb-infused pilaf rice and chicken kebabs, some of the women volunteered to speak. A particularly headstrong participant told the crowd, "We're tired of being called victims. Instead we are fighters." Another read an acrostic poem, "Daughters," that she had penned the night before, and a third lambasted "Afghan society for ignoring women journalists."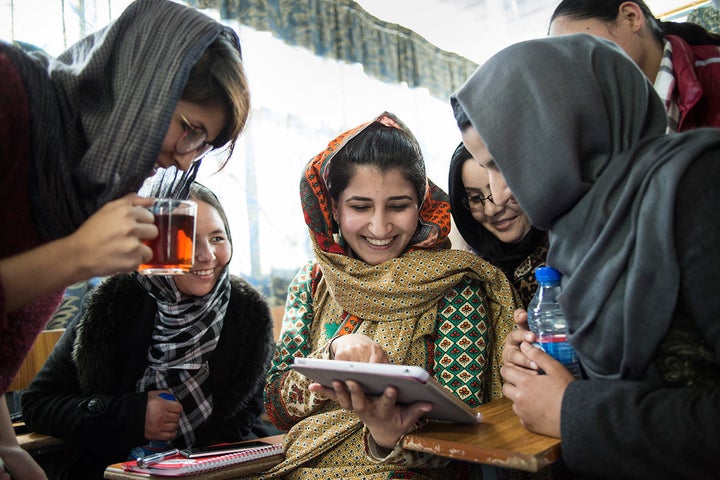 The participants are also, of course, just like young women around the world. They are glued to social media, obsessed with selfies, enjoy laughing, giving each other nicknames, dancing, making jokes and trading make-up tips. Quite a few had a penchant for playing chess, and this, too, came with gender-related frustrations. "Men can play chess outside, in the fresh air. But we can't," one woman said.
Mid-way through training, we celebrated International Women's Day (March 8) with flowers and cake, and dedicated half a day to reporting on women's rights. A ceremony was held at the media NGO, where cross-legged women played drums and the lute-like rubab. A large banner adorned the outside of our classroom, calling women "the essential syllable of life." We were presented with headscarves, wrapped in thin paper. While one of the women opened her gift, she exclaimed, "I would have preferred a pen!"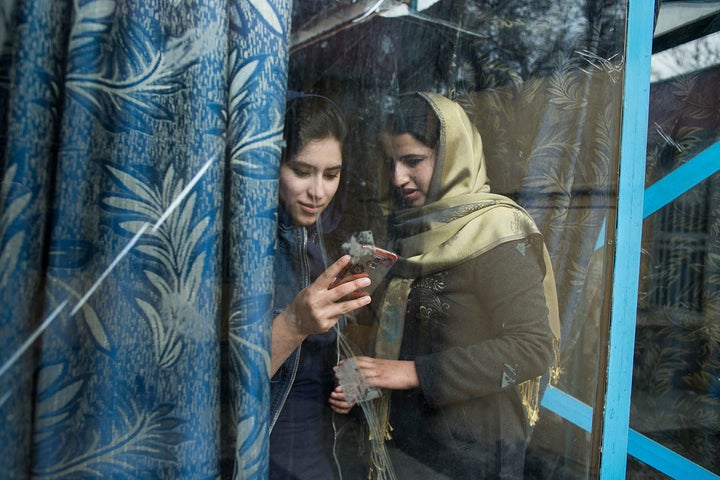 * For security reasons, participant names and the training venue location are being withheld.