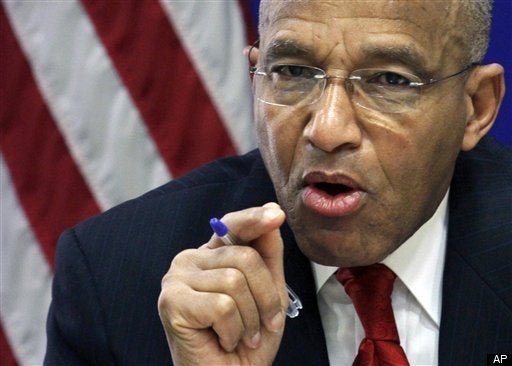 WASHINGTON -- Arnold Fields, the Special Inspector General for Afghanistan Reconstruction, stepped down Monday amid widespread congressional dissatisfaction with his office's oversight of U.S. operational spending.
Fields, a retired Marine Corps general, was the Bush administration's choice to head up SIGAR when it was formed in 2008 -- nearly seven years after the U.S.-backed forces toppled the Taliban and roughly five years after Congress established a similar watchdog agency to monitor the reconstruction in Iraq, which began operations shortly after U.S.-led coalition forces invaded the latter country.
Publicly, however, the Obama administration expressed satisfaction with SIGAR's service Monday night. "General Fields' hard work and steadfast determination have established SIGAR as a critical oversight agency," read a White House statement announcing the general's resignation. "By accepting the offer to become the SIGAR in 2008, he continued a long and distinguished career of public service. For more than 40 years, General Fields has been committed to securing our national defense. As he moves on to new challenges, he can do so confident in the knowledge that the President and the American people owe him a debt of gratitude for his courage, leadership, and selfless service to our nation."
Gratitude notwithstanding, U.S. taxpayers have spent roughly $56 billion on reconstruction efforts in Afghanistan since 2002, and Congress is paying more attention to the apparent waste of billions of those dollars, due in large part to a lack of oversight.
But since its inception, SIGAR has been beset by problems. Fields recently fired two deputies and promised to focus more on financial fraud and waste. It appears to have been too late.
CONGRESS TO INCREASE SCRUTINY OF AFGHANISTAN SPENDING
In the new Congress, there will likely be a renewed focus on the war, with investigations and hearings on the possible misuse of funds. Rep. Jason Chaffetz (R-Utah), who is taking over the House Oversight Subcommittee on National Security and Foreign Affairs from Rep. John Tierney (D-Mass.), said he plans to continue the strong oversight of his predecessor.
"Not only does it involve our national security, but literally hundreds of billions of dollars," Chaffetz said of corruption in Afghanistan. "I understand that in a time of war, things are a bit messy, but we also need to be held accountable for the money that is put out there. Are we furthering the corruption and thus slowing down our progress in Afghanistan? That's a legitimate question."
Last year, the committee conducted a six-month investigation and found that while there is a large amount of attention on corruption within the Afghan government, the United States had done very little in cleaning up its own waste, fraud and abuse in the war.
"In short, the Department of Defense designed a contract that put responsibility for the security of vital U.S. supplies on contractors and their unaccountable security providers," wrote Tierney. "This arrangement has fueled a vast protection racket run by a shadowy network of warlords, strongmen, commanders, corrupt Afghan officials, and perhaps others. Not only does the system run afoul of the Department's own rules and regulations mandated by Congress, it also appears to risk undermining the U.S. strategy for achieving its goals in Afghanistan."
Rep. Darrell Issa (R-Calif.), the new chair of the House Oversight Committee, has already announced that he will be investigating the war and plans to call on Obama administration officials to "articulate their plan and efforts to confront corruption in Afghanistan." House Armed Services Chairman Buck McKeon (R-Calif.) said he intends to place the panel "on a war footing with a renewed focus on winning in Afghanistan" and wants Gen. David Petraeus to testify.
SLOW START FOR AFGHANISTAN OVERSIGHT
So why didn't Congress authorize a special inspector general for Afghanistan until 2008, long after the structure was put in place for Iraq?
Stephanie Sanok was a staffer on the House Armed Services Committee between 2005 and 2008 and is now a senior fellow at the Center for Strategic and International Studies. She told The Huffington Post that for a time, government officials and the public at large were simply overwhelmingly interested in Iraq, and Afghanistan was largely ignored.
"Basically, we were so Iraq-focused in 2006 and 2007, and then there started to be a movement afoot among the new majority at that point that wanted to be less Iraq-focused and more Afghanistan-focused," Sanok said. "They said, let's have not only a new inspector general for Afghanistan, and they used the same exact language we had for Iraq, but also a whole bunch of Afghanistan requirements we had for Iraq -- such as a quarterly Pentagon report, metrics set up for measuring success in Afghanistan. So then in 2007 and 2008, you saw a lot of ideas that came from the Iraq world, so to speak, being imported into the Afghanistan world."
In an interview with The Huffington Post last week in his Arlington office, SIGIR Stuart Bowen, like Sanok, said that it would have absolutely been better for U.S. taxpayers if there had been a watchdog in place earlier in the war.
"There's a shortfall on the Hill's part in not creating a special inspector general for Afghanistan, but remember also, not a lot of money was being put into Afghanistan," said Bowen. "Iraq was the focus. Afghanistan is a NATO operation, and we only had 15,000 troops there for five years, off and on, and we didn't invest that much money. The last two years, we've doubled the amount of money of the previous six -- up to $56 billion there. Suddenly, as Iraq has stabilized and begun to get its democratic footing, it has become clear that it's no longer necessary to provide the kind of funding we did for five years. Afghanistan, on the other hand, is still struggling eight years later to find its democratic footing, and it hasn't really produced much for $50 billion-plus to date of U.S. taxpayer investment."
Bowen questioned whether the recent infusion of money into the war in Afghanistan was a wise decision, noting that it's "a much more primitive place than Iraq," much larger, topographically rugged and more ethnically diverse.
But the bigger problem, he added, is the incentive for U.S. officials to spend whatever money Congress is willing to appropriate for Afghanistan -- even if it doesn't have the proper capacity to do so.
"That creates a susceptibility to fraud, waste and abuse, when you put too much money into a situation that can't absorb it, but you have a pressure politically or otherwise to spend that money," Bowen said. "That's the way our system works: You spend it or lose it. Then you have a serious susceptibility."
ESTABLISHING A PERMANENT OFFICE OF CONTINGENCY OPERATIONS
Bowen argued that a permanent office of contingency operations, which he's dubbed USOCO, would help SIGAR replicate his own successes and remedy some of the weaknesses endemic to ad hoc watchdogs in general. Essentially, it would be an interdepartmental operation that would manage all reconstruction efforts where the U.S. military is deployed. If Congress balks at a permanent office, a similar special inspector general operation could be used to similar effect, he said.
"If the SIG model is appropriate, how should it be best deployed in the future? It would be easier to accomplish success efficiently if standing mechanisms were available that allowed the deployment of SIG quickly, at the earliest possible stage in a contingency, and without the need to reinvent the wheel for each occasion," Bowen testified before the Senate Homeland Security and Government Affairs Subcommittee on Contracting Oversight on Nov. 18.
Establishing a permanent office would also, Bowen said, help insulate the operation from political pressures, save taxpayers money and extend oversight into other contingencies. Before Democrats retook Congress in 2006, the House Armed Services Committee quietly tried to get rid of SIGIR following a series of reports blasting Iraq reconstruction efforts. (They failed, and in December of that year, Bowen's tenure was extended.)
"We've proposed that a permanent SIG could easily operate at $15 million annually and ramp up money necessary if a significant contingency unfolded, or several," said Bowen. "But there are lots of areas that are unaddressed, or for which there has been very little oversight already that a SIG could cover. Like the spending in Georgia -- about $1 billion was put in there, no oversight reporting on that. There's significant spending, of course, on the West Bank. That's arguably a continuing stabilization effort, and the discipline of some oversight reporting might enhance execution there as well. Recent history indicates that contingencies will be a way of life in the 21st century, so the discipline of good oversight enhances the future success of whatever those contingencies may be."
The USOCO proposal has received some congressional interest. No legislation has been introduced, however, but Bowen said a bill may come in the spring. McCaskill has floated the idea of creating a permanent SIG for contingency operations, saying in September, "We've got really good people that learned a lot in Iraq, and then we're trying to re-create the same kind of office in Afghanistan. It seems to me we're missing opportunities here." In a Dec. 15 op-ed, Rep. Mike Honda (D-Calif.) also endorsed the idea.
In a statement to The Huffington Post, a McCaskill spokesperson said that the senator and the contracting oversight subcommittee believes "we should take any proposal to increase the oversight of these operations seriously, especially given the history of waste, fraud and abuse we've seen in Iraq and Afghanistan." The committee has just begun "delving into the implications" of Bowen's proposal, the spokesperson added.
Sanok isn't quite so sure that institutionalizing the SIG structure is the best idea. "Creating bureaucracy for bureaucracy's sake is never helpful," she said. "From my perspective, when you look at what the establishment of SIGIR and SIGAR have done is they have helped the Department of State Inspector General atrophy. Instead of bulking up internal State Department audits and investigations, by creating separate offices in SIGIR and SIGAR, you've drawn a lot of the talent that would have helped the State Department into a different organization."
What seems universally agreed upon is that more oversight in Afghanistan is needed and SIGAR's auditors certainly have their work cut out for them -- especially because they're trying to account for the long years when there was no formal watchdog for the reconstruction dollars the United States was spending.
"There has been increased awareness of how much money we've been sinking into Afghanistan reconstruction, and that has highlighted publicly and politically, are we spending the right amounts of money in the right areas?" Sanok said. "And I think the answer has come back to be no, we're not, and that has heightened the profile [of SIGAR] lately."
Calling all HuffPost superfans!
Sign up for membership to become a founding member and help shape HuffPost's next chapter