When one teen's parents tried to sell her into marriage, she stopped it -- by writing a viral rap song.
Sonita Alizadeh is one of the youngest female rappers in Afghanistan. At age 10, her parents considered selling her into marriage for the first time.
"It was a painful moment," Alizadeh said at the Women in the World summit in New York on Thursday. "I couldn't understand that I'd have to forget my dreams."
At 16, it happened again. Alizadeh's mother told her she would be sold for $9,000 to pay for her brother's marriage. But this time Alizadeh was having none of it.
She created a music video, "Brides for Sale," that soon gained fans around the world -- accumulating almost half a million views to date.
"I am perplexed by this tradition of my people / They sell girls for money, no right to choose," the lyrics read. "Tell me what can I do to prove my personhood."
"My parents tried to sell me," Alizadeh said at the event. "I was looking for a way to share my feelings, so I started to rap to talk about the painful experience of being a girl."
After watching the video, Alizadeh's mother agreed not to sell her into marriage. Her future as an unmarried, educated young woman was secured when a high school in Utah saw her video and offered her a scholarship to attend.
"This is my first time in a real school," Alizadeh said. "At first it was really hard, because I couldn't speak English. I knew two words: 'hi' and 'bye.' But now I get A's -- and I'd like to go to Harvard."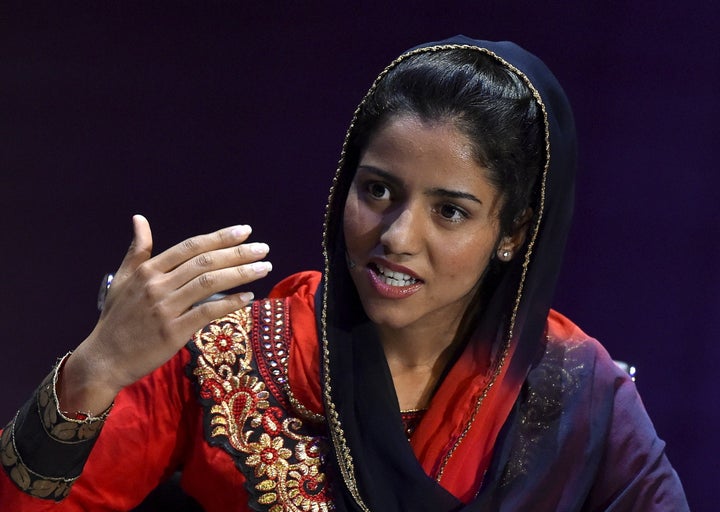 In Afghanistan, the legal age for a girl to wed is 16, according to the U.N. As a result, 40 percent of women are married before age 18 in the country, and an alarming one in six are married before 15, according to UNICEF.
Even though child marriage is illegal, it is still widespread in rural areas, where poor families sell their daughters to settle debts or dowries. Marrying underage affects girls' development, interrupts their education and puts them at higher risk of domestic violence.
"My friends, they get married at 15 years old," Alizadeh said at the event. "I saw them with bruises on their faces. I realized: This is the real face of child marriage." 
Now Alizadeh dedicates her life to speaking out against child marriage.
"It's not just Afghanistan, it's happening all over the world," she said at the event. "I'm here to talk about all those girls who can't share their feelings."
The teen said it will take a multi-pronged approach to end the practice: First, families need to understand that there are other possibilities for their daughters. Second, communities and religious leaders need to promote a change in tradition. Finally, governments need to support local programs to end child marriage.
Ultimately, Alizadeh wants to become a lawyer to help defend victims of child marriage herself.
"I want to go back to my country to help other girls," she said. "We need to support girls to see other possibilities for themselves, to have a vision for their own future."
REAL LIFE. REAL NEWS. REAL VOICES.
Help us tell more of the stories that matter from voices that too often remain unheard.
BEFORE YOU GO
PHOTO GALLERY
Child Brides