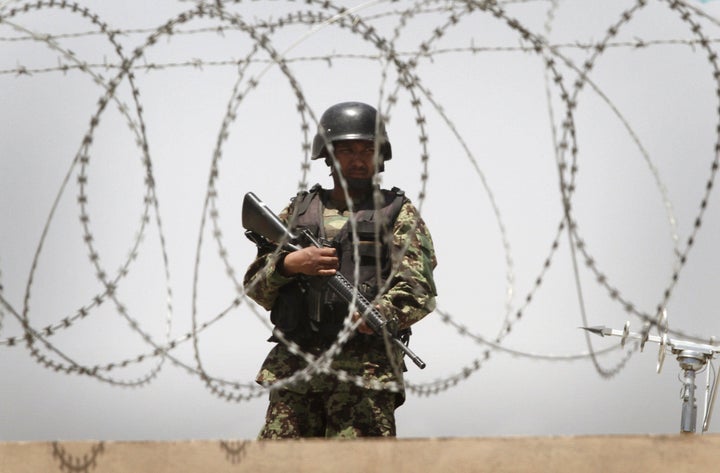 We got our man. Wave the flag, kiss a nurse, and start packing the equipment. It's time to plan to bring all our boys and girls home from Afghanistan. When the 10th anniversary of the September 11 attacks rolls around, let the world see that we are on a clear path to bringing home our troops from Afghanistan and handing back sovereignty to the Afghan people.
With more Sherlock Holmes than Rambo, and judging from press accounts, not much role for the 100,000 U.S. troops in Afghanistan, U.S. intelligence tracked Osama bin Laden to a safe house in a well-appointed suburb of Pakistan's capital and a small U.S. force raided the compound. Press reports say Osama bin Laden was killed in a firefight in the compound and that his body has been buried at sea, in accordance with Islamic tradition that expects a burial within 24 hours.
Success typically has many authors, and I don't doubt the ability of some to argue that our occupation of Afghanistan has contributed to this result. Perhaps it will turn out that some prisoner captured in Afghanistan by U.S. forces contributed a key piece of information that helped investigators find bin Laden's compound in Abbottabad, Pakistan.
And of course it will be argued, correctly, that Osama bin Laden's death is not necessarily the end of al Qaeda nor of groups inspired by al Qaeda; indeed, that there will be an incentive now for al Qaeda and al-Qaeda-inspired groups to retaliate and to prove that they can still carry out actions against the United States.
But whether anyone at the Pentagon likes it or not, the death of bin Laden is a game-changer politically, for U.S., Afghan and world public opinion, in terms of the perceived justification for maintaining 100,000 U.S. troops in Afghanistan. The world was already bone-tired of the war in Afghanistan, even before bin Laden's death. Two-thirds of Americans were saying that the war in Afghanistan wasn't worth fighting, and three-quarters of Americans were saying that they wanted to see a substantial withdrawal of U.S. combat troops from Afghanistan this summer.
No doubt there will be a window of celebration and relief now, in which many will be willing to give the U.S. government the benefit of some doubt about its future plans.
But if the Afghanistan war continues as it has in the past, this window won't last for long.
Recall that Saddam Hussein was executed on December 30, 2006. Since that day, nearly 1,500 U.S. soldiers have lost their lives in Iraq. If the war in Afghanistan continues as it has, public opinion will soon ask, "We got our man. Why are we still there?"
Indeed, in Afghanistan, the immediate reaction has been: "Congratulations! Well done! Now it's time for you to leave our country." The Wall Street Journal reports:
"The death of Osama bin Laden is reinforcing calls for a quicker pullout of American troops from Afghanistan and strengthening pressure to end America's longest war by finding a political settlement with the resilient Taliban insurgency."
It's time to pivot, President Obama. Give three-quarters of the American public -- including the majority of Republican voters -- what they have said they want: a substantial withdrawal of U.S. combat troops from Afghanistan this year. Announce a real end date for U.S. military withdrawal from Afghanistan, as senators Barbara Boxer, Dick Durbin, Kirsten Gillibrand, Sherrod Brown and Tom Harkin have demanded. The single greatest contribution you can make to peace in Afghanistan now is to make it clear to Afghan actors that the U.S. is really leaving, not trying to maintain troops and bases in Afghanistan past 2014. Make clear that the U.S. is really leaving so that peace talks can proceed.
Related
Popular in the Community