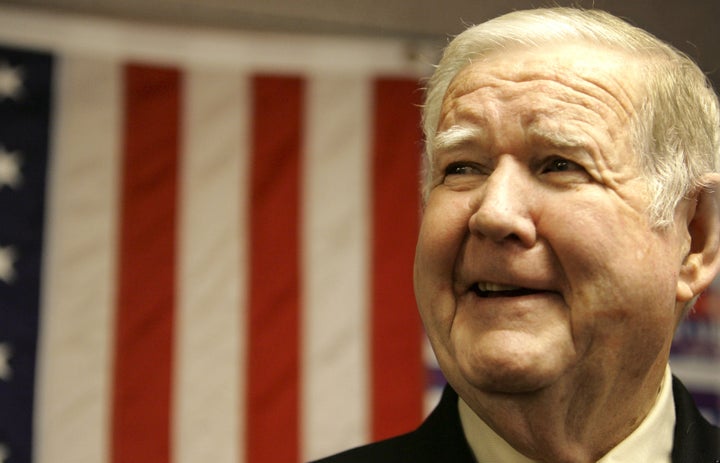 WASHINGTON -- Before Nov. 17, 2005, Rep. John Murtha (D-Pa.) was best known as a conservative Democrat with ties to the defense industry and a penchant for earmarks. A Marine Corps veteran of Vietnam, he had strong credentials on security issues and was widely admired for his expertise as the leading Democrat on the House Appropriations Committee's defense subcommittee. He supported the first Gulf War in 1991 and voted to authorize the use of force against Iraq in 2002.
But three years after that authorization vote, Murtha -- who passed away in February 2010 -- shook up Washington by calling for "the immediate redeployment of American forces" out of Iraq, fundamentally shifting the debate on the war. While hardly the first lawmaker to come out against the war, his announcement was significant because, as a hawkish Democrat, he was such an unexpected messenger.
"It is time for a change in direction," said Murtha, choking back tears in his remarks to reporters. "Our military is suffering, the future of our country is at risk. We cannot continue on the present course. It is evident that continued military action in Iraq is not in the best interests of the United States of America, the Iraqi people or the Persian Gulf region."
When Murtha spoke out, the war in Iraq had been going on for more than two and a half years, and polls showed that between 50 and 60 percent of the U.S. public was questioning whether it ought to continue. Today, the war in Afghanistan has been going on for nearly 10 years and 63 percent of the public says it is opposed to further U.S. involvement. But so far, no Murtha figure has emerged.
"His opposition really shook people up," said Matthew Hoh, a former Marine Corps captain with combat experience in Iraq who was working at the State Department in 2005. "It shook the administration up because this was someone who could lead an organized effort. This was not your usual suspect on military or international affairs, this wasn't Dennis Kucinich. ... Before that, the people who were against the war were mostly strictly anti-Bush or they were strictly antiwar."
In 2009, Hoh resigned his position as a foreign-service officer in Afghanistan over concerns about the U.S. strategy in the war. Shortly after his resignation became public, Murtha brought Hoh to speak to several members of the House defense appropriations subcommittee, and later invited him to address the entire Democratic caucus at one of their closed meetings.
According to Hoh -- who still keeps a pocket knife given to him by the late congressman -- Murtha was deeply skeptical over the direction of U.S. policy in Afghanistan, comparing it to Vietnam and Iraq and saying, "I'm not going to let us get into another mess like that."
A former Murtha staffer also told The Huffington Post that the congressman had been a "skeptic" on Afghanistan after making multiple visits to the country. "He always said as soon as we become seen as an occupying force, we lose in Afghanistan, because suddenly we're not seen as fighting on behalf of the people, we're seen as a foreign army here to take your land and children, basically," the staffer said. "Certainly he believed that we weren't fighting al Qaeda there any longer. The information has shown that al Qaeda has fled to Pakistan, and we're here."
Murtha's pronouncement on Iraq carried particular weight because he had initially voted to authorize the use of force in Iraq. What he did, in his former staffer's view, changed the discussion so that lawmakers could be against the war but still support the troops. The staffer said several senators called Murtha after he spoke out, thanking him for what he did.
After his shift, some Republicans also started turning against the war in Iraq. "John Murtha was a giant, always will be in the Congress," Rep. Walter Jones (R-N.C.) told The Huffington Post. The conservative Jones, who represents a heavily militarized district, also voted to authorize the use of force in Iraq and helped lead the effort to rename french fries in the House cafeteria "freedom fries." He came to regret both moves, and is now an outspoken critic of the war in Afghanistan, having sent nearly 10,000 personal letters of condolence to the immediate and extended families of fallen service members.
By 2007, three Republican senators had joined with Democrats to advocate withdrawing U.S. troops from Iraq. So far, there's no such bipartisan Senate coalition on Afghanistan -- at least not publicly. On Tuesday, Senate Minority Leader Mitch McConnell (R-Ky.) said of the war, "As the Republican leader of the Senate -- I think I can speak for virtually all of my members on this, but not all of them -- we support what the president's doing. So I think that even though we are a country that greatly values life and always hates it when we lose anyone, the post-9/11 mission of keeping Afghanistan from becoming a haven again is important."
Advocates of withdrawal from Afghanistan were hard-pressed to name a figure such as Murtha who could shift the debate on the war as was done with Iraq. A few people tossed out Sens. John Kerry (D-Mass.), Scott Brown (R-Mass.), Daniel Inouye (D-Hawaii), and Richard Lugar (R-Ind.) for their strong national security credentials and/or bipartisan appeal, but all admitted that it was unlikely they would take up Murtha's legacy.
"It was a real, real blow to our efforts. It really was," Hoh said of Murtha's death. "I think we'd be in a different place right now. I don't think the administration would have gotten away with the review it just supposedly had -- the December progress review -- after they had announced the policy in Lisbon. I don't think Murtha would have let them get away with that kind of thing. I think Murtha would have brought along other unusual suspects with them, and we'd have a much more united, much more vocal opposition in Congress reflecting American public opinion right now than if he had passed away."
REAL LIFE. REAL NEWS. REAL VOICES.
Help us tell more of the stories that matter from voices that too often remain unheard.