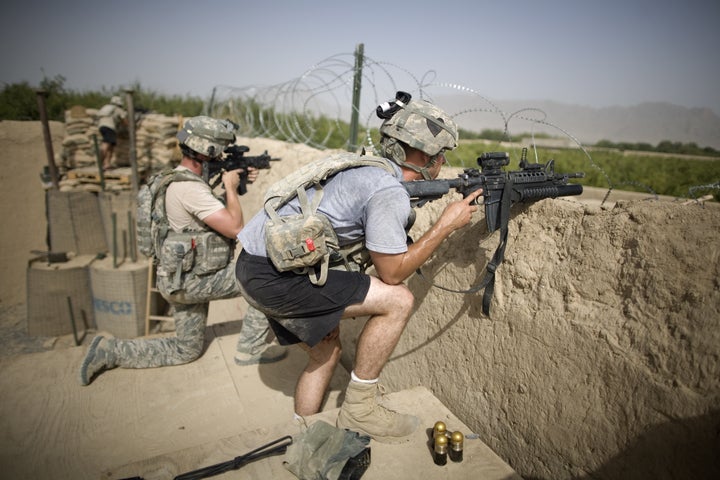 SEE BELOW FOR UPDATES ON "AFGHAN WAR DIARY" AND JOHN KERRY'S STATEMENT.
WikiLeaks has obtained a massive set of records about the Afghanistan war, dubbed "The War Logs," that paints a grim picture of the nation's longest military engagement.
A huge cache of secret US military files today provides a devastating portrait of the failing war in Afghanistan, revealing how coalition forces have killed hundreds of civilians in unreported incidents, Taliban attacks have soared and Nato commanders fear neighbouring Pakistan and Iran are fuelling the insurgency.

The disclosures come from more than 90,000 records of incidents and intelligence reports about the conflict obtained by the whistleblowers' website Wikileaks in one of the biggest leaks in US military history. The files, which were made available to the Guardian, the New York Times and the German weekly Der Spiegel, give a blow-by-blow account of the fighting over the last six years, which has so far cost the lives of more than 320 British and over 1,000 US troops.
National Security Advisor James Jones issued a statement indicating that the release may have caught the administration off guard because WikiLeaks did not contact the government in advance. "The United States government learned from news organizations that these documents would be posted," Jones said while condemning the "irresponsible leaks." His statement paid special attention to the relationship between the U.S. and Pakistan, which has allegedly been allowing its spy agency to aid the insurgency.
The Defense Department declined a CNN request for comment and did not immediately verify the authenticity of the documents because they had not reviewed them yet, another indication that the Pentagon was unprepared for the release.
***UPDATE, 9:30PM ET*** John Kerry (D-MA), Chairman of the Senate Foreign Relations Committee, released the following statement:
However illegally these documents came to light, they raise serious questions about the reality of America's policy toward Pakistan and Afghanistan. Those policies are at a critical stage and these documents may very well underscore the stakes and make the calibrations needed to get the policy right more urgent.
*** UPDATE, 9:55PM ET*** WikiLeaks has published their dedicated website for the "Afghan War Diary."
FULL STATEMENT FROM JAMES JONES:
The United States strongly condemns the disclosure of classified information by individuals and organizations which could put the lives of Americans and our partners at risk, and threaten our national security. Wikileaks made no effort to contact us about these documents - the United States government learned from news organizations that these documents would be posted. These irresponsible leaks will not impact our ongoing commitment to deepen our partnerships with Afghanistan and Pakistan; to defeat our common enemies; and to support the aspirations of the Afghan and Pakistani people.

The documents posted by Wikileaks reportedly cover a period of time from January 2004 to December 2009. On December 1, 2009, President Obama announced a new strategy with a substantial increase in resources for Afghanistan, and increased focus on al Qaeda and Taliban safe-havens in Pakistan, precisely because of the grave situation that had developed over several years. This shift in strategy addressed challenges in Afghanistan that were the subject of an exhaustive policy review last fall. We know that serious challenges lie ahead, but if Afghanistan is permitted to slide backwards, we will again face a threat from violent extremist groups like al Qaeda who will have more space to plot and train. That is why we are now focused on breaking the Taliban's momentum and building Afghan capacity so that the Afghan government can begin to assume responsibility for its future. The United States remains committed to a strong, stable, and prosperous Afghanistan.

Since 2009, the United States and Pakistan have deepened our important bilateral partnership. Counter-terrorism cooperation has led to significant blows against al Qaeda's leadership. The Pakistani military has gone on the offensive in Swat and South Waziristan, at great cost to the Pakistani military and people. The United States and Pakistan have also commenced a Strategic Dialogue, which has expanded cooperation on issues ranging from security to economic development. Pakistan and Afghanistan have also improved their bilateral ties, most recently through the completion of a Transit-Trade Agreement. Yet the Pakistani government - and Pakistan's military and intelligence services - must continue their strategic shift against insurgent groups. The balance must shift decisively against al Qaeda and its extremist allies. U.S. support for Pakistan will continue to be focused on building Pakistani capacity to root out violent extremist groups, while supporting the aspirations of the Pakistani people.
REAL LIFE. REAL NEWS. REAL VOICES.
Help us tell more of the stories that matter from voices that too often remain unheard.