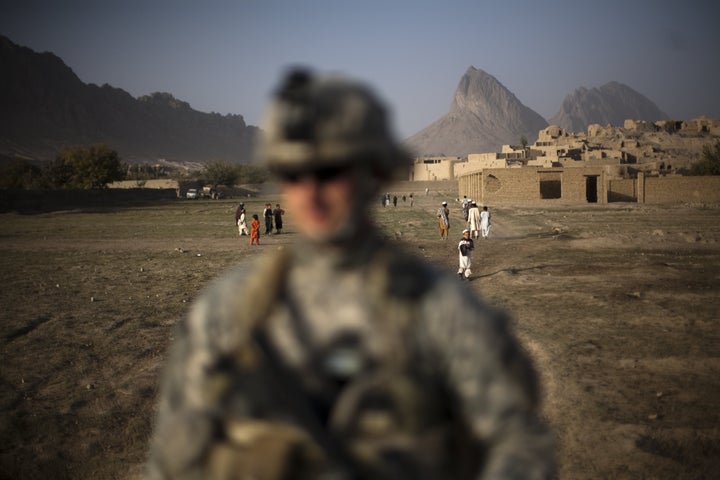 WASHINGTON -- On Feb. 17, 2009, President Barack Obama announced that he would be sending 17,000 more troops to Afghanistan. The move, he argued, was necessary to "meet urgent security needs."
Two years later, elected officials and the public at large are increasingly questioning the President's strategy and the war effort. On Thursday, a bipartisan group of lawmakers introduced legislation to end combat operations in Afghanistan.
Rep. Barbara Lee (D-Calif.) was the lone vote against authorizing an invasion of Afghanistan on Sept. 14, 2001. She is now joining with Republican Reps. Walter Jones (N.C.) and Ron Paul (Texas) -- along with 45 other cosponsors -- to reintroduce a bill that would end combat operations in Afghanistan and limit funding to the redeployment of U.S. troops and military contractors.
"Regardless of the situation in Afghanistan, we've seen the Pentagon coming back to us asking for more troops, more resources, more time," Lee told reporters during a conference call on Thursday. "And I always said, 'If they say it's going well in Afghanistan, they want more resources, more troops, more time. If it's going poorly in Afghanistan, they come back and they say they want more troops, more resources, more time.'"
The Obama administration has stated that it intends to begin withdrawing U.S. troops from Afghanistan in July 2011 and transfer primary security responsibilities to Afghan forces in 2014, but the pace of withdrawal within that period is still up in the air. Obama's budget proposal for fiscal year 2012, released Monday, requests $107 billion for military spending in Afghanistan.
Although public opinion polls show that a majority of Americans now want a faster withdrawal of U.S. troops from Afghanistan, war critics in Congress face a difficult task in trying to round up enough public support among their colleagues to pass a bill like Lee's.
While in the Senate, Russ Feingold (D-Wis.) -- who lost his reelection bid in 2010 -- was one of the most forceful advocates for a change in direction in Afghanistan. He said that there was a lot of frustration privately amongst Democrats, but most weren't comfortable saying so publicly.
"I think there was a real concern about going against President Obama, and I understand that," Feingold said Tuesday in an interview with The Huffington Post. "I support him, and I want him to be reelected. But we have to call them as we see them when it comes to something like the war. It doesn't make sense in the long run. It's going to be bad for the president politically, as well as being a very unwise policy in terms of our national security."
Jones, Paul and Rep. John Duncan (R-Tenn.) have been pushing their fellow Republicans to speak out against further large-scale combat operations. On Wednesday, they convened a meeting for GOP members to explore alternative strategies in the war -- aimed primarily at about 10 freshmen a prominent Tea Party-affiliated group identified as persuadable. Only a few attended the entire meeting, however, owing in part to a busy schedule of votes on amendments to the stopgap budget measure known as a continuing resolution.
"It's a start," Jones told The Huffington Post. "The ones who were there were fully engaged, and I think they will try to build on it. What I hope is that we're going to reach out and see if we can't encourage some of the freshmen to get together and talk about it."
The meeting's three principal speakers were Americans for Tax Reform President Grover Norquist, Maj. Gen. John Batiste (ret.) and Lt. Col. Eric Egland (Reserve). All three have questioned the traditional Republican orthodoxy on the war.
"The reception was extremely positive," said Egland, a career intelligence officer with experience in Afghanistan, Pakistan and Iraq. "The way ahead was, let's find other members who are receptive to this -- which they felt just about everybody is."
But Egland said a key hurdle, as expressed by the members who attended, would be explaining criticism of the ongoing war in a way that doesn't "disrespect the sacrifices that have been made" by U.S. troops. "There's just some political pressure to keep this issue off the table," he said.
Popular in the Community