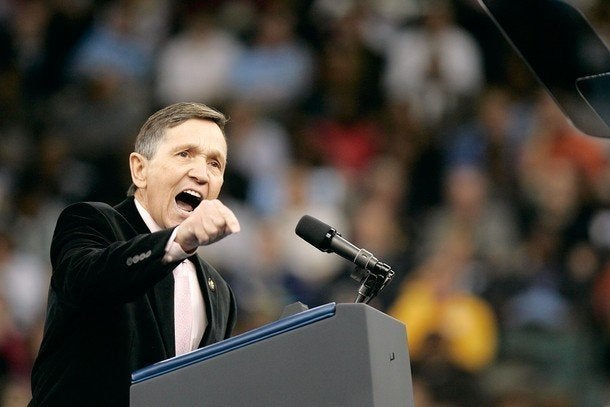 WASHINGTON -- The House overwhelmingly defeated on Thursday a nonbinding resolution to withdraw all U.S. troops from Afghanistan by the end of the year.
The vote, which failed by a margin of 93 to 321, followed a two-hour debate that involved a brief protest and a lengthy discussion of national security and budget cuts. But what surprised some observers is that the bill, authored by Rep. Dennis Kucinich (D-Ohio), made it to the House floor at all.
Kucinich's proposed resolution would have invoked the War Powers Resolution and directed President Barack Obama to remove troops from Afghanistan "by no later than the end of the period of 30 days beginning on the day on which this concurrent resolution is adopted," or by no later than Dec. 31 if that proved impossible.
"We are getting a lot of questions about how the Kucinich Resolution came to the House Floor," the press staff of House Majority Leader Eric Cantor (R-Va.) tweeted during the debate, pointing inquirers to the House Rules Committee website. Cantor spokeswoman Laena Fallon told The Huffington Post that her office wasn't getting angry responses, just general inquiries about parliamentary process.
One Democratic House staffer told The Huffington Post that Republicans could have stopped the resolution, at least temporarily, by filing a rule to block it. However, Kucinich could then have filed another resolution to be taken up in 15 days. Another Democratic staffer familiar with the matter said the GOP leadership never attempted to block the measure.
Amash was the only freshman Republican who attended the vote but did not cast a ballot against the resolution. Eighteen House members spoke in favor of the Kucinich measure, and 14 spoke against it.
Supporters of the resolution often invoked a fiscal argument, saying that lawmakers concerned about cutting the federal deficit should look seriously at withdrawing troops. "Overall, government spending has increased 9 percent, 2008 through 2011, but Afghanistan war spending has increased 25 percent," Kucinich said. "You want to save $100 billion? Then vote for this resolution."
Others argued that U.S. national security resources were being ill-used in an unwinnable war, and Rep. Bob Filner (D-Calif.) praised the opportunity to have such a debate. "It's like the 600-pound elephant in the nation, this war has gone on and we never discuss about it," Filner said.
Gen. David Petraeus, who testified before the House and Senate armed services committees this week, was the most-quoted figure by opponents of the Kucinich resolution, who argued that progress is being made in Afghanistan and "cutting and running" would simply embolden the enemy -- akin to years' worth of arguments against redeployment from Iraq.
"I know we cannot afford to fund this war indefinitely, but some think that cutting and running immediately from Afghanistan is a solution," freshman Rep. Tim Griffin (R-Ark.) said. "That's simply not an option. This is a reckless resolution."
Several lawmakers also hit back against the fiscal argument, with Rep. Ted Poe (R-Texas) saying, "War is expensive, and it should not be measured in the cost of money, which has been the discussion today."
"I've heard before some of my colleagues who support an American retreat from Afghanistan describe this effort as a fiscal matter," added Rep. Steve Chabot (R-Ohio). "I'd respond to that argument by simply stating, it's not a question of whether we can afford to fund a military presence in Afghanistan -- it's a matter of whether we can afford not to, particularly at this point."
The debate, like the final vote, did not break down strictly along partisan lines. Republican Reps. Jason Chaffetz (Utah), Jimmy Duncan (Tenn.), Walter Jones (N.C.), Ron Paul (Texas) and Dana Rohrabacher (Calif.) all spoke in favor of the resolution, while Democratic Rep. Howard Berman (D-Calif.) spoke against it. The five Republicans were joined in the final vote by Reps. John Campbell (Calif.), Howard Coble (R-N.C.) and Tim Johnson (Ill.).
A February poll by Gallup/USA Today found that 72 percent of Americans support Congress taking up the issue of an accelerated withdrawal from Afghanistan.
Popular in the Community