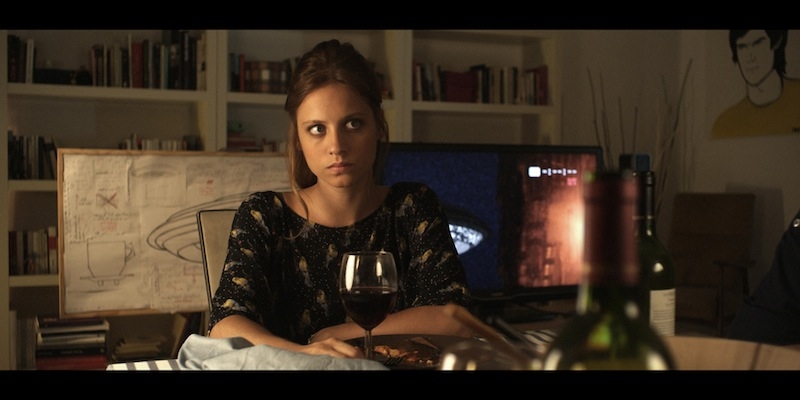 Publicity image courtesy of AFI
The Spanish film Extraterrestrial is the kind of smart, funny, and human science fiction that I wished we saw more of in the United States. If director Nacho Vigalondo's debut Timecrimes was a twisty, plot driven examination of how regret can drive a man to madness, then this film -- which begins the morning after giant flying saucers appear in the sky -- is the character driven counterpoint.
Like the director's first film, Extraterrestrial takes advantage of a genre conceit to push the characters to the emotional limit, all the while bringing a playful sense of humor to bear. I laughed more with this film than I have with any American comedy this year. Even Bridesmaids.
Julio (Julian Villagran) wakes up after a wild night in Madrid in an unfamiliar, stylish apartment with a girl way out of his league (Michelle Jenner) making her way about the place in little more than a shirt. As the awkward early evening -- yes it was one of those nights -- plays itself out, the two discover that a mothership is hovering a few miles away. Oh, and her name just happens to be Julia. Quite the coincidence, that.
This is the point in an American movie where Shia La Bouef jumps on a stolen motorcycle and races across the countryside, dodging government agents and the shape-shifting alien invasion force alike. (If you see this rolling out of theaters in 2013 you know who deserves a royalty check*.)
Thankfully for us our mismatched pair stay close to home, and are soon joined by Julia's lovesick neighbor Angel and her crusading boyfriend (whoops!) Carlos. With the characters assembled Vigalondo puts the quartet in a pressure cooker of half-truths, outright lies, and paranoia exasperated by the fact that they are cut off from the world.
This is the point in an American indie film where the characters detach from each other to brood and look wistfully towards the sky as pillow shots of empty streets buffer dialog-less scenes, while the writer-director-lead spins their wheels coming up with what should happen before they hit the third act break.
Not here. Vigalondo's cast members derive equal parts comedy and pathos from their situation, trading revealing looks on the sly while running their mouths with pure bunkum to keep each other off balance. There's a lot of the French romantic farce in this film, photographed with a naturalist's eye and paced brilliantly through to the oh-so-human conclusion. This is the kind of small film that should be studied by aspiring writers and genre fans alike.
If you are looking for a special effects tour-de-force, then look elsewhere. But if you want to see one of the best sci-fi films in an era of great, human scale genre pictures, you need to make contact with Extraterrestrial.
Extraterrestrial [EXTRARERRESTRE], (Spain, 2011). Spanish with English subtitles. Written and directed by Nacho Vigalondo screens again at the AFI Fest 2011 presented by Audi on November 7th at 10:30 PM.
*Ah, who am I kidding. There were 18 pitches like that making their way about this town this afternoon alone.
Originally published on Turnstylenews.com, a digital information service surfacing emerging stories in news, entertainment, art and culture; powered by award-winning journalists.
REAL LIFE. REAL NEWS. REAL VOICES.
Help us tell more of the stories that matter from voices that too often remain unheard.