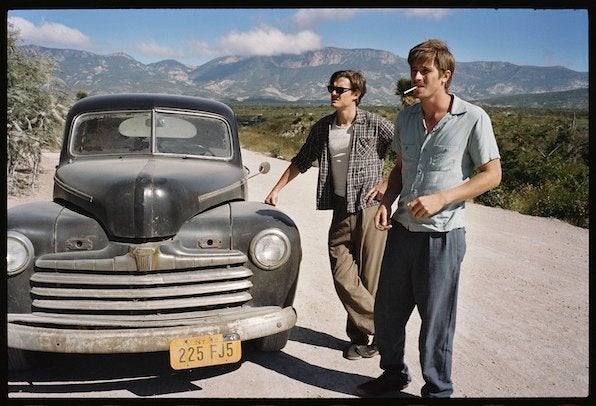 The AFI Fest wrapped up on November 8th in Hollywood. The 40th annual festival revealed itself again as one of the globe's superior events for accessing works by both veteran and emerging voices in Latino and Latin American film. AFI Programmer Dilcia Barrera commented:
The past seven days have been full of packed screenings, fun events and amazing conversations. We were honored with many surprise appearances, from the arrival of Eva Mendez at the Holy Motors red carpet to Diego Luna's special introduction for the midnight screening of his producorial effort, Come Out and Play. We had an overwhelmingly positive response to the Latino programming, with our sold out screenings and animated Q&As. Overall, we are thrilled. The Latino presence was strong both in filmmaker attendance and audience demographic.
Of the 133 films presented over one week of film screenings, Q&A's and red-carpet premieres, 77 were feature-length films and 56 were shorts. Of the 77 features, 13 presented the work of Latino, Latin American or Hispanic directors, or maintain some Latino element. Let's take a look at the feature films that graced the AFI Fest, some of which will soon arrive at a theatre near you.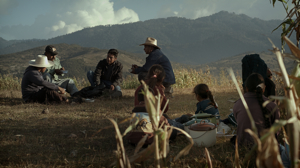 The film Here and There (Aquí y Allá), written and directed by Antonio Méndez Esparza, is a co-production of Aqui y Alla Films and Torch Films, and produced by Ori Dov Gratch, Tim Hobbs and Pedro Hernández Santos. Director Mendez was raised in Spain, and lives in New York City, Mexico and Madrid. Mendez's most recent short film Una y Otra Vez won Best Narrative Short at the 2009 Los Angeles Film Festival, won first prize at the Concurso de Cortometrajes Versión Española, was a Finalist for the Student Academy Awards, and earned Méndez the DGA Student Award for Best Latino Filmmaker-East Coast. The 110-minute film was shot on the Red One over 52 days in Guerrero, Mexico. The film follows Pedro, as he "returns home to a small mountain village in Guerrero, Mexico after years of working in the U.S., and struggles to rebuild his family and follow his dream of starting a band: the Copa Kings." When asked how he aligned himself with the story of Pedro, an immigrant, director Mendez responded:
While in school, I started making a series of short films that were all related to the topic of urban immigration, perhaps because I shared the feeling of homesickness with them. I was aware I was a very privileged immigrant, a legal alien, and could fly back home. Slowly, and after several attempts, I started to come closer to their real lives. Then, I met Pedro, who became the main actor of the previous short film that started it all. Because of Pedro, and because I saw the opportunity, I decided to make a film about home. His home. Everyone's home. I am Spanish born. However, I have been living in the United States for a long time, nearly 10 years. Because we share the same language, I [have grown] close to many Mexicans, Dominicans and Puerto Ricans.
The uniquely titled The International Sign for Choking is the latest work of director Zach Weintraub and producer Bradley Smith. The film stars Sophia Takal and runs 80 minutes. Shot on the Canon 5D Mark II over 30 days, the film was shot in Buenos Aires and Colón, Argentina. "The International Sign for Choking" follows a documentary filmmaker from the U.S. who returns to Buenos Aires after having studied there previously. It's about why her return to Argentina wasn't such a wise idea. Director Weintraub admits the film isn't Latino-themed except for one important element: it's shot entirely in Argentina. He confesses:
I studied in Buenos Aires for a semester in 2008 and I really liked it there. I've been back three more times since then. I think that Latin America, and Argentina in particular, has been producing some of the most interesting movies recently... so my interest in Latino culture comes from my interest in film culture. That's why I made the movie in Buenos Aires. I wanted to weasel my way into that scene a little bit.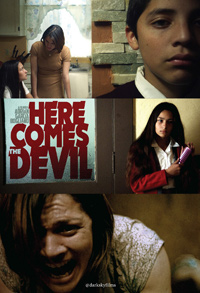 Here Comes the Devil (Ahi Va El Diablo) is a film written and directed by filmmaker Adrián García Bogliano. Bogliano was born in Spain and raised in Argentina. He is the director of nine feature films. The feature was produced by Andrea Quiroz Hernandez, runs 97 minutes and was shot on the Red One over a brief 18 days. Bogliano notes that while he first intended to shoot the film in Spain, he abruptly changed his location to Mexico, and it evolved the film's story:
As I decided to shoot in Mexico the idea grew to become something completely different. Initially I wanted to make a film about the grief of two parents whose child is missing, but it eventually turned into this supernatural tale and I think it was for the better.
The feature was filmed in Tijuana and Baja Mexico. When asked about filming on this location, Bogliano responds:
[The film] portrays some elements that I discovered from Tijuana, things that I haven't seen in any other films. When we were shooting there, people approached all the time to ask if this was going to be another film about the narcos. And I'm surprised that people and artists don't seem to realize how many different stories you can find in that city.
Bogliano will next be working on a feature film in the U.S. The script was written by an American writer and is titled Late Phases.
Everybody's Got Somebody But Me (Todo el mundo tiene alguien menos yo) is the first feature by Mexican filmmaker Raul Fuentes. The film runs 92 minutes, was shot on the Arri Alexa over 32 days in 20 locations in Mexico City. According to the director Fuentes, the film explores the "responsibility the middle age youngsters have had in the decomposition of Mexico":
I think our irresponsibility in everyday life has brought us to the point where we are living in a country [Mexico] without any peace at all. I think people should watch it not just because of the theme, but because of the formal aspects of the film. The way the story is told is unique and unforgettable.
Fuentes cites his inspirations lie in Mexican cinema, including the works of Julián Hernández and Roberto Gavaldón. He comments that the film also developed his relationship with the city he lives in: "I love [Mexico City] and... I wanted to show parts of the city which do not appear in other films."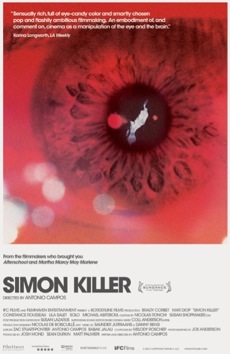 Simon Killer is a cinematic portrait of a sociopath directed by American-Brazilian filmmaker Antonio Campos in follow-up to his first feature Afterschool. In the Q&A of the premiere screening of Simon Killer, Campos mentioned how the screenplay for the film was only a series of scenes and ideas, and was largely fleshed out through improvisation. Shot in France, the team spent time becoming close with the the film's subject: prostitutes, some of whom were cast in the film. The filmmaker was raised entirely in the U.S. and the movie does not contain any specifically Latino themes, but it is dark, moody cinematic portrait of a young man with psychopathic tendencies and proves Campos skills as a filmmaker once again. The film's violent exchanges, blurred transitions, unique framing, and extended one-takes may offer viewers a flashback to Gaspar Noé's Palme d'Or nominee Irreversible.
Greatest Hits (Los Mejores Temas) has been called "one of the most inventive and humorous films of AFI Fest 2012" and is Nicolás Pereda's sixth film. The AFI screening was co-sponsored by NALIP. The movie tells the story of Gabino, who sells Greatest Hits CDs in the subway to support his family. "Challenging all cinema norms, The Greatest Hits drifts from documentary to fiction questioning and exploring the dynamics of a common theme in Mexican households: the absent father."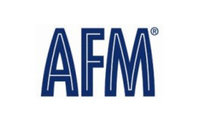 The AFI Fest runs concurrently with the American Film Market (AFM). Over 8,000 attendees and more than 440 screenings made up this year's AFM, a major marketplace held every year in Santa Monica for films in every stage of development and production. Screenings, networking, parties and conferences, includes the industry's largest Conference Series, a Film Finance Conference and panels on Micro-Budget Filmmaking and Social Media for Filmmakers. The AFM is produced by the Independent Film & Television Alliance®, the global trade association of the independent motion picture and television industry and the voice and advocate for the Independents worldwide.
Calling all HuffPost superfans!
Sign up for membership to become a founding member and help shape HuffPost's next chapter