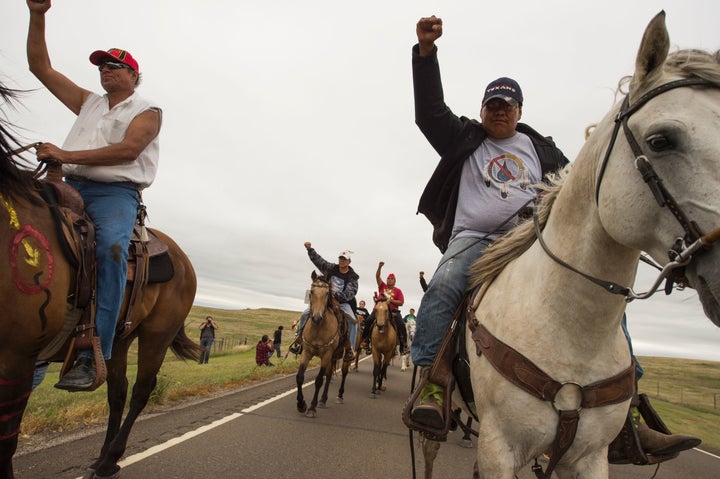 On Thursday, the AFL-CIO announced that it was formally supporting development of the Dakota Access oil pipeline, a project fiercely opposed by Native American tribes and environmentalists. The $3.7 billion development has prompted mass protests led by members of the Standing Rock Sioux Tribe, who say their sovereignty will be trampled and their water supply imperiled if the project goes through.
The AFL-CIO has said in recent years that it wants to link arms with other major liberal players on issues like civil rights and racial and environmental justice. But it also must answer to its member unions. Some of those unions ― particularly in the construction trades ― support energy projects like the Dakota Access pipeline because they create jobs for union members. There has been a similar friction within labor throughout the Keystone XL controversy.
The Laborers' International Union of North America, or LiUNA, has been the most vocal supporter of the Dakota Access pipeline within the AFL-CIO. LiUNA has accused the protesters of being "extremists" who trespass, intimidate and endanger its members working on the project.
In its statement Thursday, the AFL-CIO said the pipeline provides "high-quality jobs" and makes the U.S. "more competitive." It also argued that the project "addresses the threat of climate change."
"Pipelines are less costly, more reliable and less energy intensive than other forms of transporting fuels, and pipeline construction and maintenance provides quality jobs to tens of thousands of skilled workers," reads the statement attributed to AFL-CIO President Richard Trumka.
The federation took heat on Twitter for its support of the Dakota Access project:
Three years ago, the AFL-CIO said it was considering a more formal partnership with progressive groups such as the Sierra Club, the National Council of La Raza and the NAACP. "It used to be your issues and my issues," Trumka told HuffPost at the time. "We want it to be our issues, whether it's a civil rights issue, a human rights issue, a women's issue, a race issue or a collective bargaining issue."
Support for the Dakota Access project is hardly uniform among the federation's unions. The Communications Workers of America, which represents 700,000 people and tends to have progressive politics, issued a statement of solidarity with the Standing Rock Sioux Tribe, saying it would oppose "the environmental and cultural degradation of their community."
"The labor movement is rooted in the simple and powerful idea of solidarity with all struggles for dignity, justice and respect," the CWA said.
Popular in the Community