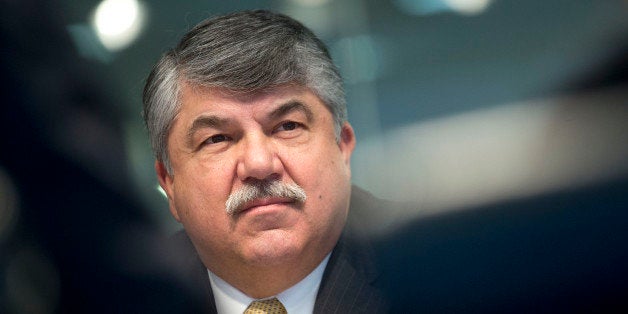 The nation's largest labor federation is taking aim at Navient Corp. for alleged mistreatment of borrowers, adding to the student loan specialist's growing list of regulatory woes.
Richard Trumka, president of the AFL-CIO, said in a Wednesday letter that the labor group was concerned about its investments in Navient as a result of recent federal allegations that the company cheated soldiers and charged other borrowers unfair fees on student loans.
Trumka's comments open a new front against Navient, already facing criticism from Democratic lawmakers, including Sen. Elizabeth Warren (D-Mass.), and student and consumer advocacy groups. Instead of solely using its political muscle to pressure the company to reform, the AFL-CIO is deploying its power as a shareholder activist group.
Navient, formerly a part of student loan giant SLM Corp., better known as Sallie Mae, faces pending investigations by state attorneys general led by Illinois and Washington, and several probes by the Consumer Financial Protection Bureau. In May the company settled allegations by the U.S. Department of Justice that it deliberately overcharged active-duty troops and by the Federal Deposit Insurance Corp. that it swindled other borrowers.
The Department of Education has said it is trying to determine whether Navient's lucrative contract to collect borrowers' monthly payments on their federal student loans should be terminated in the wake of the Justice Department accusations.
The AFL-CIO, an umbrella organization representing 12.5 million union members whose pension plans hold more than $560 billion in assets, said it's worried the company has devoted inadequate attention to its compliance and customer service to boost short-term profit at the risk of long-term prospects.
"We are concerned that these types of regulatory compliance failures may jeopardize Navient's loan servicing business relationship with government clients," Trumka said in his letter, addressed to Ann Torre Bates, a member of Navient's board and chair of its audit committee. "Publicity surrounding the settlement and ongoing inquiries from the Consumer Financial Protection Bureau and attorneys general in several states may harm the company's reputation and could jeopardize critical business relationships with government."
Navient and its chief executive, Jack Remondi, have told investors that the company hopes to boost revenues by increasing the amount of debt-collection business it gets from local and state governments, in addition to the federal government. Navient owns Pioneer Credit Recovery, which collects delinquent debts on behalf of the Education Department and hundreds of local governments across the country.
The Education Department says the company's servicing contract is worth about $126 million; its debt-collection contract is worth more than $190 million, according to contract documents dated May 19.
But increasing scrutiny of Navient's practices could hurt the company's prospects, as the investigations take a bigger bite out of its bottom line and government officials rethink whether they want to give it taxpayer-provided business.
Earlier this year, nine Senate Democrats asked Education Secretary Arne Duncan why his department had renewed Navient's loan servicing contract in light of the Justice Department allegations. They said they were "deeply concerned" that Duncan's move could undermine President Barack Obama's efforts to improve customer service for borrowers with federal student loans, according to their July 8 letter.
The AFL-CIO was among labor and student organizations that had called on Duncan to terminate Navient's loan servicing contract in the wake of the Justice Department settlement. Yet union pension funds are likely to stay invested in Navient and press for changes, rather than abandon their investment, in part because Navient is part of the Standard & Poor's 500 Index, the U.S. equities benchmark.
Navient scored last among the Education Department's major loan servicers in its most recent customer satisfaction surveys, continuing a recent trend. By that metric, the company was the lowest-ranked servicer for each of the past four years.
But Navient usually ranks near the top in avoiding student loan defaults. It also has recently improved its record in enrolling struggling borrowers into repayment plans that are based on their incomes. The federal student loan program offers several such plans as a way of enabling distressed borrowers to keep current on their payments.
Patricia Nash Christel, a Navient spokeswoman, declined to comment. In May, Remondi apologized for what he described as the company's "processing errors."
"Over the past several years we have implemented changes in our procedures and training programs to prevent these mistakes from happening again," Remondi said at the time.
Companies can run into trouble with regulators when they skimp on training and compliance programs. Until regulators crack down, the practice generally boosts profits.
"We're concerned when companies engage in behavior intended to boost profits in the short term, but have negative repercussions in the long term," said Heather Slavkin Corzo, director of the labor federation's investment office. "It undermines the company's credibility, likelihood of getting new government contracts, and it creates a lot of reputation risk."
Those consequences, Corzo said, are likely to hurt the company's share price. The AFL-CIO requested a meeting with Navient to discuss how it intends to address its "regulatory compliance challenges."
Other shareholders seem unfazed about the company's issues with regulators. Navient stock closed at $21.49 on Thursday, up more than 26 percent since it first started trading this year.

REAL LIFE. REAL NEWS. REAL VOICES.
Help us tell more of the stories that matter from voices that too often remain unheard.
BEFORE YOU GO
PHOTO GALLERY
States With The Weakest Unions