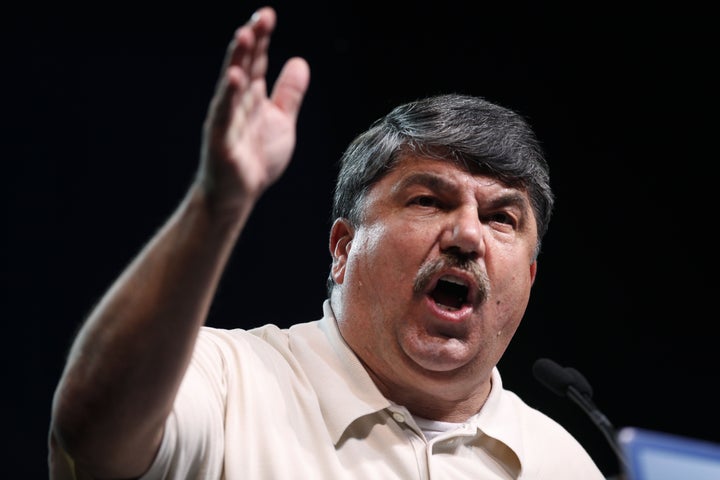 A top official with the AFL-CIO said on Tuesday that the union conglomerate is prepared to spend more than the $53 million it has already pledged towards the 2010 elections.
In an interview with a small group of reporters outside a gathering of union officials, Mike Podhorzer, the AFL-CIO's deputy political director, said that the organization is "not going to leave anything on the table" when it comes to keeping Democrats in power come November.
Additionally, and perhaps more importantly, the AFL-CIO is already in the process of narrowing down the field of candidates it would support, implementing what is known as a "firewall" strategy to protect key Democratic incumbents amid concerns that there could be a Republican avalanche at the polls.
"The top priority is making sure that Nancy Pelosi is Speaker next year and that we don't have Republicans in power," Podhorzer said. "Beyond that we look at a variety of factors: how much we can contribute to a particular race and frankly how well that representative has supported our positions. All things being equal, we are going to put a lot more into someone who has supported us."
"We plan on spending what it takes to communicate with every member in every district that is at stake and to get the vote of union members back where it has been for the last six cycles," he added, noting that the money the AFL-CIO is set to spend does not include the funds that spent in the failed attempt to get Lt. Gov. Bill Halter the Democratic Senate nomination in Arkansas. "We are not going to leave anything on the table. This is too important."
Podhorzer's remarks foreshadow what should be a massive arms and money race in a handful of critical House and Senate races as the election approaches. Already, the Chamber of Commerce -- the AFL-CIO's chief adversary in 2010 -- has pledged to spend roughly $75 million on various 2010 races. With pledges from various other conservative-leaning institutions, that total rises to as much as $300 million.
Addressing approximately 200 union officials earlier in the morning, AFL-CIO President Richard Trumka likewise urged members to put aside their disappointment with the president and the Democratic-controlled Congress in the months ahead. Noting, on five separate occasions, that there had been substantive changes and progress created during the past year and a half, Trumka raised the specter of a Republican-controlled legislative body to motivate those in attendance.
"Let's be clear-eyed about what's going on," he said. "The Party of No doesn't want the union vote, the working family vote. They want us all to stay at home out of frustration. They figure that if they can mobilize the right-wing radicals, the corporate conservatives, the Tea Party fanatics and the talk show fans, and if they can thoroughly disgust the rest of us, then they can win this election in a walk."
Popular in the Community